How to Buy
As cryptocurrencies are evolving into a form of digital assets and exhibit more parallels with the fluctuations of the US stock market, purchasing is becoming a part of investment portfolios.
As we know, investing is all about making money, and the main way to do that is by taking advantage of price differences. Experienced traders adopt different strategies across various market scenarios to try and make the most profit:
Buy spot when the overall market trend is on the rise.
Short futures contracts when the market is in a downtrend.
So, no matter if it's a bullish or bearish market, you can still rake in profits through trading. Our goal at BingX is to ensure that trading is made easy and accessible for all. Whether you're dealing with spot or derivatives, it's all about investing. Remember, trading isn't about simply accumulating cryptos; in a downward market, holding onto cryptos can lead to losses. Just like stocks, many lesser-known cryptos face dwindling liquidity and the risk of hitting rock bottom during a bear market.
Investing in cryptocurrencies on BingX is fairly easy. It not only offers lower fees than other exchanges such as trading fees and handling fees, but also provides futures copy trading and spot copy trading, allowing users to invest in without requiring any complex trading knowledge.
1. How to Create a BingX Account
Just two simple steps required
1 Login to BingX official website or download the App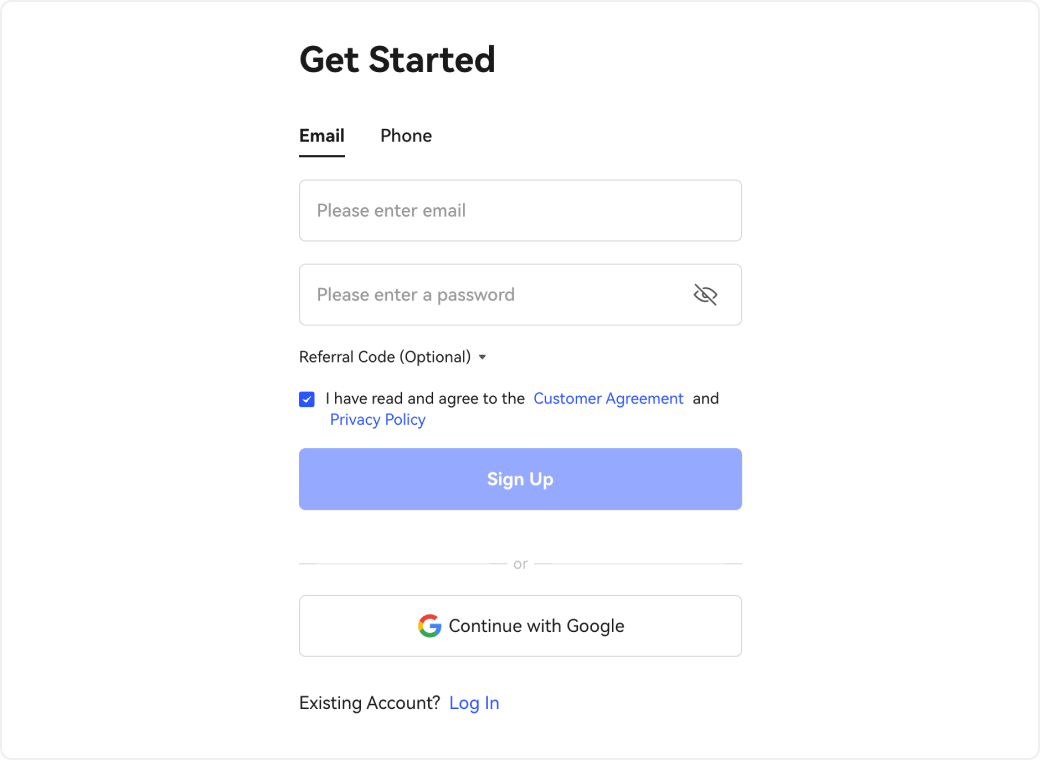 2 Complete the settings in Security Center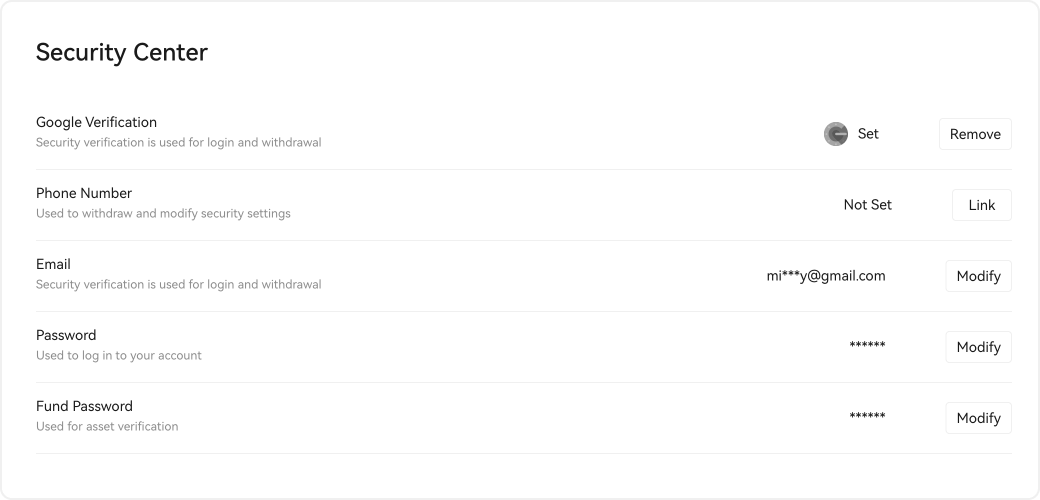 2. How to Deposit after Registration
In BingX, the cost of on-chain transfer is much lower than the cost of direct transactions using credit cards. This is because credit cards transactions requires traditional banks and payment channels with high fees. On-chain transfers only require payment for blockchain processing fees.
For example, when depositing USDT via the TRC-20 protocol, no matter how large the amount, the fee for each deposit is just 1 USD, which is highly affordable. In addition, BingX also supports POLY, BEP, ERC and other networks.
3. How to Buy Spot or Derivatives
The biggest difference between spot and derivatives lies in this: spot BTC can be stored in your wallet and entails capitalizing on buying low and selling high; derivatives are contracts without physical ownership, and what you earn is the price discrepancy between buying and selling of contracts.
BingX offers two ways to buy spot
1. Buy directly on the spot market.
2. Use BingX P2P for direct peer-to-peer transactions with other users.
BingX offers two main ways to buy derivatives
1. Buy derivatives in the USDT-M futures market.
2. Buy derivatives in the Coin-M futures market with ETH, SHIB and more hot cryptos
The live price is 0.00 (/USD), with a current market capitalization of -- USD. 24H trading volume is -- USD. The real-time exchange rate of to USD will be continuously updated. 24H change is 0%. Its circulating supply is --.
How to Buy Other Cryptos
How to Make Money Trading Without Any Trading Knowledge
1 Staking - Minimum risk and profit
BingX offers staking for investors to secure the least risky returns. The annualized staking yields often outperform bank fixed deposit rates by approximately 1%. Certain DeFi platforms offers stakes that are similar to the bank's fixed-term interest rate. Although the number may appear enticing in the short term, it's important to note that the long-term staking lacks the compounding effect. This is precisely why staking predominantly relies on stablecoins like USDT or USDC to safeguard investors' assets.
2 Copy Trading - Medium risk and high profit
In Copy Trading, traders place orders while copiers simultaneously copy the traders' orders with the margin that is customizable. The reason that Copy Trading carries moderate risk is that while it doesn't require copiers to possess any trading expertise, they must diligently evaluate a trader's transaction history and independently decide whether to replicate the trader's trading strategies. The risk level of traders increases as their profit grows and the assets they hold decrease. Thus, it's advisable to select traders with assets exceeding $10,000 and per-order limits under $100. Larger assets indicate higher risk tolerance, and a per-order cap of merely 1% of the total position means they can ensure long-term profitability with a win rate of above 90% in high-frequency trading. On the contrary, traders with only $50 assets signifies a much lower risk tolerance. Such traders are inclined to adopt bolder investment approaches but could lose it all in a single trade and bail.