The cryptocurrency space has been buzzing with excitement following Banana Gun Bot's recent announcement regarding a new token designed to further enhance its already successful platform. This announcement signifies a significant moment for the company, prompting the team to share their reasoning, mechanics, and long-term vision with their growing community.
Banana Gun Bot is an automated platform meticulously crafted to aid users in swiftly acquiring newly released tokens, a practice commonly known as "sniping" within the crypto space. The bot provides users with a highly customizable interface, allowing them to predefine their purchasing criteria. This includes specifying the amount of Ethereum (ETH) they intend to allocate, the number of different wallets to utilize, and various other configurable settings.
In addition to its automation capabilities, the bot offers strategic insights aimed at increasing the chances of a successful snipe. This includes the dynamic adjustment of the miner's tip based on competition levels and participation rates.
Tokenomics
Banana Gun Bot was originally conceived as a standalone bot service, driven by the core objective of adding substantial value to the Ethereum blockchain ecosystem. The team perceives the token as an intrinsic value-enhancing element, setting it apart from numerous projects where tokens scramble for a use case after their launch.
User Metrics Indicate Market Approval
The bot has exhibited remarkable growth in recent months, particularly in terms of user adoption, a pivotal performance indicator for the team. This user base isn't exclusively composed of crypto whales; its appeal extends to both small and large wallet holders, reflecting authentic market validation.
Volume and Revenue
Contrary to popular belief, the recent decline in trading volume was not a consequence of the conclusion of the NFT campaign. Instead, Banana Gun Bot attributes it to general market fluctuations, a conclusion supported by volume dominance charts related to the bot. The service has also seen noteworthy revenue growth independently of market conditions.
Prioritizing Community Over Capital
Despite enticing propositions from venture capital firms and private investors, which underscore the bot's promising metrics, Banana Gun Bot has opted for a more intricate yet community-centric path. This ethos is evident in their rapidly expanding Telegram and Twitter followings, which have reached 7,000 and 11,000 users, respectively.
Banana Gun Bot Presale Strategy
Banana Gun is gearing up for its inaugural presale scheduled to commence on September 8th at 17:00 UTC time.
The tokenomics of Banana Gun's Telegram Bot project have been unveiled, outlining the distribution of a total of 10 million BANANA tokens. Of these, 2 million will be available for the presale, 300,000 will be reserved for liquidity provision with a 2-year lockup period, 120,000 will be allocated for airdrops, 1 million will be designated for the team (featuring a 3-year linear release structure beginning after a 2-year lockup for the first 500,000 tokens and another 3-year linear release commencing after an 8-year lockup for the remaining 500,000 tokens), and 6.58 million will be earmarked for the treasury, with a substantial portion under lock and key.
The presale fundraising cap has been established at 800 ETH, with a maximum participation limit of 1 ETH per wallet address. Users who previously participated in events and acquired Soulbound NFTs have been granted whitelisting privileges. The presale will be conducted across four phases, each targeting specific user groups, including Key Opinion Leaders (KOLs) and project NFT holders. The presale rate is set at $0.65 per BANANA token, resulting in an initial market valuation of $1.56 million and an initial Fully Diluted Valuation (FDV) of $6.5 million.
A significant highlight is that the presale operates on a first-come, first-served basis for each round. Impressively, the team anticipates oversubscription of their product shortly after the first round. The presale, devoid of any vesting period, will be hosted on Banana Gun Bot's proprietary decentralized application (dApp).
User-Centric Token Allocation
Prioritizing their steadfast user base, the majority of the presale will be made available to existing customers who were vetted during a previous NFT campaign. Some long-standing users will also enjoy whitelist privileges, further enriching the community-driven ethos.
Expanding the Holder Base
Acknowledging the influence of Key Opinion Leaders (KoLs) in the crypto sector, Banana Gun Bot has successfully onboarded several high-profile figures, without compromising community participation. Remarkably, not a single individual declined the company's offer, even with a lower-than-usual allocation.
Comprehensive Distribution Strategies
Beyond catering to users and Key Opinion Leaders (KoLs), the presale will encompass a diverse range of participants, spanning freelancers and essential advisors to referral link holders. To ensure equitable allocation, the team plans to introduce tiered rounds during the presale, all conducted through their proprietary decentralized application (dApp).
In the face of a crypto market downturn that has left many projects grappling for survival, Banana Gun Bot has displayed remarkable resilience.
The Ethereum-based bot has unveiled its strategic approach for flourishing amidst market uncertainties and has outlined its intentions for the forthcoming token launch, with the goal of evolving beyond its current role as a sniping bot.
Thriving Amidst Bearish Conditions
Even within a bear market characterized by low liquidity and a limited Crypto Twitter audience, Banana Gun Bot has consistently generated daily revenues ranging from 10 to 25 ETH.
This achievement, accomplished without the presence of a token, underscores the bot's robust underlying economics and sets the stage for more ambitious objectives in a more favorable market environment.
Transforming into a Comprehensive Hub
While renowned for its sniping capabilities, the Banana Gun Bot team harbors loftier ambitions—to establish itself as the premier platform for all on-chain transactions. This long-term vision is underscored by the immediate steps the team will take to expand the ecosystem, with a series of technical developments already in the works.
Balanced Approach to Airdrops and Revenue Sharing
Banana Gun Bot intends to introduce two distinct airdrops—one targeting its NFT holders and another aimed at users who complete specific social tasks. These airdrops have been thoughtfully calibrated to offer meaningful rewards while avoiding excessive pressure on the token's price.
More notably, a revenue-sharing model will be implemented, distributing tax and bot-generated revenues to $BANANA token holders through the dApp. Given the bot's track record as a revenue generator, this presents substantial potential for value appreciation.
Implementation Timeline
The revenue-sharing feature is set to activate a few days post-launch, with accrued rewards distributed based on a snapshot captured at that time. Subsequently, an innovative "Ape2Earn" mechanism will be introduced, allowing users to reclaim a portion of their fees in $BANANA tokens.
The reimbursement rate will be actively managed to prevent token inflation, punctuated by occasional "happy hours" designed to maintain high user engagement.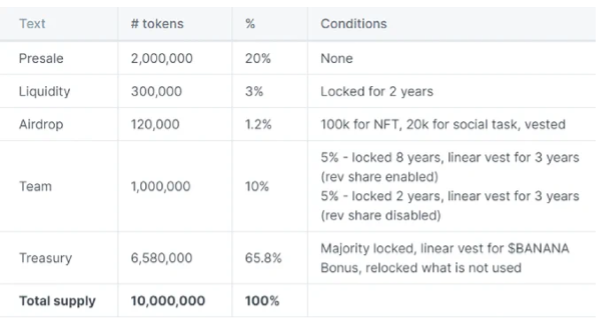 The tokenomics strategy has been meticulously devised, with a significant portion of the treasury locked and designated for $BANANA Bonus incentives. Unused funds will be relocked, demonstrating prudent fiscal stewardship.
The Road Ahead
The presale is set to commence by the week's end, swiftly followed by the Token Generation Event (TGE). Subsequently, a phased rollout of revenue sharing and $BANANA Bonus functionalities will ensue, accompanied by the implementation of vesting mechanisms for the airdrops.
Banana Gun Bot's strategic maneuvers serve as a blueprint for not only navigating but thriving in the face of market volatility. Their emphasis on robust tokenomics, complemented by a deep comprehension of market dynamics, positions them favorably for future expansion and growth.
The impending token launch by Banana Gun Bot has the potential to emerge as a formidable contender against existing platforms like Unibot. While both possess unique features and communities, they share a fundamental objective: automating and optimizing crypto trading strategies, particularly within the domain of token sniping.
Banana Gun Bot's envisioned utility token will not solely function as a fundraising mechanism but has also been thoughtfully crafted to provide added value through an array of utilities. Unibot, renowned for its robust trading tools and analytical prowess, currently enjoys a substantial user base and industry credibility.
Nonetheless, if Banana Gun Bot effectively harnesses its tokenomics to offer distinctive, enticing features and incentives to its community, it could potentially amass a significant following. Moreover, Banana Gun Bot's commitment to maintaining a community-driven approach, as opposed to seeking venture capital investments, may endear it to a user base that places a premium on decentralization and community governance.
Further Reading
Paper Trading for Crypto - From Simulation to Profits
A Guide to Crypto Auto Trading Bots (Bitcoin Ethereum Grid Arbitrage Trading)
Advantages of Auto & Grid Trading