1. Market Overview
By the close of the week, Bitcoin (BTC) continued its upward trajectory, hitting a near 18-month high, primarily driven by speculation surrounding the approval of a Bitcoin ETF. The excitement around the ETF propelled the price of Bitcoin, which saw a peak of $35,280 during the month. At the end of the trading week, Bitcoin was up by 7.87%, reaching a price of $34,020, marking the highest level since May 2022.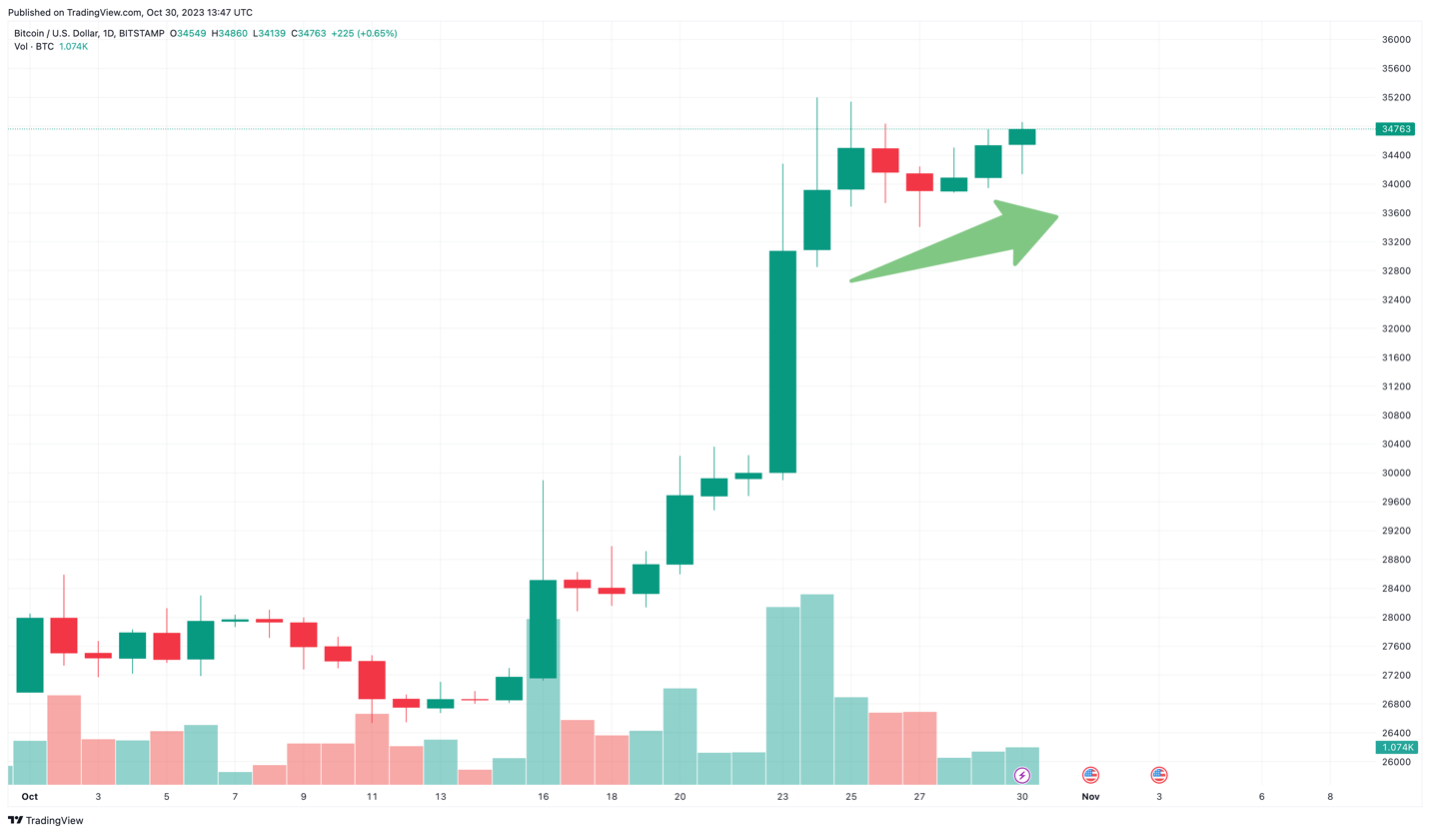 The broader market sentiment remains positive, riding on the wave of potential institutional adoption following the U.S. SEC's discussions with Spot Bitcoin ETF issuers. Moreover, the inflation data showing a 0.4% increase from the previous month, as mentioned in our previous analysis, continues to play a role as investors possibly view Bitcoin as a hedge against inflation.
The supply of Bitcoin slightly increased from the previous week, echoing the trend from last year. On a larger economic scale, the U.S. Leading Economic Index (LEI), Coincident Economic Index (CEI), and Lagging Economic Index (LAG) numbers for September 2023 might still be impacting Bitcoin prices, alongside other macroeconomic factors.
2. Daily Candle Chart Analysis
On October 27, 2023, business sectors saw some notable activities like T. Rowe beating profit estimates, which could indirectly affect the crypto market sentiment. However, the direct impact on Bitcoin prices for that day could be further analyzed using the daily candle chart.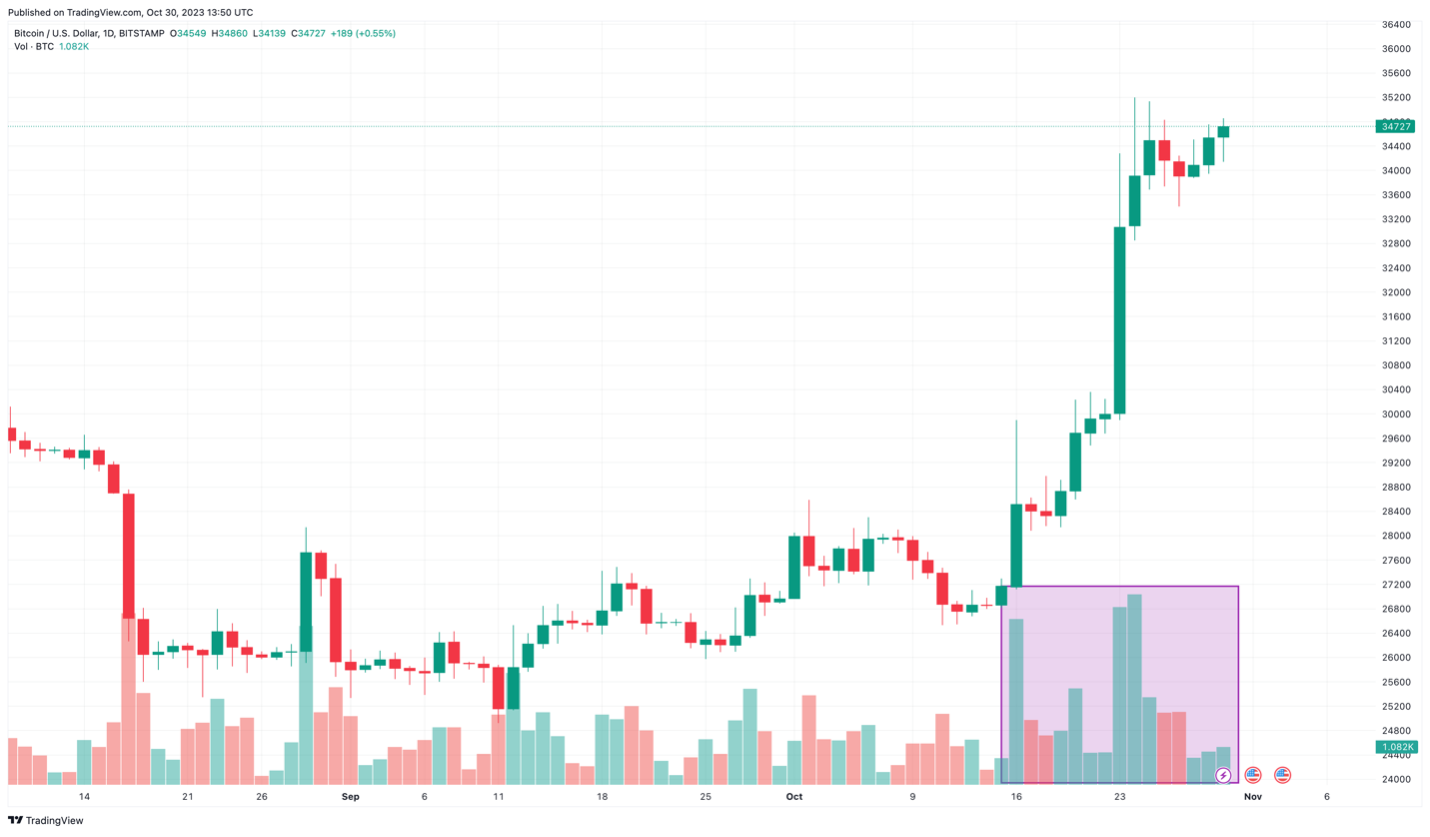 The moving averages (MA) from the previous analysis still point towards a buy signal, indicating a potential continuation of the upward trend. The trading volume over the week might show a strong market backing for this upward move.
4. Trading Signal
If the price goes above $36,000, it could encourage a further rise towards the $40,000 mark for the BTC/USDT pair. The potential to profit by taking a long position here remains optimistic as the market seems to be in favor of a bullish trend.
Conversely, if the price falls below $34,000, it might indicate a trend of selling to secure profits, which could further drop the price to the 20-day EMA level. The potential to profit by taking a short position under these circumstances should be analyzed based on the new support and resistance levels.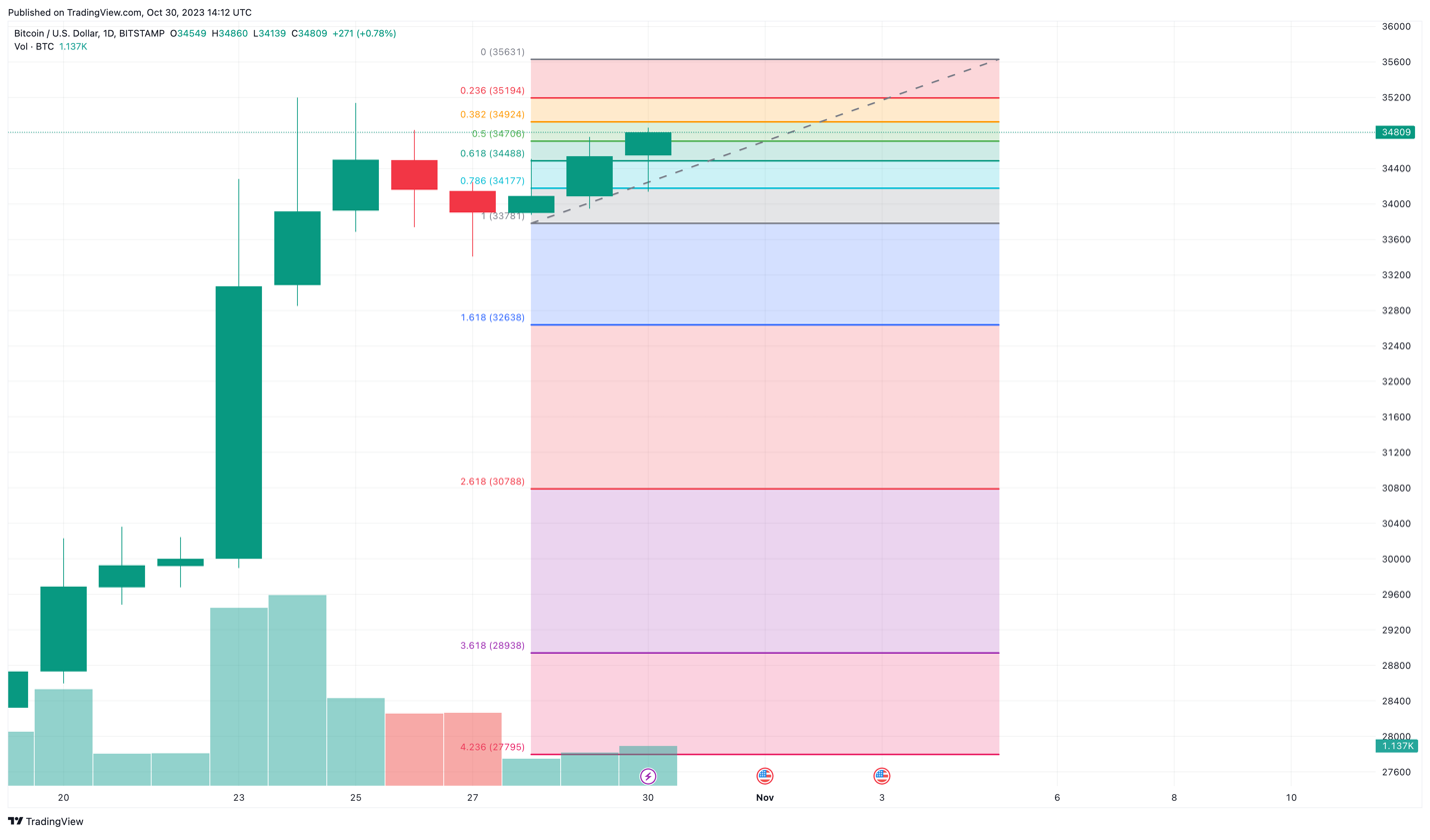 The trading volume over the past seven days, illustrated by two red volume bars and five green volume bars, suggests a stronger bullish sentiment among traders. This volume analysis indicates a 71% probability for profit by taking a long position, while the potential for profit by taking a short position stands at 29%. The market dynamics and the positive sentiment around the Bitcoin ETF speculation continue to provide a favorable environment for bullish traders, fostering optimism for potential upward price movements in the near term.
Long: When BTC price reaches $35,300
Short: When BTC price reaches $33,000
Leverage: This content does not involve any leverage usage. Users should determine their leverage based on their financial situation and their risk profile.
Take-Profit:
Short Take-Profit: $31,900
Long Take-Profit: $36,000
Stop-Loss:
Short Stop-Loss: $35,700
Long Stop-Loss: $32,800
Disclaimer
The information provided is for educational and informational purposes only. It is not intended as financial, investment, or trading advice. Cryptocurrency markets are highly volatile, and trading or investing in cryptocurrencies carries inherent risks. Prices can change rapidly and unpredictably, and past performance is not indicative of future results. Before making any financial decisions or investments, it is strongly recommended that you conduct your research, consider your financial situation, risk tolerance, and consult with a qualified financial advisor. Any actions you take based on the information provided here are your sole responsibility, and we shall not be liable for any losses or damages incurred. Please be aware of the risks and make informed decisions when dealing with cryptocurrencies or any financial instruments.