Bitget is a cryptocurrency exchange platform established in 2018 that offers different services and products, specializing in futures trading and copy trading services. The platform boasting over 8 million users across 100 countries and regions is designed to make crypto trading easier for all users. The easy-to-use features combined with high visibility and brand recognition influenced by widespread collaborations and credible partnerships with brands and individuals, including soccer superstar Lionel Messi makes Bitget stand apart from its peers.
Featured among the top ten crypto platforms for futures and spot trading by Coingecko, Bitget is one of the first movers in the diverse crypto industry. It is the first to include copy trading features, crypto market insights with Bitget Insights platform. It also launched a US$300 million Bitget Protection Fund to safeguard its users' interests, which is the second largest user protection fund among CEXs.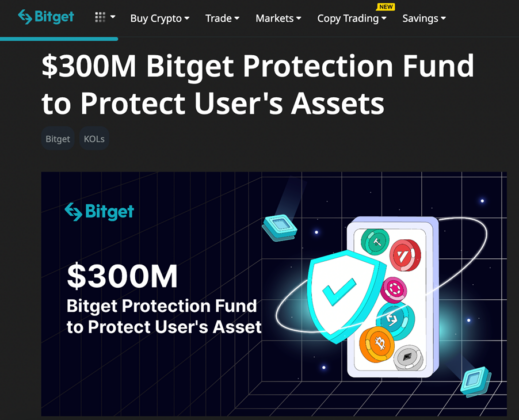 In this review of Bitget, we will discuss the platform's features, advantages, and plans, as well as its partnership with soccer superstar Lionel Messi.
About BitGet
Bitget is the world's largest crypto copy trading and derivatives platform, connecting beginner traders with professional traders to create a "hands-off, gains-up" experience and offering over 500 different cryptocurrency trading pairs. Since the launch of its copy trading feature in May 2020, Bitget has attracted more than 80,000 elite traders to share their strategies and more than 380,000 followers to copy (As of January 2023). The platform now supports copy trading in the spot market, futures market, and more.
In addition to having in place the second largest user protection fund to safeguard its clients' interests, Bitget takes an extra step to maintain transparency with a dedicated Proof of Reserves page along with an open-source 'Merklevalidator' tool for users to verify their assets on the platform and update regularly. As of Mar 6 2023, Bitget is holding 231% of the stored assets in its reserve.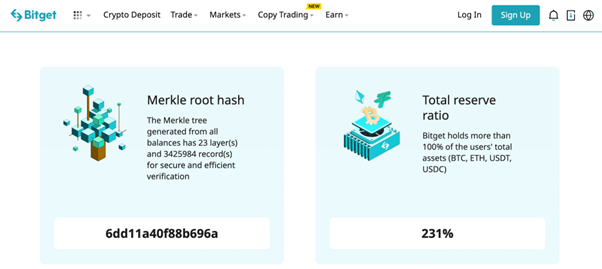 Everything You Need To Know About Bitget Derivatives
Bitget is a leading crypto derivative exchange that is going beyond derivatives. Bitget is actively expanding the variety of digital assets in its spot market. Only in February of 2023, the platform listed 58 promising blockchain projects. As of now, Bitget has supported about 450 coins with over 580 trading pairs, and among all the top 10 spot trading platforms, Bitget ranks 2nd in terms of the number of coins listed.
According to the Boston Consulting Group report published in July 2022, Bitget is the top 3 crypto derivative exchange. Bitget witnessed an over 300% increase in total transaction volume in 2022. The latest data shared by the Token Insight report reveals that Bitget's share in the derivatives market increased from 3% to 11% after the collapse of FTX, becoming the biggest winner of this incident.
Bitget Copy Trading Offers Unique Investment Alternative
Copy trading brings value to both the elite traders who share their strategies and the beginner traders who copy the more talented and experienced traders. For elite traders, the share of their trading strategies can generate passive income, which can be equivalent to up to 10% of their followers' revenue. Also, sharing successful strategies on Bitget allows traders to build up their own influence in the crypto space.
With copy trading, followers can review elite traders' detailed portfolios and historical performance, such as total profit & loss (PnL), win rate, and asset under management (AUM), before subscribing to a trader's strategy that meets their expectations of returns and risks. Bitget Insights is a newsfeed community where verified users can share their financial analyses and views with their followers, helping them make smarter financial decisions.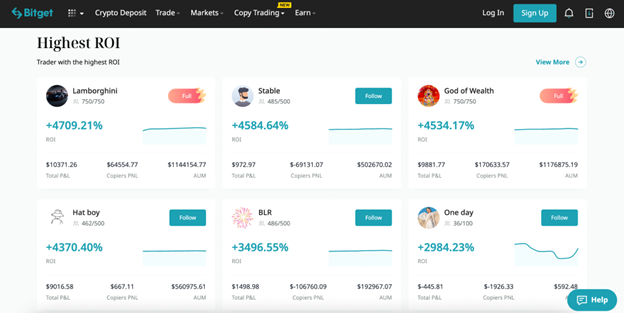 A
Wide Range of Cryptocurrencies & Partnerships
Bitget provides spot exchange functionality for most of the mainstream cryptocurrencies. The platform supports USDT, USDC, BTC, ETH, BGB, and in total, 450+ cryptocurrencies and 580+ trading pairs. In May 2019, Bitget launched the USDT-margined futures product, which is more user-friendly to futures trading beginners and doesn't require investors to hold corresponding coins before going long or short. Bitget is also the first crypto exchange to launch USDC-margined futures in July 2021.
Bitget has established partnerships with credible names like Lionel Messi, Juventus, and more to drive crypto adoption and change the public's negative perception of crypto. According to the announcement on Bitget's official website, Messi will become Bitget's global brand ambassador for the next few years. The partnership aims to promote the widespread adoption of cryptocurrencies and encourage more people to embrace the technology behind them.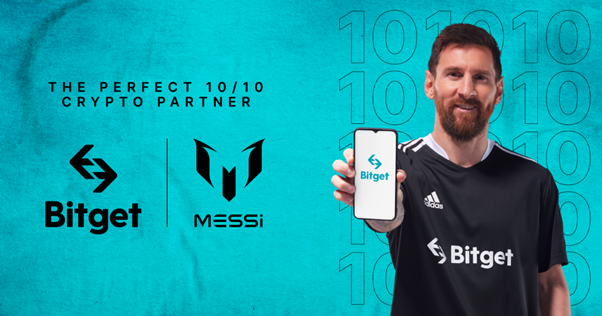 Conclusion
In conclusion, Bitget is a reliable cryptocurrency exchange platform that offers innovative features, such as copy trading, Bitget Insights, and a wide range of digital assets. The platform has also established credible partnerships with influential figures to promote the widespread adoption of cryptocurrencies. Bitget is actively expanding its variety of digital assets in its spot market and also restarted Bitget Launchpad to support innovative blockchain projects.