Bitcoin is making its way out of Binance after the Commodities and Futures Trading Commission (CFTC) sued the exchange earlier this week, on-chain data shows.
Though bearish for the world's largest crypto exchange, the wave of outflows doesn't appear to have triggered any significant migration from the decentralized finance (DeFi) ecosystem.
Binance Outflows Surge
According to data provided by IntoTheBlock, Binance has experienced a 60% surge in BTC withdrawals over the past 30 days, with some days in march seeing an average of over $400 million in net withdrawals.
"This signals a strong interest from investors in moving their BTC holdings off the exchange." said Juan Pellicer, Senior Researcher at IntoTheBlock, to CryptoPotato via DM.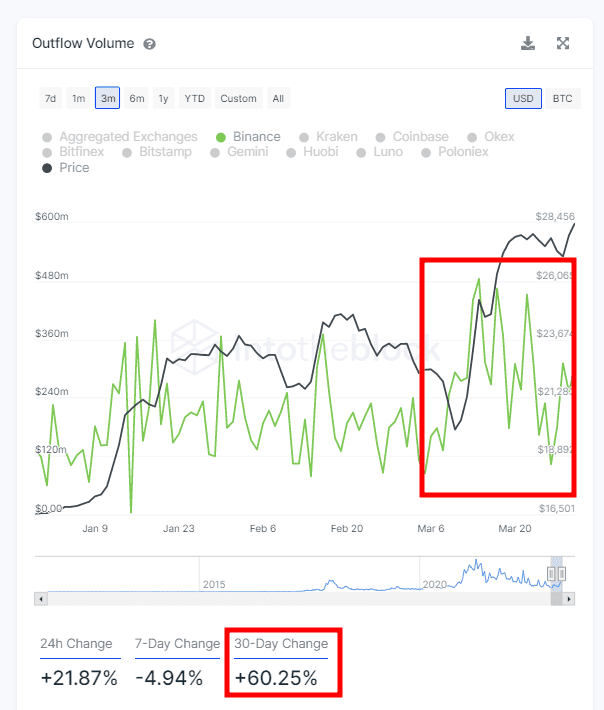 Binance Outflow Volume. Source: IntoTheBlock
Signs of an increase in withdrawal demand appeared on Monday when Nansen reported a roughly equivalent number of net outflows within the previous 24 hours. Meanwhile, data from Thanefield Capital showed total stablecoin withdrawals exceeding $1 million from Binance within the hours before and after its legal challenge from the CFTC was made public.
The agency alleged that Binance had illegally serviced many U.S. customers without proper registration, encouraged them to bypass know-your-customer (KYC) requirements using virtual private networks (VPNs), and engaged in market manipulation.
The firm's CEO Changpeng Zhao (CZ) later denied those allegations and asserted that he does not personally trade on the platform except to convert crypto and cover personal expenses.
Nevertheless, rumors and allegations are often all that's needed to trigger a withdrawal rush. Exchange giant FTX collapsed in November after a run on deposits largely sparked by CZ himself, while Binance faced a mountain of withdrawals a month later following rumors that it was also mishandling client funds.
According to CoinGlass, Binance currently holds 540,572 BTC, worth $15.3 billion at writing time. Meanwhile, data from Glassnode reflects a balance of 646,709 BTC as of March 30.
DeFi Not Affected
Worries surrounding Binance still haven't spurred traders to retreat into DeFi, according to Pellicer.
"Volume spiked incredibly during the USDC depeg but trading volumes across defi have normalized back to average," he said. "It seems that the Binance lawsuit is not pulling significant volume towards DeFi at least yet."
DeFi allows users to trade directly from their self-custodial wallets, relying on smart contract code to execute transactions. FTX's collapse in November was closely followed by a rise in DeFi trading volume, and record sales for hardware wallet providers like Ledger and Trezor.
While in some ways more transparent and less trust-dependant than certain CeFi businesses, the industry has also proven highly prone to hacks, resulting in users losing billions of dollars last year.
The post DEX Volume Unaffected But BTC Outflows From Binance Increase Post CFTC Lawsuit appeared first on CryptoPotato.