Bitcoin ended the week by slipping below $28,000, but the bulls have stepped on the gas since then and pushed the asset back north.
Several altcoins have retraced hard today, including yesterday's top performers, Shiba Inu and Dogecoin. HBAR and SOL are also in the red.
BTC Back Above $28K
Bitcoin faced massive volatility throughout the entire last week. It all started on Monday when the cryptocurrency fell by $1,500 in minutes after the US CFTC sued Binance and Changpeng Zhao. The bulls intercepted the move and pushed the asset north.
This culminated in a price surge to above $29,000 on Thursday, but that was short-lived. A day later, BTC found itself dumping below $27,600.
As the weekend approached, the cryptocurrency jumped back above $28,000 and even neared $29,000 but was unable to break above it. Saturday was pretty calm, while Sunday brought some pain as BTC slipped back down to $27,600.
However, the asset skyrocketed by almost a grand in the past few hours. As such, it reclaimed $28,000, while several crypto analysts pointed out more potential bullish scenarios for the next few months.
Its market capitalization continues to stay inches away from $550 billion, and its dominance stands at the same spot at 46.4%.
BTCUSD. Source: TradingView
Cardano Up 14% Weekly
Most altcoins mimicked BTC's performers in the past 24 hours. On a daily scale, though, several are deep in the red. The two largest memecoins, which were also the two best performers yesterday, are down by 5.5% (Dogecoin) and 3.5% (Shiba Inu) now. Solana's daily decline is similar, while HBAR has dumped by 6.3%.
Ethereum, BNB, MATIC, DOT, LTC, TRX, and AVAX are also in the red, albeit in a more modest fashion.
Cardano is among the few exceptions with daily gains. ADA is up by 3.5% in the past 24 hours and more than 14% on a weekly scale. As such, the asset trades at $0.4.
The total crypto market cap has remained rather stagnant and sits just under $1.2 trillion on CMC.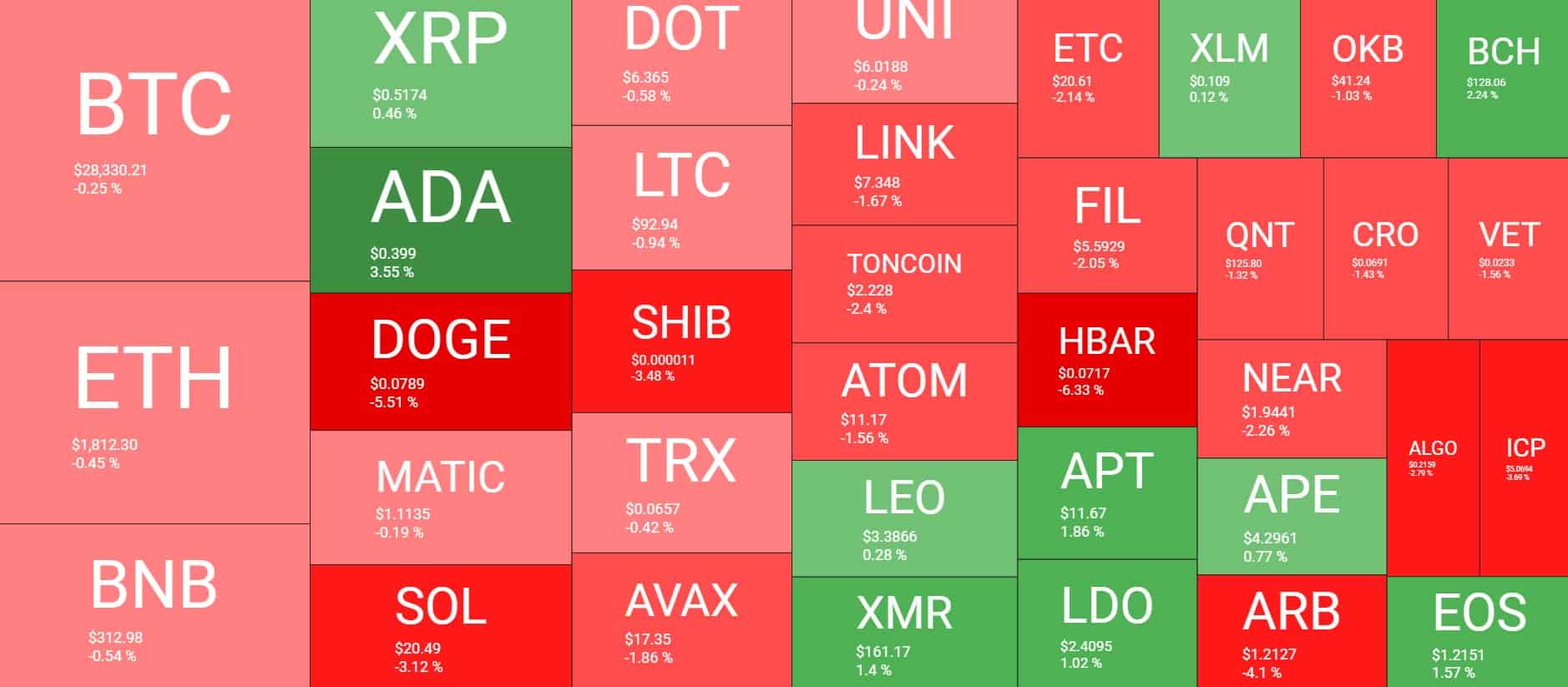 Cryptocurrency Market Overview. Source: Quantify Crypto
The post ADA Jumps 14% Weekly, BTC Reclaims $28K After Enhanced Volatility: Market Watch appeared first on CryptoPotato.