XRP community attorney John E. Deaton, who is representing the holders of the token in the lawsuit between Ripple and the US Securities and Exchange Commission (SEC), has outlined in a new Twitter thread why the definitions of "investment" and a "contract" are fundamental to the district court's ruling.
Paul Grewal, the Chief Legal Officer (CLO) of Coinbase has responded to Deaton's legal explanations, causing the hashtag "Relist XRP" to trend on Twitter once again.
Then relist XRP. https://t.co/MUiBwlBfuQ
— Digital Asset Investor (@digitalassetbuy) April 2, 2023
CLO Sides With Ripple, But Will Coinbase Relist XRP?
Grewal expressed his support for Ripple's legal opinion several times in recent weeks. Coinbase even filed an amicus brief in support of the blockchain company. Still, calls for XRP to be relisted have gone unanswered so far.
However, the XRP community draws new hope from the comments by Paul Grewal. He wrote that Coinbase agrees with John E. Deaton's legal opinion on what constitutes an investment contract. The Coinbase CLO wrote:
Mr. Deaton is exactly right. 'Investment contracts' must include both 'investment' and 'contracts' as those terms are set out by Congress and interpreted by the Supreme Court. Neither is present when it comes to secondary sales of digital assets.
According to the popular XRP community attorney, an "investment contract" is one of the most misunderstood legal terms in the law on social media. It is a legal term of art that was adopted from state law by Congress when it passed the 1933 Act.
Crucially, digital assets and software code by their nature are not listed in the 90-year-old law. Therefore, in all of the SEC cases – against Ripple, Telegram, Kik and also LBRY – the only relevant term is "investment contract," which was defined by the Supreme Court in the Howey case in 1946.
In US history, according to Deaton, there has not been a single case where the secondary sale of any asset has been classified as a security. Therefore, a cryptocurrency which is software code cannot be a security by itself. "In Telegram it was made clear that the GRAM token was NOT the security," Deaton concludes:
The ETH ICO constituted an unregistered securities offering. Ripple may have offered or sold XRP as an unregistered security on a specific occasion(s). But even if true, it doesn't make the underlying asset – digital code – a security itself.
Consequently, any altcoin "arguably starts out as a security" when it is first distributed, ICO or not. But after that, there is no legal basis to call any secondary market transactions securities sales, Deaton argues.
Even if Grewal agrees with Deaton, a relisting of XRP seems unlikely at this point. As Bitcoinist reported, Grewal laid out in a recent interview with Tony Edward that a possible timeline for relisting depends on various factors.
These are the rationale behind the court's decision and Coinbase's assessment of whether or not the appeals court will uphold the decision. Basically, the Coinbase CLO assumes that both sides will appeal in case of a clear defeat, which is why a "thin win" for Ripple would be the best outcome for XRP investors.
At press time, the XRP price was at $0.5137, consolidating after last week's stellar rally.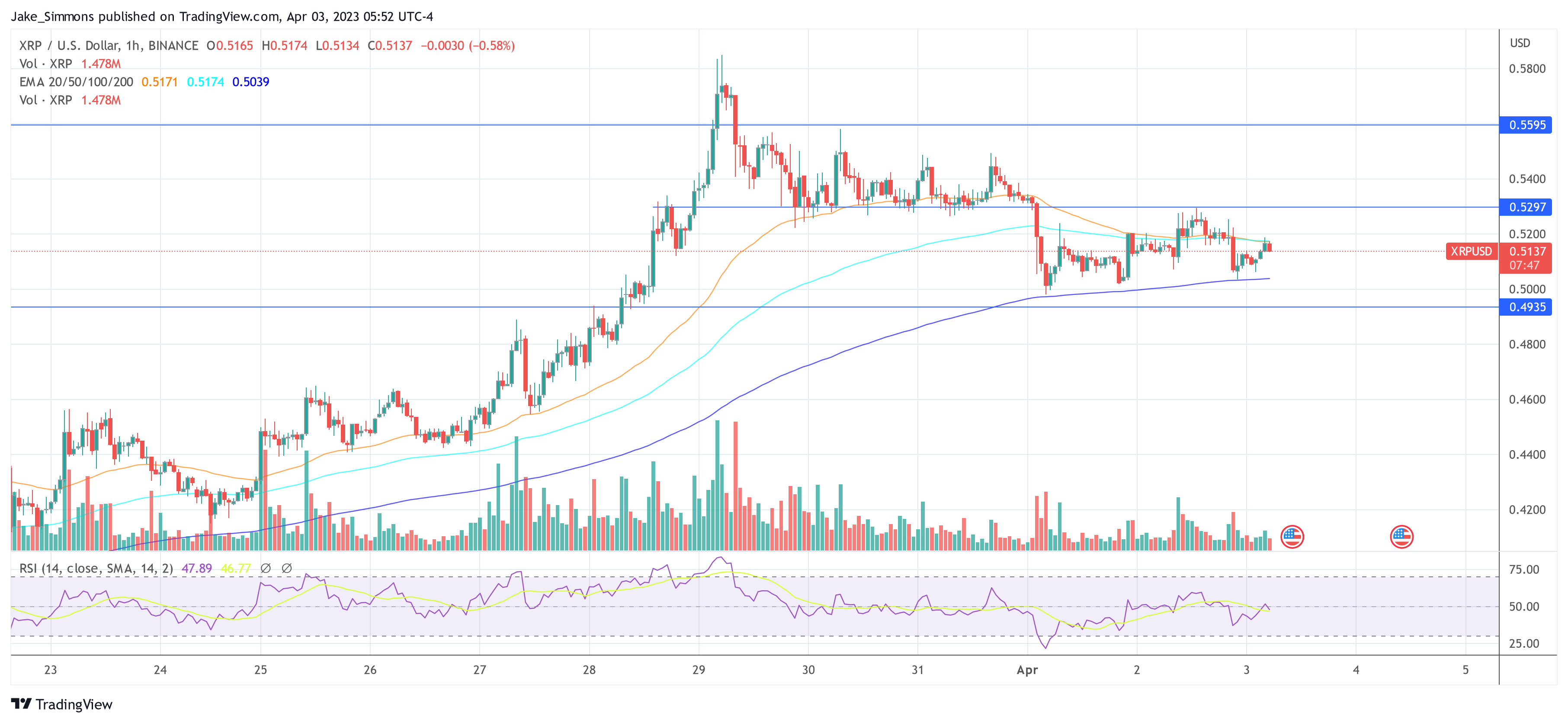 XRP USD" width="3625" height="1672">