The cryptocurrency exchange Binance has recently observed its largest stablecoin net outflow in history, as revealed by a report.
Binance Has Seen Large Stablecoin Withdrawals Recently
Binance has been under some regulatory pressure from the US government this year. The latest example is the CFTC lawsuit against Changpeng Zhao, the exchange's CEO, over alleged derivative trading violations.
In its latest weekly report, the on-chain analytics firm Glassnode has looked at the flow of funds in and out of Binance to see how the market feels about this recent uncertainty.
Glassnode has found that stablecoins have recently seen large transfers out of the platform. The relevant indicator here is the "Binance Net Flow Volume," which measures the net amount of a cryptocurrency (or a group of assets) entering or exiting the exchange's wallets.
When the value of this metric is positive, it means a net amount of the asset in question is being transferred to Binance right now. On the other hand, negative values imply the investors are currently withdrawing a net number of tokens of the given asset.
Now, here is a chart that shows the trend in the Binance Net Flow Volume for all stablecoins (on the Ethereum blockchain), as well as its 14-day simple moving average (SMA), over the last few years: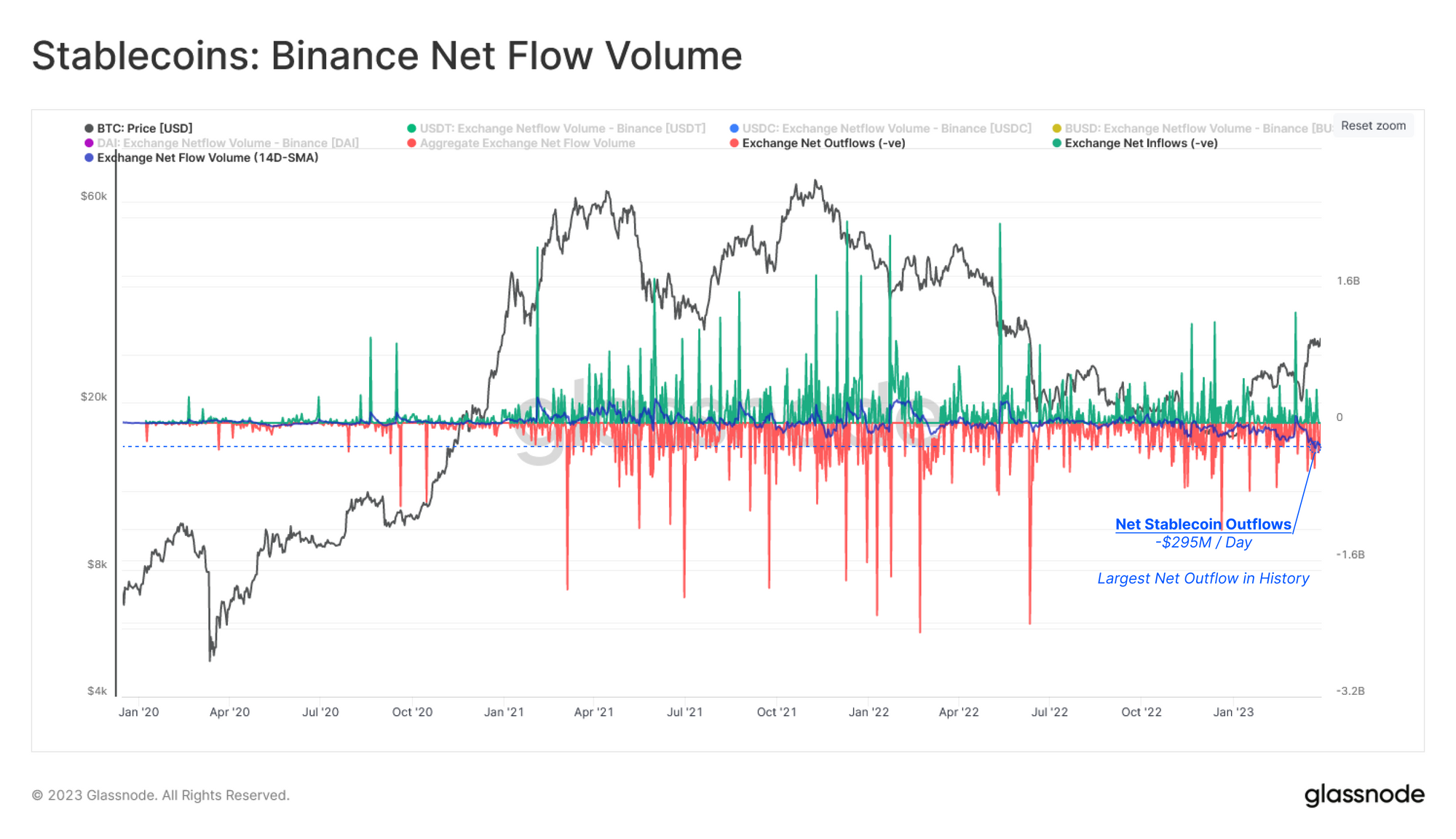 The above graph shows that the Binance Net Flow Volume for all stablecoins has recently seen larger negative spikes than positive ones. This suggests that stablecoin outflows have been overwhelming the inflows recently.
This is also visible more clearly in the 14-day SMA of the indicator. The chart shows this metric has been trending down inside the negative territory in the last few weeks.
According to the current value of this metric, investors are withdrawing stablecoins at a rate of $295 million per day from the cryptocurrency exchange. This is the largest net stablecoin outflow the platform has seen throughout its history.
Interestingly, while stablecoins are being withdrawn from the exchange, Bitcoin and Ethereum haven't noticed a similar trend. The below chart shows the trend in total BTC and ETH supplies being held inside the wallets of Binance.
As the graph shows, Binance has seen net inflows of Bitcoin in recent months as the BTC reserve on the platform has increased. The Ethereum reserve, however, has only moved sideways, but it still has yet to decline.
Based on these trends (despite the stablecoin net outflows), the report concludes that investors still need to show widespread concern about Binance. "Despite the developing friction between Binance and regulators, the platform appears to be primarily experiencing a stablecoin shuffle and remains the largest centralized exchange in the market," notes Glassnode.
At the time of writing, Bitcoin is trading around $27,900, up 4% in the last week.