A recent stunt from Elon Musk triggered a new rally phase for Dogecoin (DOGE). The Twitter CEO shifted the trend for DOGE by swapping Twitter's blue bird symbol with the popular Shiba Inu logo of the DOGE crypto.
While the excitement is high for the DOGE community, Bitcoin maximalists criticized the meme coin as centralized security. However, the DOGE co-creator Billy Markus defended Dogecoin, pointing to its similarity with Bitcoin.
Dogecoin Co-Creator Comes To Its Defense
The Twitter logo stunt spiked a mixed reaction within the crypto space. The DOGE community saw it as a desirable hype as its favorite token price took to the north.
However, some adverse reactions and criticisms emerged from a few Bitcoin maximalists. Alex McShane, Bitcoin's Head of Programs, taunted Musk's stunt through his tweet response.
McShane stated that DOGE is an unregistered centralized security. He implied that the meme coin is incomparable to Bitcoin since the former is a shitcoin. Further, he mentioned that Bitcoin is greater than Dogecoin.
Following McShane's slam, the Dogecoin community went wild with many counter-responses. The co-creator of DOGE, Billy Markus, also known as Shibetoshi Nakamoto, quickly rose to the defense of the meme coin.
In his tweet response, Markus said that Dogecoin runs with a similar codebase as Bitcoin. The programmer explained that the design of Dogecoin was a BTC parody without an inclination to profits. Also, the meme coin has no pre-mined tokens just like Bitcoin.
Markus maintained that if Dogecoin is a security, then Bitcoin is also a security. The two cryptocurrencies run with the same principles in all operations. Dogecoin only has a dog logo on it.
Further, Markus advised McShane to redirect his attacks to others, like Senator Elizabeth Warren. Notably, Senator Warren is famous for her anti-crypto stance.
Musk Stunt Triggers DOGE Price Rally
The famous supporter of the Dogecoin cryptocurrency, Elon Musk, swapped Twitter's bird logo with that of DOGE. On Monday, Musk tweeted 'As promised' just above the image of an older conversation with a user. In the discussion, the user stated that Musk should buy Twitter and change the bird logo to a DOGE.
Within a few hours of changing the logo, the meme coin's price rallied by almost 35%. CoinMarketCap, data showed that DOGE traded at an opening price of $0.07909, recorded an intraday high of $0.1026, and closed at $0.09608 on April 3.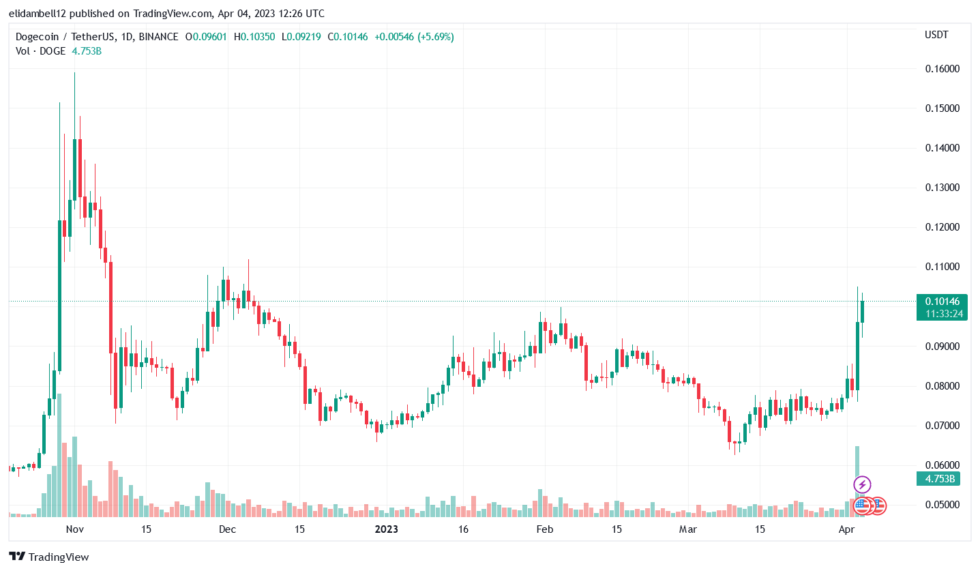 At the time of writing, the token is trading at around $0.10146, indicating a surge of 5% on the daily candle. Its 24-hour trading volume is $4.66 billion showing an increase of 591.75%. Also, DOGE's market cap is currently at $13.68 billion, with a market dominance of 1.18%.
Featured image Pexels and chart from Tradingview.com