Over the weekend, meme coins rallied hard after Elon Musk changed the Twitter logo to the famous Dogecoin meme. DOGE lead the rally with double-digit gains, climbing as high as 26% in a matter of hours. However, the largest meme coin by market cap was not the only one to benefit from this. Other meme coins quickly followed suit, returning significant gains for their investors during this time.
Meme Coins See Upside
The meme coins were able to break out from the rest of the crypto market once Dogecoin began to rally. Elon Musk's tweet triggered a recovery above $0.1 for the meme coin and investors flocked to similar assets to take advantage of the pump.
As a result, other meme coins such as Shiba Inu, Floki Inu, and Dogelon Mars have all seen significant upside in the last day. Trailing alongside DOGE's 26% rise, Floki Inu (FLOKI) has been the second-best performer during this time. The meme coin is up more than 10% in the last 24 hours and is seeing gains of 16.70% on the weekly chart.
Dogelon Mars (ELON) follows closely behind with a 7.41% rise in one day. Interestingly, it is ahead of Shiba Inu in this regard despite SHIB being the second-largest meme coin in the space. The Dogecoin rival only saw a 5.75% rise to bring its price above $0.0000114 once more.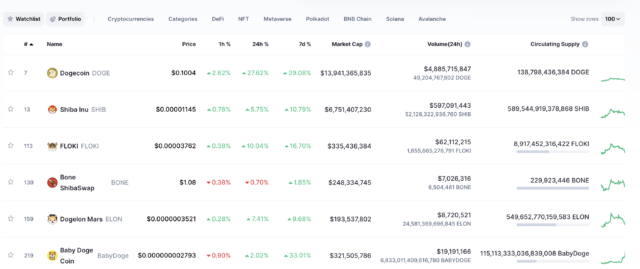 Others that have also done well in the 24-hour period include Shiba Predator (QOM) which rose 7.45%. Baby Doge Coin (BabyDoge) came out on the low end of the rallies with only a 2% increase but is ahead of the rest on the 7-day chart with a 33% increase.
What's Next For Dogecoin?
Dogecoin is still seeing good upside and is one of the top gainers in the crypto market currently. Even after rising so much already, there is the possibility of another rally given that Elon Musk is yet to change the Twitter logo back to the original image.
At the time of writing, when Twitter loads on the web, it still shows the DOGE logo, as well as the same logo on the top left-hand side of the page where the Twitter logo usually is. Given this, there is more publicity going on for the cryptocurrency which could drive it up further.
Related Reading: Can Dogecoin Reach Its Previous ATH? Let's Take A Look At The Facts
DOGE's climb above $0.1 has now seen its market cap rise to $14 billion, claiming the 7th place on the list of largest cryptocurrencies by market cap. It is now sitting at its highest point since December 2022, showing incredibly bullish tendencies as it rose over its 200-day moving average.