PrimeXBT has consistently maintained its reputation over the years as a top multi-asset margin trading platform in the cryptocurrency market.
As a testament to its pursuit of innovation and unwavering commitment to staying at the forefront of the industry, PrimeXBT has recently introduced a range of new updates that have propelled it to become a groundbreaking crypto futures platform.
In this review, we will delve into the latest features and tools that set PrimeXBT apart from its competitors and solidify its position as a revolutionary trading platform for both experienced and novice traders alike.
Crypto Futures Trading: Expanding Opportunities
PrimeXBT's introduction of its cutting-edge crypto futures trading platform marks a significant milestone in the platform's evolution, providing users with an expanded array of trading strategies and techniques to explore and master.
With a wide variety of futures contracts available for numerous cryptocurrencies, traders can speculate on future price movements, positioning themselves to profit from both bullish and bearish market trends. The increased flexibility and adaptability enable traders to optimize their earning potential in the dynamic world of cryptocurrency trading.
The addition of crypto futures trading broadens the spectrum of profit-making possibilities and allows traders to implement more robust risk management strategies. This enhancement further solidifies PrimeXBT's reputation as a versatile and powerful trading platform, catering to the diverse needs and preferences of investors across the board.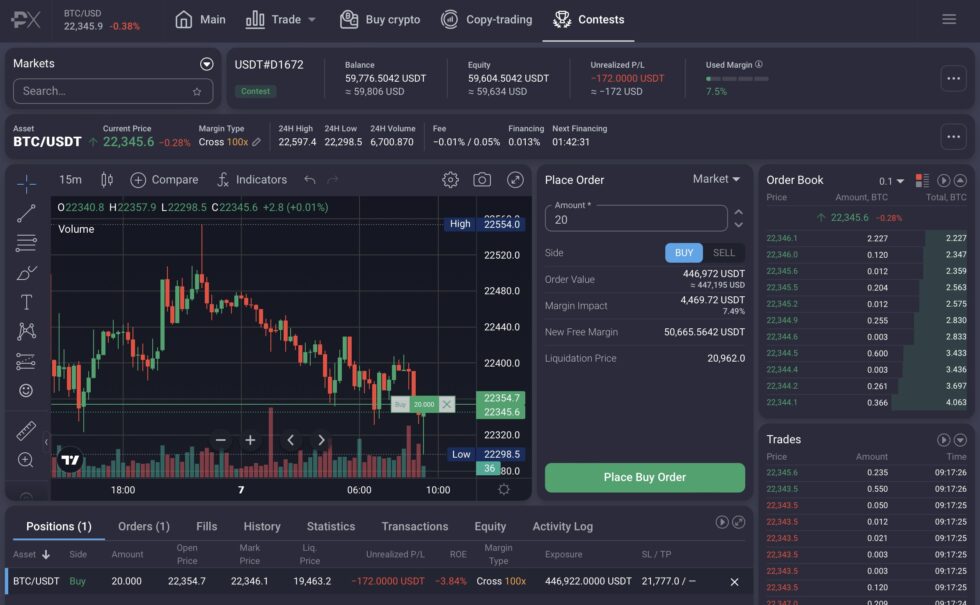 Perpetual Contracts: Maximize Flexibility
The introduction of perpetual contracts on PrimeXBT's crypto futures platform marks a significant upgrade, providing traders with unmatched flexibility in managing their positions smoothly and effectively.
Unlike traditional futures contracts, which have a fixed expiry date, perpetual contracts allow traders to hold positions for an indefinite period. This eliminates the need to worry about rollover fees or contract expiration, granting traders greater freedom to adapt their strategies to the ever-evolving cryptocurrency market.
Implementing perpetual contracts in PrimeXBT's crypto futures platform further empowers traders to navigate the dynamic world of cryptocurrencies more proficiently. The new feature is a testament to the platform's commitment to providing traders with the tools and options they need to thrive in the rapidly changing landscape of digital assets.
Enhanced Leverage and Margin System
PrimeXBT recognizes the diverse needs of its growing user base and has made important improvements to its leverage and margin trading options. These enhancements offer a broader range of choices for traders to manage their risk exposure effectively.
With customizable leverage settings and dynamic margin requirements, traders can fine-tune their trading experience to align with their individual risk tolerance and current market conditions. For example, traders can switch between cross or isolated margin and use a sliding leverage system to adjust risk and profit potential.
This incredible level of control allows traders to create a personalized strategy that reflects their unique goals and adapts to the ever-changing dynamics of the cryptocurrency market. By offering these advanced options, PrimeXBT helps traders take full advantage of the opportunities within the crypto futures market while effectively managing their risk exposure.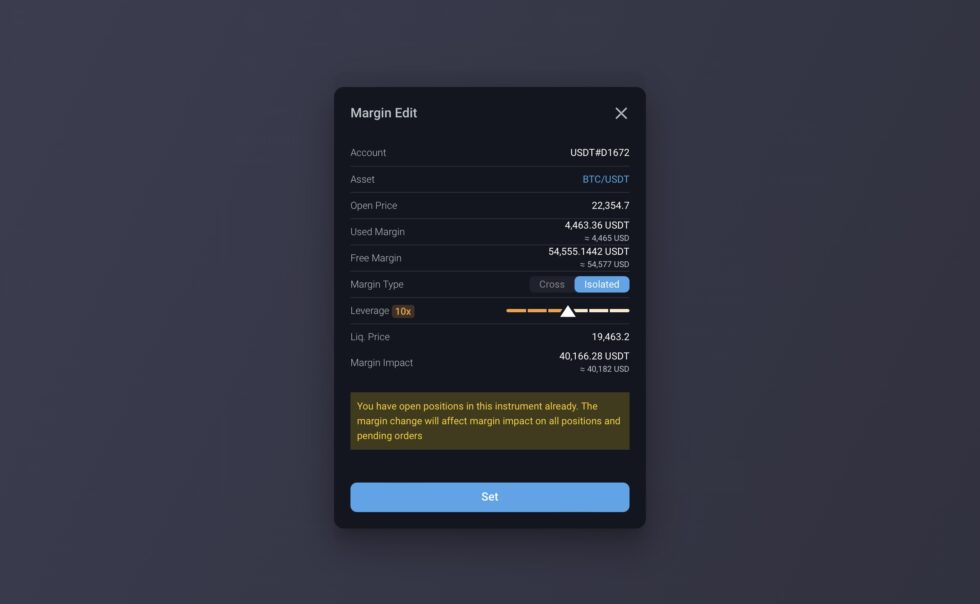 Unique Margin Collateral Options: Expanding Trading Possibilities
A crucial aspect that sets PrimeXBT's crypto futures platform apart is the ability for traders to use a variety of cryptocurrencies, including BTC, ETH, USDT, and USDC, as margin collateral. This innovative feature provides traders with increased flexibility and convenience when participating in the crypto futures market.
Margin collateral refers to the assets traders deposit in their trading accounts to cover potential losses when trading with leverage. By using cryptocurrencies as margin collateral, traders can maintain their long-term positions in these digital assets without having to sell them at potentially unfavorable prices. Instead, they can use their existing crypto holdings as collateral to enter the fast-paced and lucrative world of crypto futures trading.
PrimeXBT's unique approach to margin collateral not only preserves traders' long-term investment strategies but also allows them to maximize the utility of their digital assets. By offering the option to use popular cryptocurrencies as collateral, PrimeXBT empowers traders to leverage their existing holdings and take advantage of the dynamic crypto futures market without liquidating their assets prematurely.
Customizable, Updated User Interface
Another one of PrimeXBT's latest major improvements is the focus on providing a customizable, updated user interface that enhances the overall trading experience for its users. The all-new crypto futures platform has made significant strides in creating an intuitive and user-friendly environment that caters to the needs of experienced traders and supports those new to the world of crypto futures trading.
The updated user interface allows traders to create a personalized workspace that matches their unique trading style and preferences. Users can easily rearrange the layout, modify chart types, and adjust timeframes, ensuring they have access to the information most relevant to their trading decisions.
This level of customization enables traders to create an efficient and comfortable environment, which can contribute to better decision-making and improved trading results.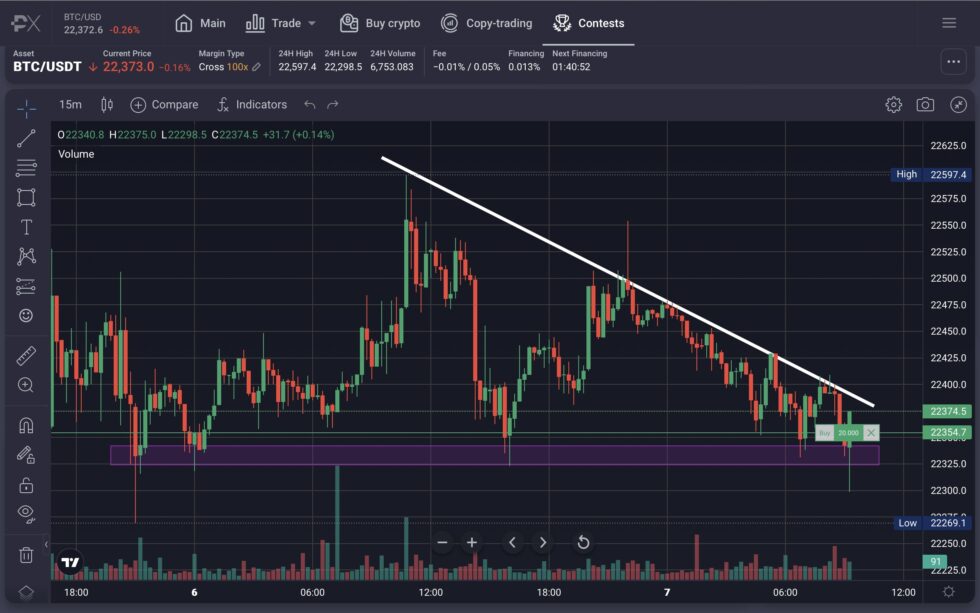 Improved Charting and Technical Analysis Tools
PrimeXBT's latest update brings significant refinements to its charting and technical analysis tools, further elevating the trading experience for users of all levels. With a more user-friendly interface and a vast array of indicators, traders can now conduct in-depth market analysis and make well-informed trading decisions based on accurate data and insights.
Built-in TradingView support ensures users have access to the vital tools and resources necessary to thrive in the dynamic crypto futures market. Orders and positions appear on the chart in real-time, giving traders a realistic view of critical price levels, such as trend lines, support and resistance, and more.
By consistently improving and expanding its range of analysis tools, PrimeXBT demonstrates its commitment to providing traders with a cutting-edge platform and a chance to succeed in the competitive world of crypto futures trading. Charting software included ensures that traders never have to leave the platform for technical analysis.
Advanced Risk Management and Security Features
In keeping with its unwavering commitment to user security, PrimeXBT has introduced an array of additional risk management features and robust security protocols to further protect its users' funds and experience.
This enhanced security suite includes address whitelisting, two-factor authentication, and a proprietary cold storage process, all meticulously designed to strengthen the protection of users' assets. Furthermore, the platform has implemented a daily withdrawal confirmation system via email, adding an extra layer of security and peace of mind for its users.
By continually emphasizing and reinforcing its security measures, PrimeXBT showcases its dedication to providing a safe and secure trading environment, allowing traders to focus on their strategies and performance without worrying about the safety of their assets.
Mobile App Enhancements
The PrimeXBT mobile app, expertly developed for both Android and iOS devices, has undergone substantial improvements to offer a seamless and all-inclusive trading experience while on the move.
With the latest updates, users can now effortlessly access cutting-edge charting tools, manage Covesting strategies, and even share their trading ROI across a variety of social media platforms, all through the intuitive and easy-to-use app interface.
These enhancements ensure that traders can maintain a constant connection to the markets, make informed decisions, and quickly adapt to shifting market conditions, regardless of their location, ensuring uninterrupted trading access and performance.
The app is available as a free download from the Google Play Store for Android and the Apple App Store for iOS.
Conclusion
The most recent updates to PrimeXBT have solidified its position as an industry-leading crypto futures platform, skillfully catering to the diverse needs of traders from various backgrounds and experiences.
By integrating futures trading, perpetual contracts, and advanced technical analysis tools, PrimeXBT enables its users to harness the plethora of opportunities arising from the dynamic and ever-evolving cryptocurrency ecosystem.
Thanks to its unwavering commitment to innovation and continuous improvements, PrimeXBT remains an attractive choice for traders seeking to unlock the vast potential of the crypto futures market and optimize their trading performance. Visit PrimeXBT today.