While some governments have expressed pushed back against the potential of crypto, the Swiss government seems to be bringing it closer to its citizens. Earlier today, PostFinance, a financial services firm fully owned by the Swiss government, rolled out crypto services to its clients.
This crypto services launch comes as a result of the firm's partnership with the first digital asset bank, Sygnum. Bragging an enormous count of users of 2.5 million customers, PostFinance is one of Switzerland's leading financial institutions and largest retail banks.
Crypto Services Offered To Customers
On April 5, PostFinance announced its latest offering of regulated digital asset banking services via its partnership with Sygnum. According to the government-owned bank, this move follows its discovered strong demand for digital investment services after analyzing its customer's investment needs.
Related Reading: Binance Attempts To Secure License To Offer Crypto Services In Singapore Again
Henceforth, PostFinance clients will now be able to buy, sell and store notable cryptocurrencies such as Bitcoin (BTC) and Ethereum (ETH). In addition, the company's clients will now have access to a range of cryptocurrency services.
Philipp Merkt, Chief Investment Officer of PostFinance Ltd said in the announcement:
Digital assets have become an integral part of the financial world, and our customers want access to this market at PostFinance, their trusted principal bank. A reputable and established partner like Sygnum Bank with an excellent service offering is more important than ever.
Introducing Crypto Staking Services
According to the announcement, crypto staking – the lock-up of crypto assets for a set period of time to earn yields – is one of the "new revenue-generating services" PostFinance is said to offer to its customers in partnership with Sygnum. The staking service will support notable crypto assets such as Ethereum, Cardano (ADA), Internet Computer (ICP), and Tezos (XTZ).
Furthermore, the launch of crypto services is not the only feature PostFinance benefits from the partnership. The announcement said Sygnum's B2B banking platform would allow PostFinance as well as other financial institutions to have access to the company's several banking partners.
Related Reading: Hong Kong-based Q9 Wins Approval To Run Crypto Services In Dubai
Fritz Jost, Chief B2B Officer, Sygnum Bank, noted:
Our all-in-one B2B banking platform enables our fifteen-plus B2B partner banks to expand their range of regulated digital asset services at scale and speed. We are pleased to empower PostFinance to deliver institutional-grade digital asset services to their customers. We are committed to continuously driving further innovation and positive change for the industry and our partner banks' customers.
Meanwhile, Credit Suisse, another bank firm from Switzerland has just been rescued by UBS, a financial services firm, after suffering from a financial run.
Last month, UBS purchased Credit Suisse for 3 billion Swiss francs ($ 3.25 billion), which is around 60% less than the value of the bank.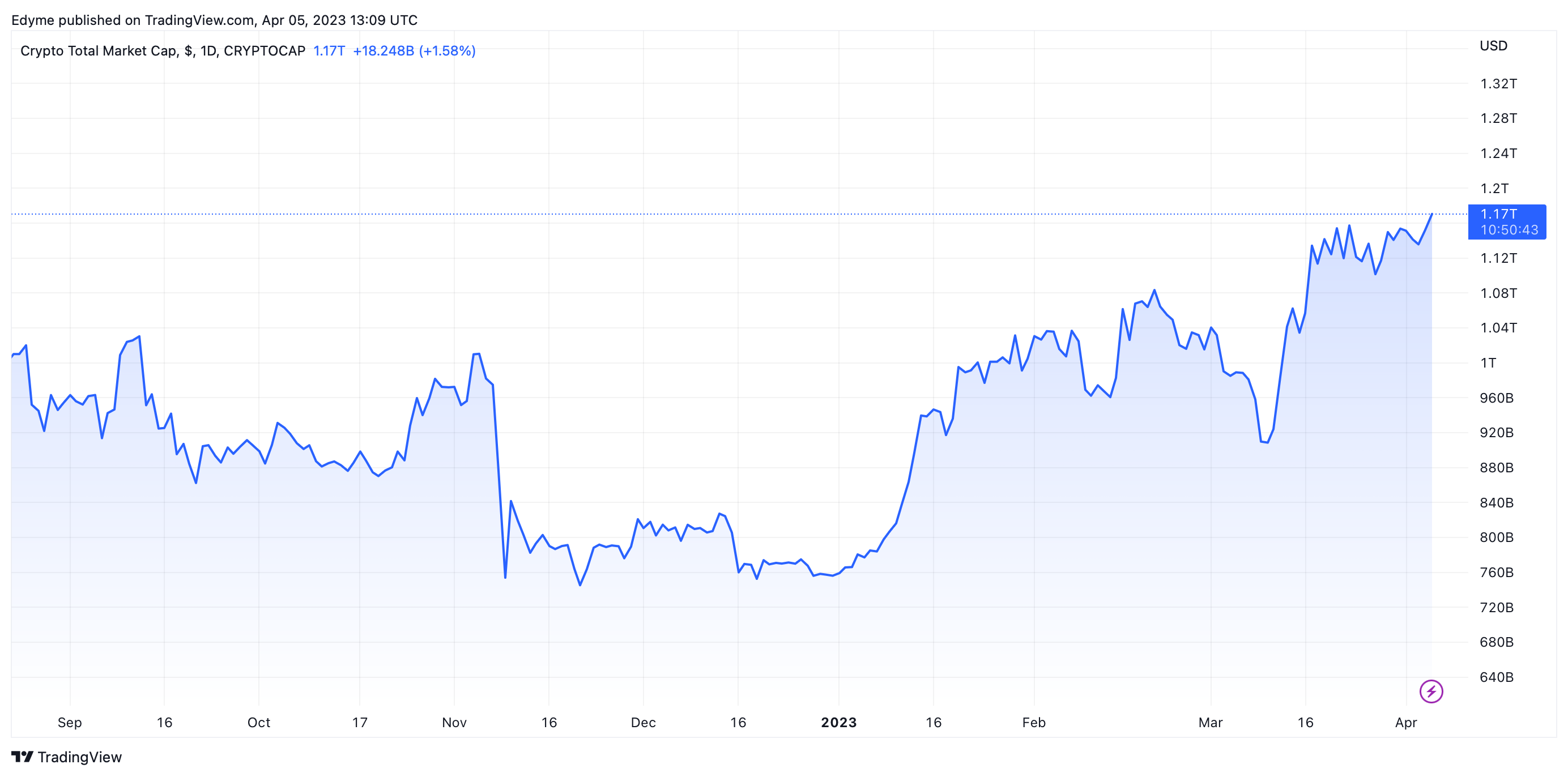 Regardless of the different news circulating in the industry, the global crypto market has maintained composure. Over the past 24 hours, the global crypto market capitalization has surged by 1%, with a value above $1.2 trillion at the time of writing.
Featured image from Unsplash, Chart from TradingView