While the crypto industry has appeared to be in need of constant access to traditional banks like never before especially following the collapse of these major crypto-friendly US banks – Silvergate, Silicon Valley, and Signature, Singapore authorities seem to not be shying away from the fact but instead look to how to make it possible.
Earlier today, the Singapore authorities, disclosed its latest plan to assist banks in its region examine potential crypto clients. This update comes amid the wake of several global fallouts in the industry.
Presenting New Guidance
According to Bloomberg citing people with knowledge of the matter, both the Singapore central banks and legal forces such as the police have since been working together to post several approaches towards screening service providers from the digital asset sector looking to open a bank account.
According to the report, this combined force has since been ongoing for the past six months, and over the next two months, the authorities would introduce a new report of guidelines that addresses measures such as "diligence" and "risk management" crypto clients should take note of before having an account with banks in the region.'
Related Reading: Binance Attempts To Secure License To Offer Crypto Services In Singapore Again
Other aspects that will be mentioned in the upcoming report include Stablecoin, non-fungible tokens (NFTs), and transferable gaming or streaming credits for clients or crypto companies looking to provide services relating to payment, trading, or transferring of the listed assets.
Despite the guidelines, people familiar with the matter noted, "the banks will decide whether to accept these clients based on their risk appetites."
Meanwhile, the MAS told Bloomberg, "There are no rules stopping banks operating in the country from doing business with firms handling cryptocurrencies or other forms of digital assets."
The Monetary Authority of Singapore added:
As with any other current or prospective customer, banks are required to conduct customer due diligence measures to understand and manage the risk[s] posed by them. Banks make their own determination of whether to start or continue a banking relationship with a customer, balancing between commercial considerations and business risk tolerance.
Singapore's Stance On Crypto
It is worth noting even with all this news, Singapore's stance on crypto seems rather shaky despite the country being a crypto hub. In January, the MAS published a proposal that suggested a range of measures that include central banks to restrict retail customers' access to cryptocurrencies.
Related Reading: Singapore Crypto Group Pushes Back On MAS Proposed Token Lending Ban
Additionally, preventing investors from borrowing funds to purchase crypto tokens and prohibits firms from lending or staking their coins to generate yields.
While the proposal appeared as a surprise to some given the country's aim to be a crypto hub, a crypto group opposed the proposal.
Deeming it overly restricted, the association objected that an approval of a proposed measure like that would only make individuals interested in cryptocurrency token lending seek other unregulated offshore alternatives.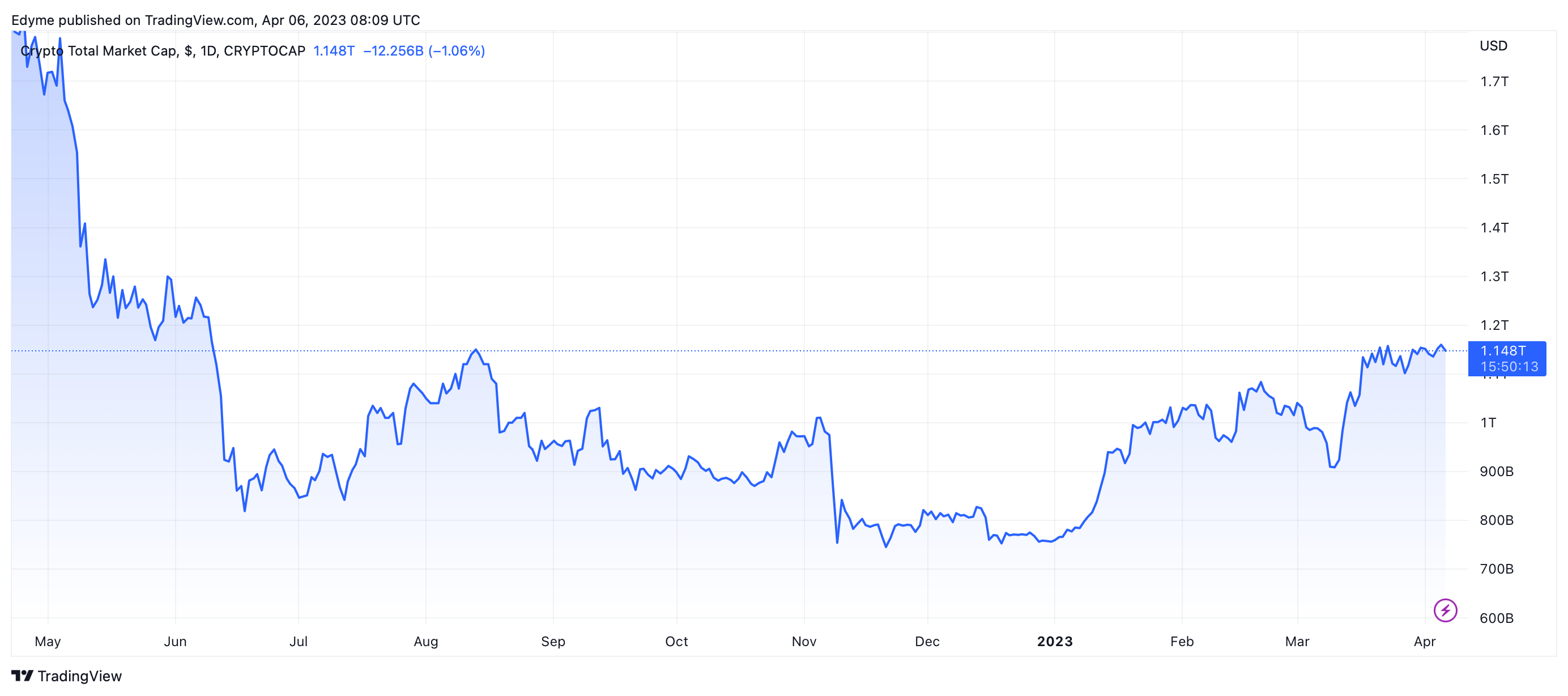 Regardless of the different news circulating in the industry, the global crypto market has maintained composure. Over the past 24 hours, the global crypto market capitalization has plummeted by only 1.5%, at the time of writing with a value still above $1.2 trillion.
Featured image from Unsplash, Chart from TradingView