Bitcoin's recent upward trend has ceased, and the price has entered a phase of steady consolidation with no clear direction. The cryptocurrency is currently in a crucial zone, and in order to surpass the significant obstacle of the $30K resistance level, there must be an increase in demand and buying power.
Technical Analysis
By Shayan
The Daily Chart
Bitcoin has recently reached a critical zone of $30,000, which has proven to be a significant resistance level.. This level has halted Bitcoin's recent impulsive rally and has resulted in a period of steady PA with low volatility.
If the BTC bulls push the price above this crucial region, it could likely lead to a long-term bullish trend.
However, the divergence between the price and the RSI indicator suggests that a short-term correction is likely to occur soon. In this case, the $25K region, which aligns with the 50-day moving average, will become the primary support level for Bitcoin.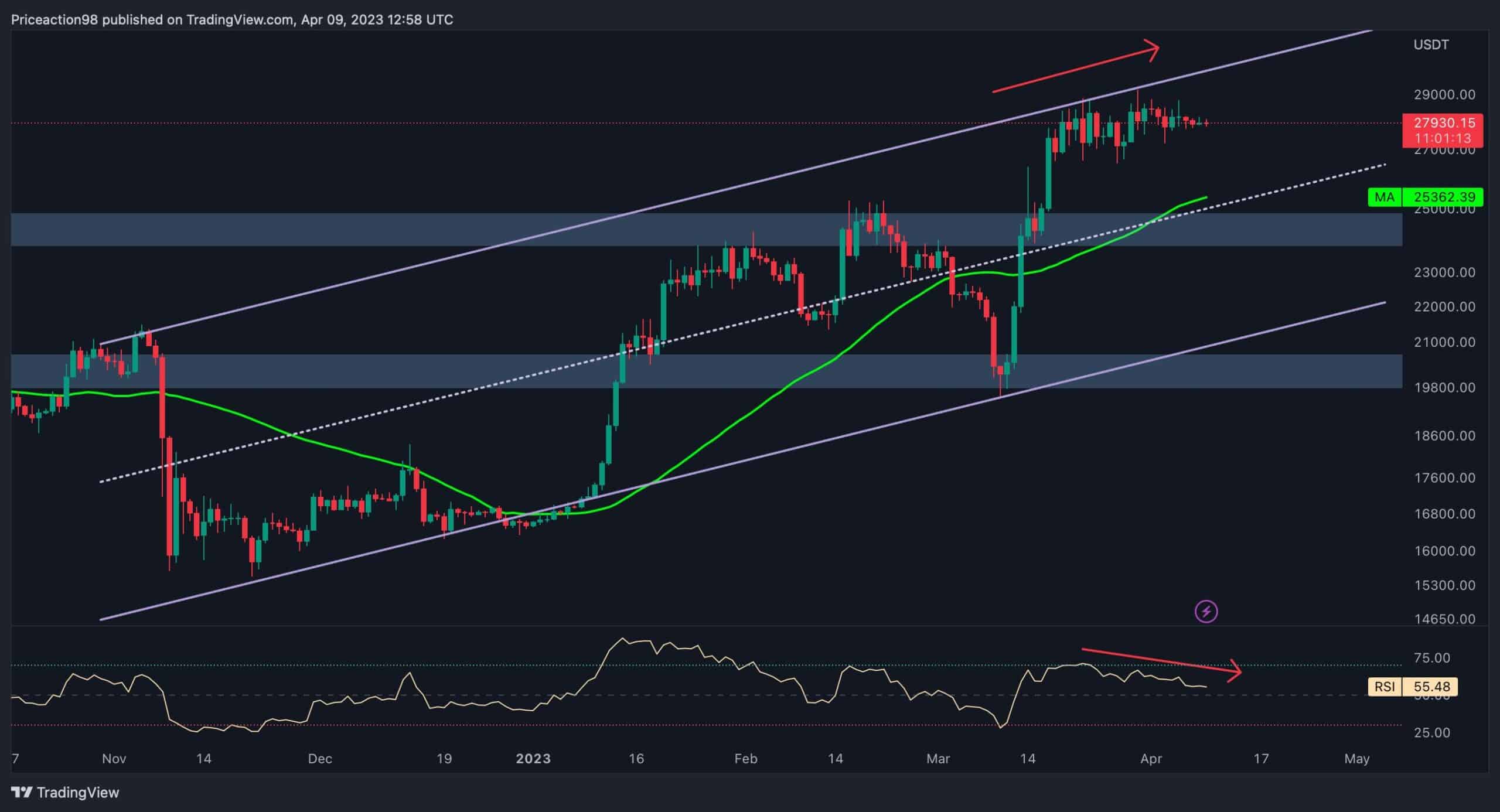 Source: TradingView
The 4-Hour Chart
Bitcoin has formed an ascending trendline on the 4-hour timeframe, which has been in place for several months and is currently acting as a support for the price. However, the cryptocurrency has been trapped between the ascending trendline and the $30K price region. A significant move above or below this crucial range will potentially eliminate any uncertainty and determine the mid-term outlook of the price.
To summarize recent movements, a short-term rejection followed by a consolidation correction stage seems likely for Bitcoin in the coming days.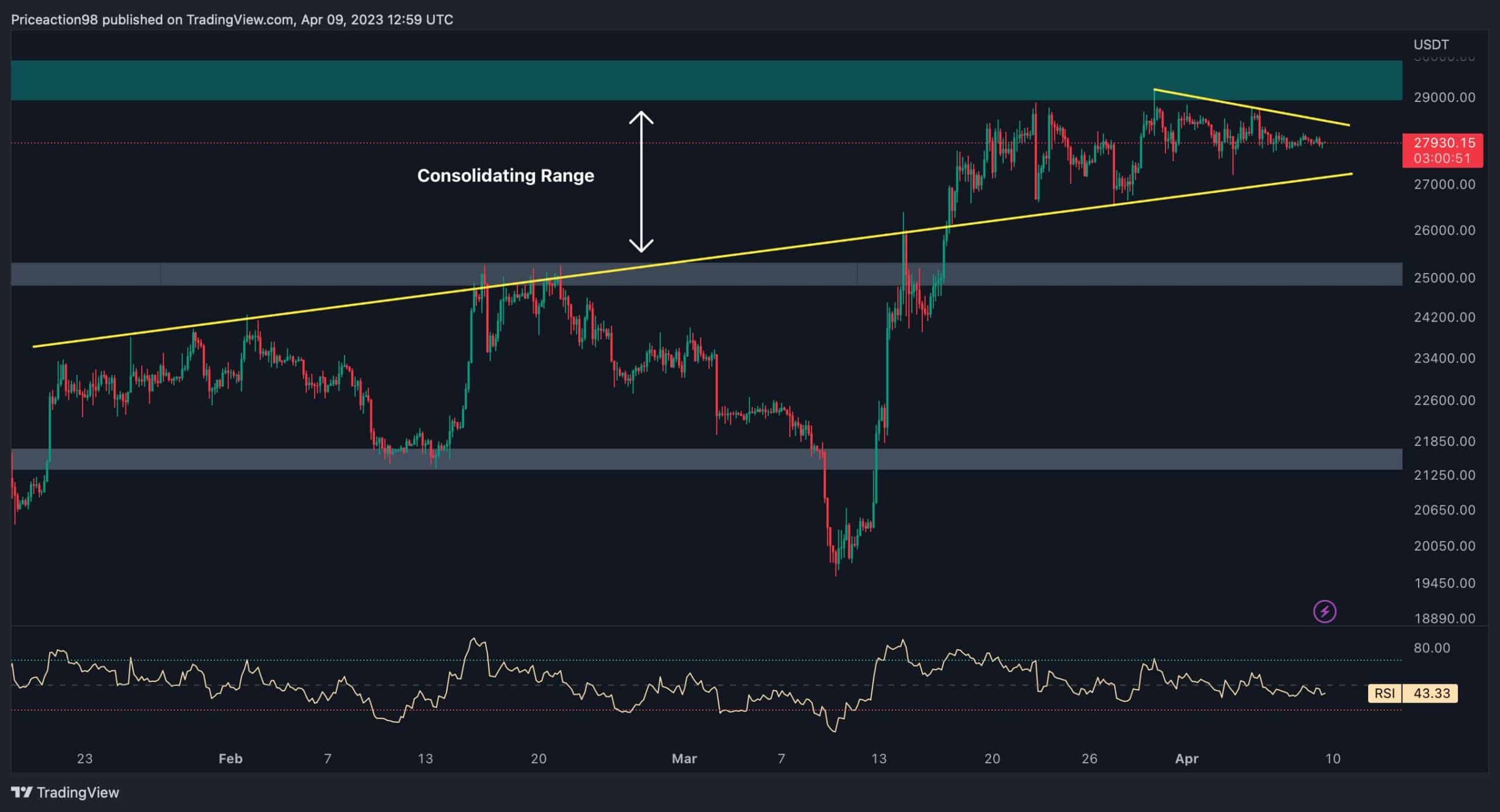 Source: TradingView
On-chain Analysis
By Shayan
Bitcoin's difficulty adjusts based on the behavior of miners and the latest movements in the hash rate. The difficulty level is readjusted depending on the number of miners currently using their machines to mine. When there are more active miners, the difficulty adjustment makes it harder for them to mine a block, which helps ensure that the rate of block production remains relatively constant.
According to data from CryptoQuant, the most recent adjustment has led to a spike in the difficulty metric, resulting in a new all-time high. This indicates that more miners are willing to mine Bitcoins and keep their machines running, making the network more secure. Overall, this is a bullish sign for the cryptocurrency.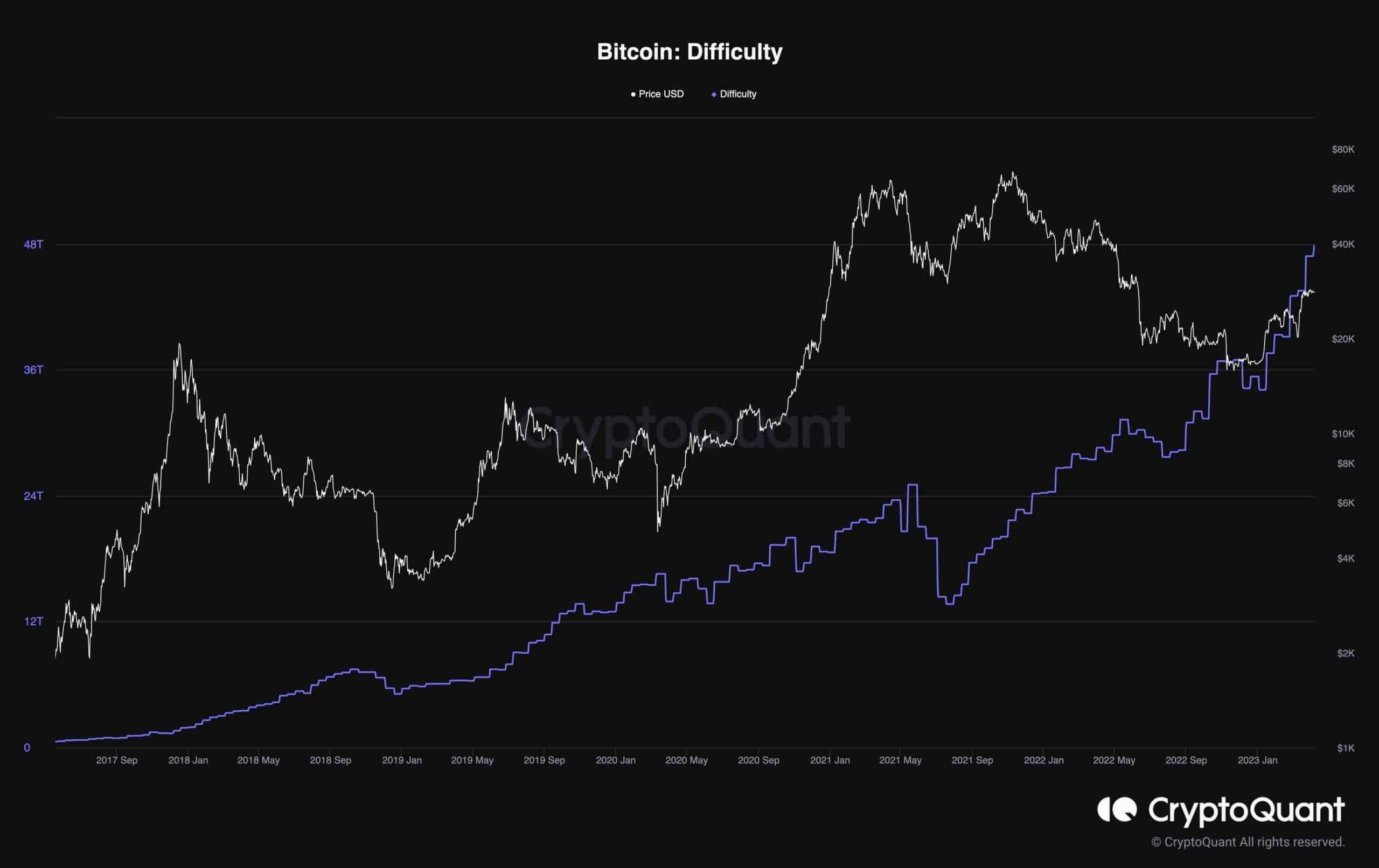 Source: TradingView
The post BTC Unable to Escape $28K Range, is a Correction Incoming? (Bitcoin Price Analysis) appeared first on CryptoPotato.