Following yesterday's massive price pump, bitcoin has calmed around $30,000 ahead of the much-awaited US CPI numbers.
Most altcoins have retraced today, with ETH sliding below $1,900 and BNB dumping beneath $320. SOL, though, has defied the market sentiment.
Bitcoin Stalls at $30K
The end of last week, and the weekend in particular, brought little-to-no price movements for bitcoin, which had remained stagnant at around $28,000. Although Monday started on a familiar note, the landscape changed in the late hours and early Tuesday.
Bitcoin went on the offensive hard, surging past $29,000 and even $30,000 for the first time since before the Terra crash. This rally culminated in a price increase to $30,400 (a new 10-month high).
BTC has since lost some ground and dabbled with the $30,000 price tag. The asset remains quiet for now, but all that is expected to change later today when the US CPI numbers for March are set to come out.
As of now, its market capitalization has retreated to $580 billion, but its dominance over the altcoins keeps rising and is now at 47.5%.
BTCUSD. Source: TradingView
ETH Slides Ahead of Shapella
Aside from the CPI numbers, the other highly-anticipated event scheduled to take place today is Ethereum's Shapella upgrade. With speculations running rampant on what could happen with ETH's price following the unlock, the asset has slightly retraced in the past 24 hours and currently sits below $1,900.
Most other larger-cap alts are in a similar shape. BNB, XRP, ADA, DOGE, MATIC, and LTC have all declined by up to 4% in a day. Solana is the only exception from the larger-cap alts. SOL has soared by 5.5%, adding to yesterday's gains, and trades above $23.
Most of the lower- and mid-cap alts are also sitting slightly in the red today. This has pushed the cumulative market cap of all crypto assets south by over $20 billion. Nevertheless, the metric is still above $1.2 trillion on both CMC and CoinGecko.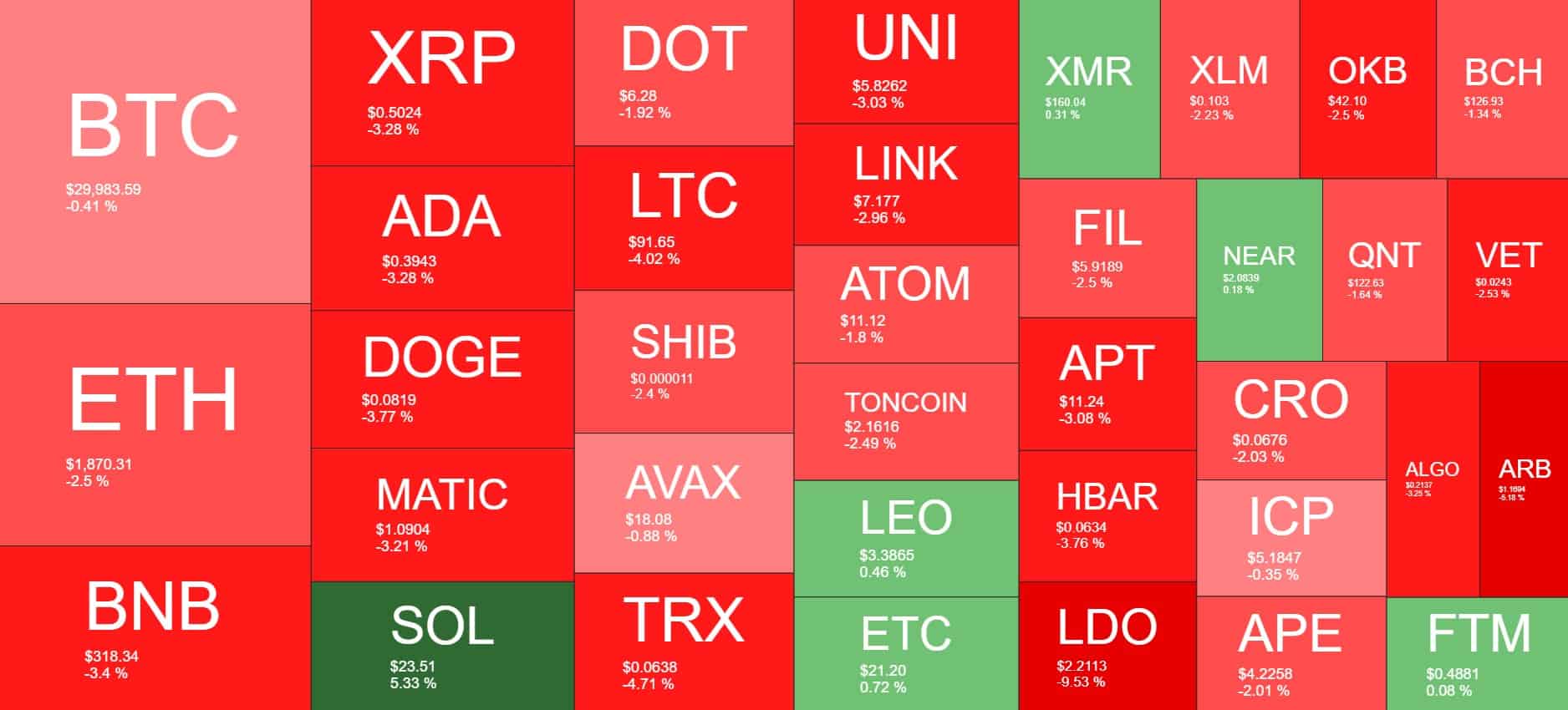 Cryptocurrency Market Overview. Source: Quantify Crypto
The post Bitcoin Calms at $30K Ahead of US CPI Announcement (Market Watch) appeared first on CryptoPotato.