The CPI numbers from yesterday expectedly brought some volatility to the crypto market, with BTC pumping and dumping by $500 in minutes.
The other big news of the day – the Ethereum Shapella upgrade – has helped the second-largest crypto jump by 3.5% and reclaim $1,900.
Bitcoin Calms at $30K
The end of last week, as well as Saturday and Sunday, were quite stagnant for bitcoin, which remained stuck around $28,000. Monday was no different, at least in its early hours, but the landscape changed as the day was coming to its end.
BTC spiked to over $29,000 and, unlike the previous attempts to overcome that line, didn't give in. Just the opposite, it kept going on Tuesday morning and blasted through $30,000 for the first time since June 2022.
More volatility was expected on Wednesday as the US was set to announce the latest CPI numbers. Once it became clear that the inflation rates for March were lower than the figures for February and January, BTC initiated a leg-up that drove it north by $500.
However, the price pump was rather brief, and the cryptocurrency returned to $30,000 hours later. As of now, it trades inches above that coveted line, and its market cap has climbed to over $580 billion. Its dominance over the altcoins stands north of 47%.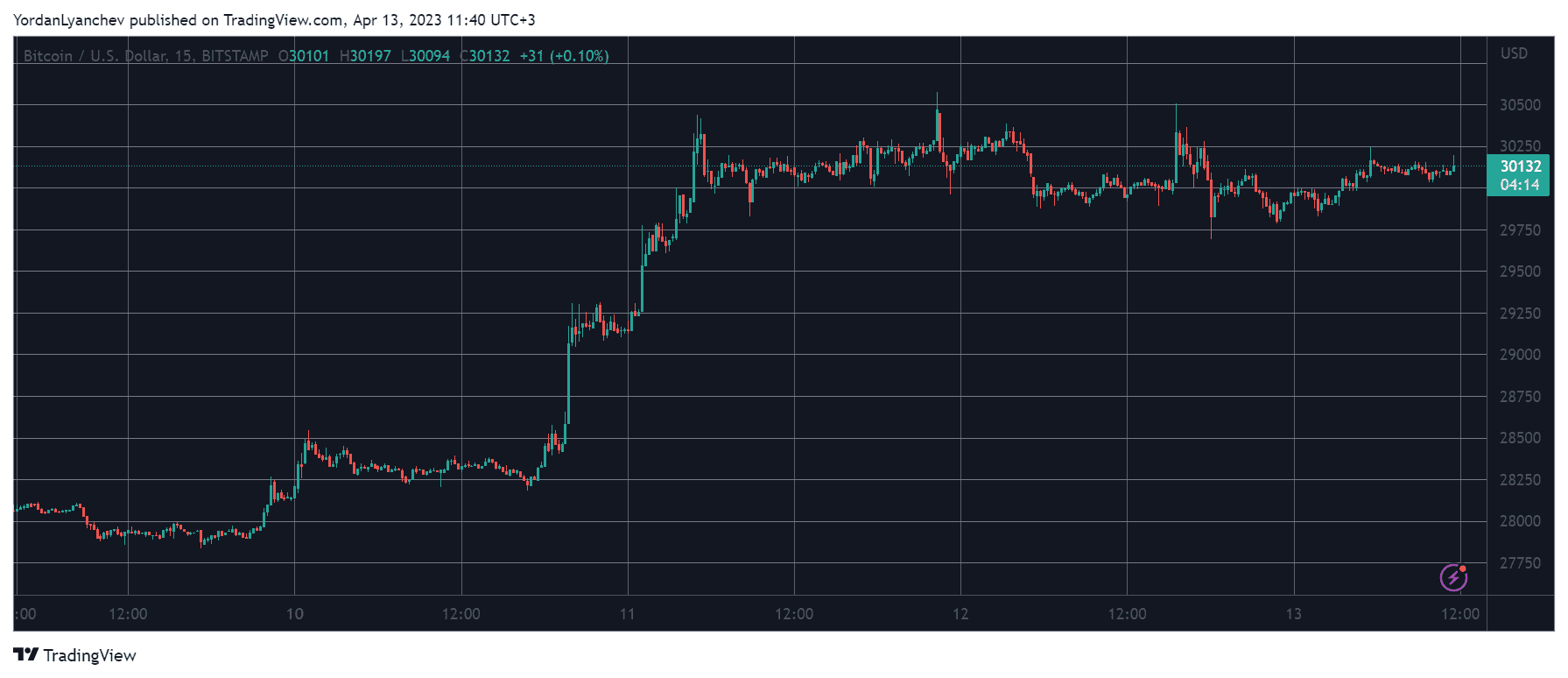 BTCUSD. Source: TradingView
Shapella Leads to ETH Gains
Wednesday was supposed to be an eventful day for the Ethereum community as well. The second-largest blockchain went through its most significant upgrade since the Merge, called Shapella. In the following hours, the native token jumped by 3.5% and reclaimed $1,900.
Dogecoin, MATIC, UNI, and Ethereum Classic have added similar percentages in the past 24 hours. Binance Coin, Ripple, Cardano, Solana, Polkadot, Litecoin, and Shiba Inu are also in the green from the larger-cap alts, albeit in a more modest fashion.
ARB, APE, and FTM have surged the most from the top 50 alts, with gains of up to 9%.
Overall, the total crypto market cap has added over $15 billion daily and sits close to $2.240 trillion on CMC.

Cryptocurrency Market Overview. Source: Quantify Crypto
The post ETH Reclaims $1.9K After Shapella Update, BTC Calms at $30K Following CPI Volatility (Market Watch) appeared first on CryptoPotato.