With the lower trading volumes during the weekend, bitcoin has stalled around $30,000 but still remains above that level.
Most altcoins are also sitting quietly, with ETH standing at $2,100. INJ, however, has skyrocketed on a weekly basis.
BTC Stalls at $30K
The past week was quite eventful for the primary cryptocurrency, despite its sluggish start. BTC remained at $28,000 on Monday, similar to the previous weekend, but the landscape started to change as the day progressed.
The bulls initiated a leg-up that resulted in BTC spiking to $29,000. Unlike the previous attempts to overcome that level, this one was successful, and bitcoin skyrocketed beyond $30,000 for the first time since June 2022. Then came the US CPI announcement, which sent the asset flying to $30,500 once more.
Yet, that was short-lived, and BTC retraced by $500 in minutes. Another price surge came on Friday when bitcoin jumped to and just inches above $31,000 to mark a new ten-month peak.
The following two days were a lot calmer, and BTC has remained in a tight range between $30,000 and $30,500. Its market cap remains below $600 billion, while its dominance over the alts sits at 46.1%.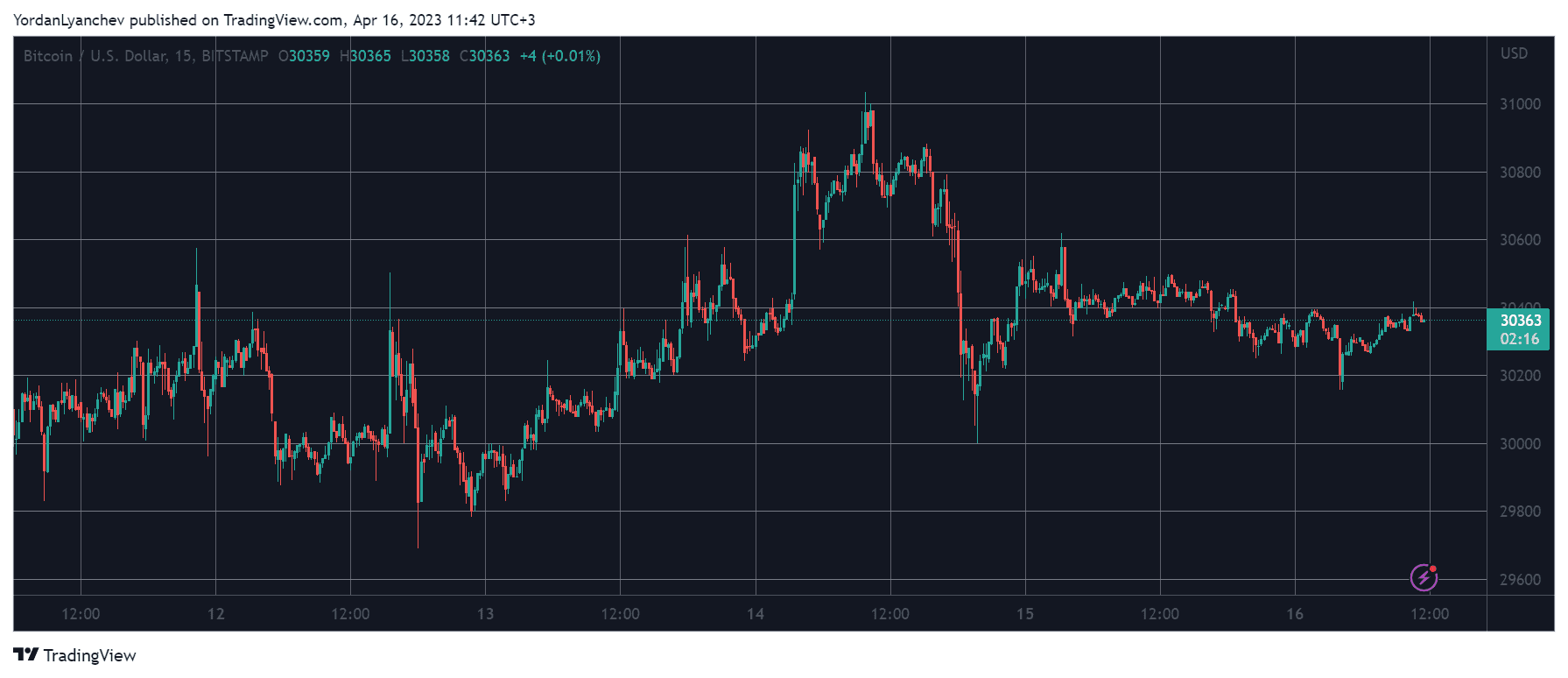 BTCUSD. Source: TradingView
INJ's Weekly Gains
Most altcoins also registered impressive gains during the week but have calmed now. Ethereum was at the forefront following the successful completion of the Shapella update. ETH traded at $1,900 back then and soared past $2,100 to mark an 11-month high. Despite being slightly in the red now, ETH still trades at around that level.
The rest of the larger cap alts are also sitting quietly. Binance Coin, Ripple, Cardano, Dogecoin, MATIC, Solana, Polkadot, and Litecoin are also slightly in the red or with minor gains.
Shiba Inu has jumped the most from the top 10 largest cryptocurrencies. SHIB is up by over 3% and sits at $0.000012.
Injective has gained nearly 10% in the past 24 hours and almost 60% on a weekly scale. As a result, INJ trades above $8.5.
The cumulative market cap of all crypto assets has remained at essentially the same spot as yesterday at just under $1.3 trillion on CMC.

Cryptocurrency Market Overview. Source: Quantify Crypto
The post Injective (INJ) Soars 60% Weekly, Bitcoin Flat Above $30K (Market Watch) appeared first on CryptoPotato.