After several days of trading above the coveted $30,000 line, bitcoin has slipped below that level, charting a 5-day low.
In contrast, ETH pumped a bit higher today to register its new highest price level since May last year. BNB, DOGE, and SOL are up by impressive percentages, meanwhile.
Bitcoin Falls Below $30K
After regaining the $30,000 level last week, the primary cryptocurrency remained mostly above it for the next several days, and even the US CPI numbers couldn't really shake it. The most significant price increase came on Friday when the asset touched $31,000 for the first time since June 2022.
However, the bears intercepted the move and pushed BTC south. Hours later, it found itself dumping to $30,000 but managed to maintain that level during the weekend amid low trading volumes.
As Sunday was coming to an end, BTC initiated a leg up but was stopped ahead of $30,600. The subsequent rejection drove it south hard, and bitcoin went to a 5-day low of $29,800.
As of now, the asset has recovered around $100 but still stands below $30,000. Its market capitalization has retraced to under $580 billion, while its dominance over the alts has taken another hit and is now down to 45.7% after exceeding 47% a week ago.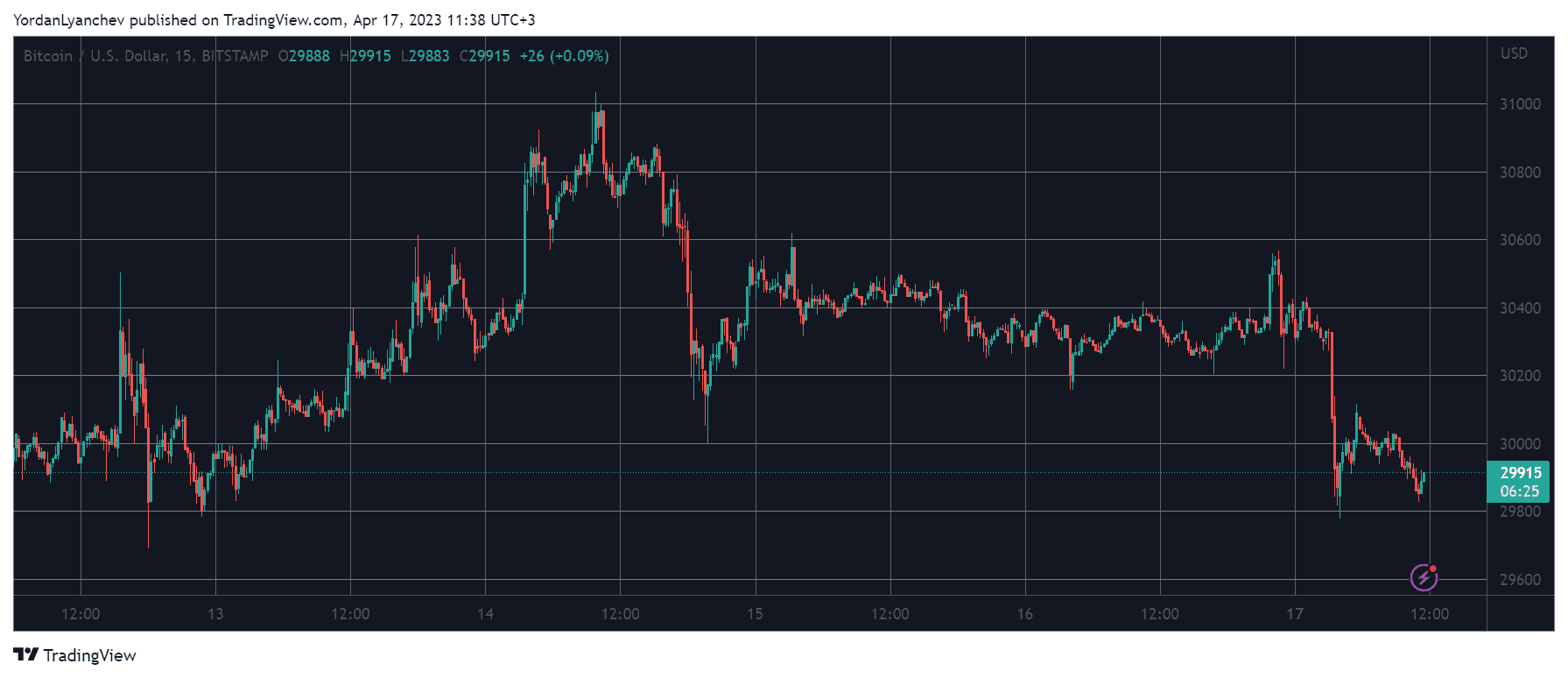 BTCUSD. Source: TradingView
ETH's New Local Peak
Ethereum stole bitcoin's spotlight last week upon the completion of the long-anticipated Shapella update. Its native token has massively outperformed BTC, resulting in increasing its dominance. Amid the substantial moves in staked ETH, the asset spiked once more hours ago to over $2,130 to chart its latest 11-month high before retracing to just under $2,100 as of now.
Binance Coin, Dogecoin, Solana, and Litecoin have all added somewhere between 3-4% in a day. As a result, BNB trades at $345, DOGE is above $0.9, SOL is at $25, and LTC is inches away from $100.
Avalanche has soared by 6% in a day and over 15% in a week to exceed $20.
The total crypto market cap has remained at essentially the same spot as yesterday at $1.265 trillion on CMC.

Cryptocurrency Market Overview. Source: Quantify Crypto
The post Ethereum (ETH) Tapped New 11-Month High, Bitcoin (BTC) Slips Below $30K: Market Watch appeared first on CryptoPotato.