Bitcoin's price drops continued in the past 24 hours, with the asset falling below $28,000 for the first time since April 9.
The altcoins are also deep in the red. The total market cap has lost almost $90 billion in the past two days.
BTC Slides Under $28K
Bitcoin was trading sideways during the weekend, and it wasn't until Tuesday that it finally made a move, dropping by a grand to $29,100. However, the bulls quickly intercepted the move and pushed the asset north, which helped it reclaim the coveted $30,000 line.
The landscape started to change shortly after, though, as BTC slumped by a grand in minutes. That was just the start, though, as the bears pushed it further south in the past 24 hours. This resulted in breaking below $28,000 for the first time in almost two weeks.
Despite recovering a few hundred dollars since then, BTC still struggles to maintain $28,000. It's roughly 3% down on the day and over 8% on a weekly scale.
Its market capitalization, which tapped $600 billion just days ago, now struggles at way beneath $550 billion. Its dominance over the altcoins, though, has recovered some ground, but it's still under 46%.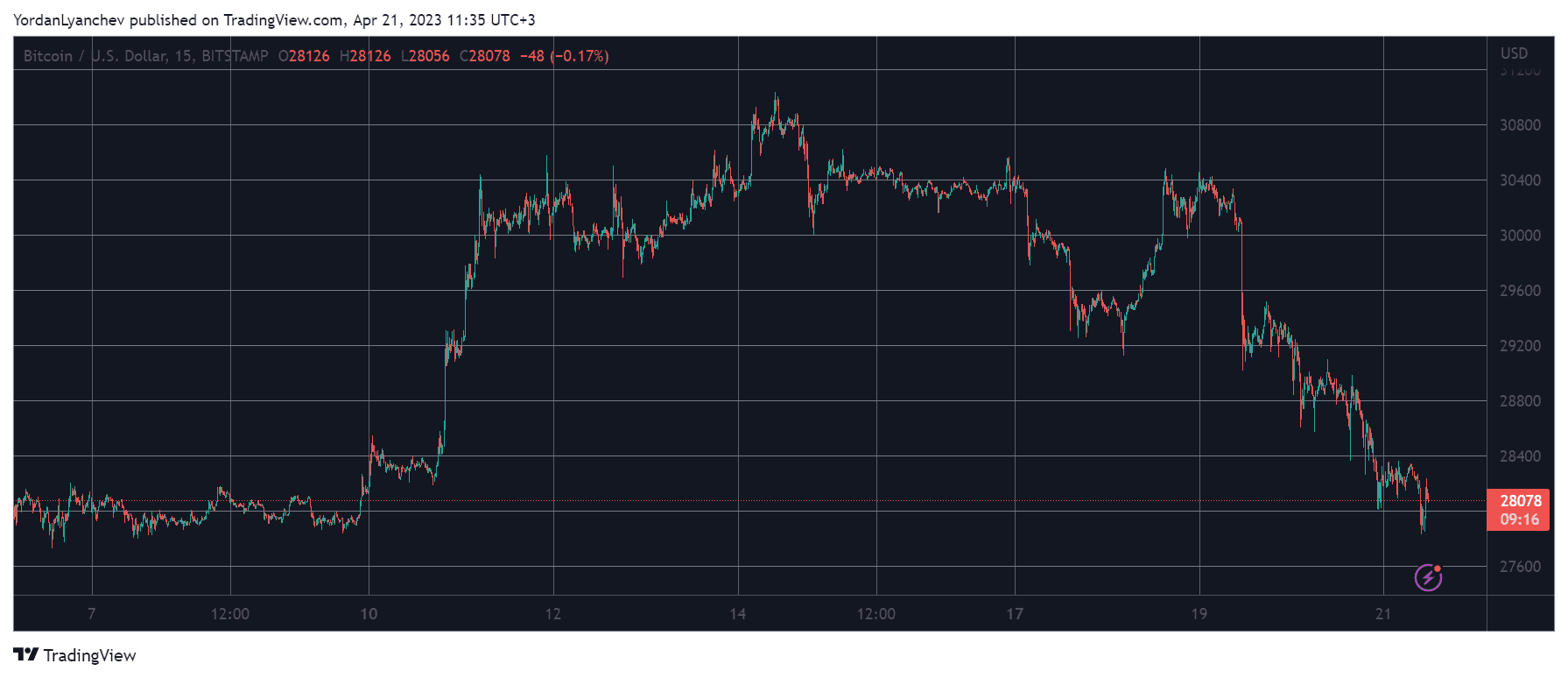 BTCUSD. Source: TradingView
Alts Turn Red
Similar to bitcoin, most alternative coins have not enjoyed the past few days. Ethereum went on to chart an 11-month high after the Shapella update last week but has since lost over $200. As a result, the second-largest cryptocurrency currently struggles to remain above $1,900.
Ripple, Cardano, Polygon, Solana, Polkadot, Litecoin, Shiba Inu, and Avalanche are also deep in the red, with losses of up to 5% in a day. Dogecoin has dumped the most (-8.5%), perhaps due to the asset's relationship with Elon Musk. As it became known yesterday, Starship's latest rocket exploded shortly after its launch.
With ICP, NEAR, GRT, and many other mid- and lower-cap alts charting substantial losses, the total crypto market cap has dumped beneath $1.2 trillion. This means that the metric has lost roughly $90 billion in the past two days.

Cryptocurrency Market Overview. Source: Quantify Crypto
The post Crypto Markets Lost $90B in 2 Days as BTC Slips Below $28K: Market Watch appeared first on CryptoPotato.