The cryptocurrency market took a beating throughout the past week, losing well over $100 billion in the process. This comes on the back of considerable losses across the board, with BTC's price still unable to reclaim the $28K level.
Bitcoin Price Below $28K
Bitcoin managed to recover a slight 1% throughout the past 24 hours but is still down a lot over the week.

Source: TradingView
That said, the cryptocurrency is unable to reclaim the $28K, and it's apparent that the bulls are struggling to regain control. Over the past week, it lost about 9% but still managed to significantly outperform the rest of the market.
This is evident in Bitcoin's dominance – the metric used to gauge its share relative to that of the rest of the market. At the time of this writing, it stands at 44%, up 4% during the past seven days. This suggests that BTC managed to perform a lot better than altcoins.
Radix Stands Out, Gains 13%
Radix (XRD) is up 30.9% during the past seven days, gaining around 13% in the past day alone. The cryptocurrency still lost a lot of value during that period but remains the absolute best performer in both time frames.
WOO Network (WOO) is also up around 11.5%, followed by BitTorrent (BTT), which is up 6%. On the other end of the spectrum, there's Arbitrum's ARB, which lost around 2.3%. In general, the market was relatively flat throughout the past 24 hours.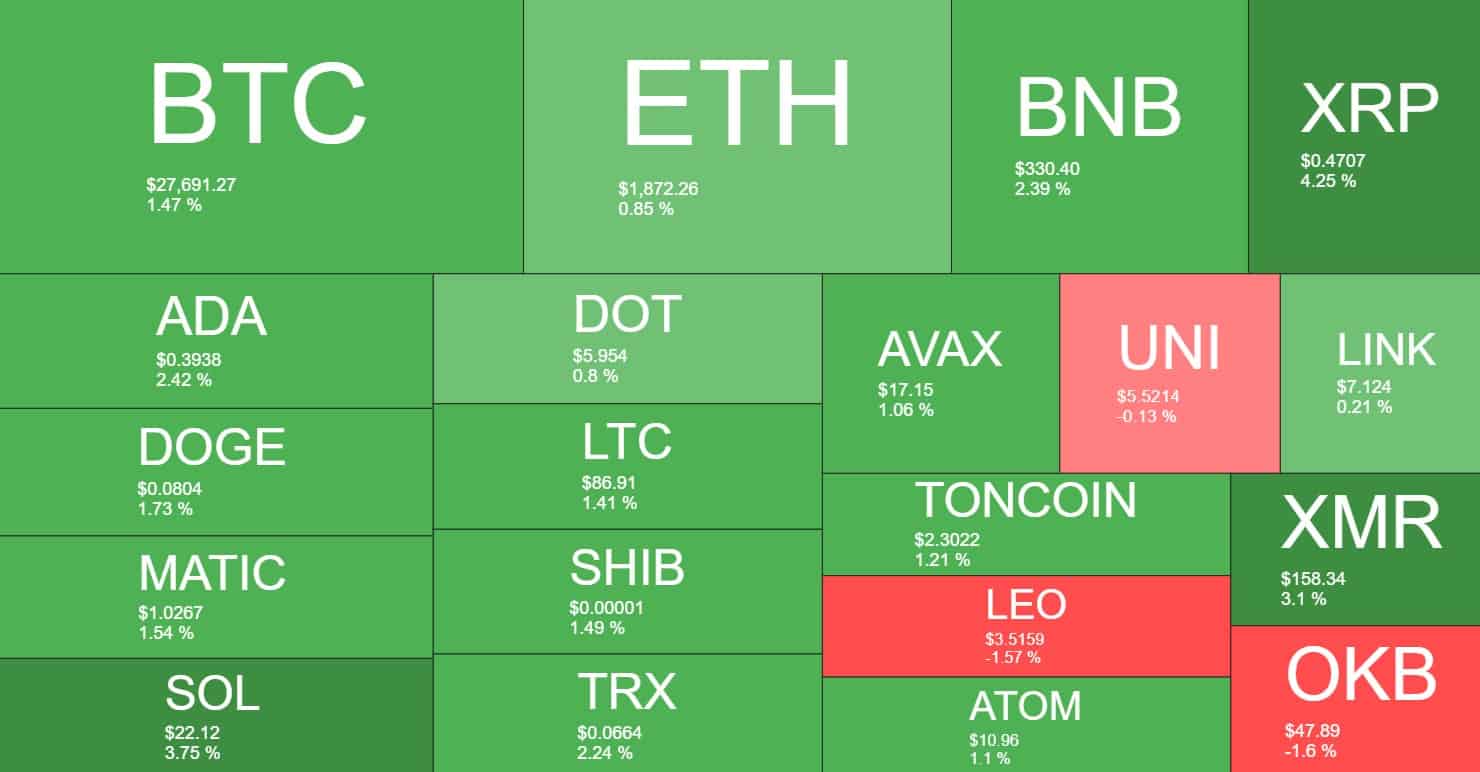 Source: Quantify Crypto
Ethereum continues trading below $1,900, while XRP lost the pivotal $0.5 level. It's interesting to see whether or not the sentiment will shift or if there's more pressure ahead.
The post Bitcoin Unable to Reclaim $28K, Radix (XRD) Pumps 13% Daily (Market Watch) appeared first on CryptoPotato.