Christopher Giancarlo– former chairman of the Commodities and Futures Trading Commission (CFTC) thinks that the outright opponents of central bank digital currency (CBDC) are mostly wasting their breath.
During a speech at Consensus 2023 on Wednesday, he argued that government-backed digital dollars are largely inevitable, and will certainly exist in a world alongside private market stablecoins.
The Growth of CBDCs
The former politician – commonly referred to as "Crypto Dad" – said that money is "too important to be left to central bankers."
"Money is as much a social construct as it is a government construct," said Giancarlo. "The success of fiat money derives from the trust and the consent of ordinary citizens who place value in it."
As such, Giancarlo called for discussion and experimentation within the United States as to how a CBDC might be put in place – including the values it should embody. Over 100 foreign governments are already exploring such technologies, including 19 members of the G20. "Whether or not the US deploys a digital dollar – CBDC is coming," he continued.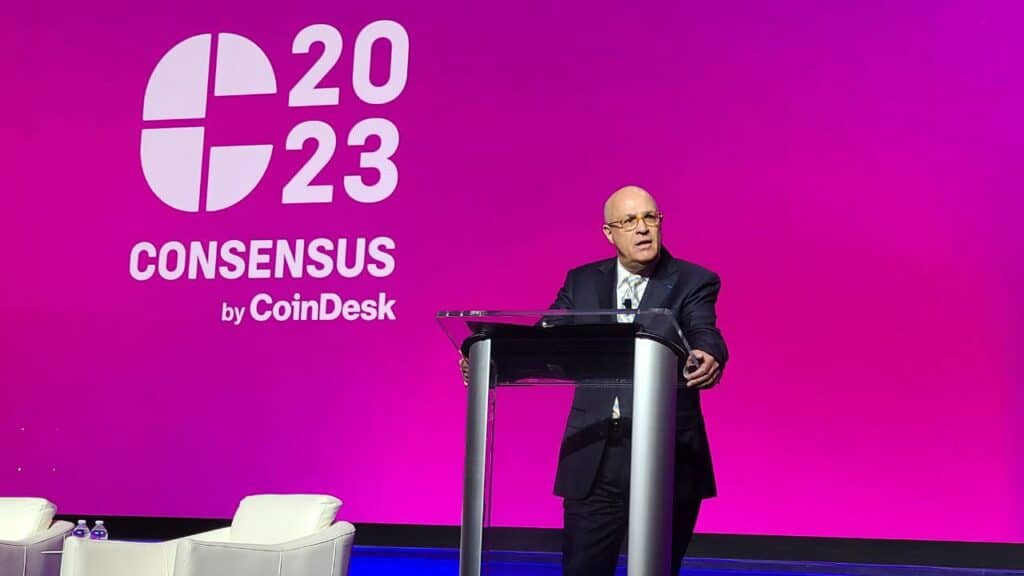 Crypto Dad 2(Consensus 2023)
Stablecoins VS CBDCs
Much attention among US regulators and the crypto industry alike has been paid to stablecoins – which have been pitched as effective private market alternatives to CBDCs. However, Giancarlo argued that private market digital dollars include all of the same risks that are often associated with public market ones – including privacy issues.
"There is nothing inherently superior about non-sovereign digital currency in protecting privacy over central bank digital currency," said GIancarlo. Private entities, he continued, could very well be put under government pressure to conduct surveillance on their users to "disable financial transactions with disfavored groups and activities."
Giancarlo concluded that the US should ultimately seek to provide a CBDC that embodies American values and can compete on the global stage rather than lose dominance to authoritarian digital currencies from rival nations.
"The choice between stablecoins and CBDCs is a false choice," he said. "The real choice is between financial freedom and financial control."
Under Giancarlo's leadership, the CFTC greenlighted trading for Bitcoin futures on the CME in 2017. After leaving, Giancarlo founded the digital dollar project, which sought to research how a CBDC in the United States could be properly implemented.
The post CBDCs or Stablecoins? Crypto Dad Says Both (Consensus 2023 LIVE) appeared first on CryptoPotato.