SkyBridge Capital founder Anthony Scaramucci spoke at Consensus 2023 on Thursday about the state of affairs at FTX in the weeks and days before its collapse.
The former rejected the notion that Changpeng Zhao (CZ) – CEO of Binance – was responsible for the exchange's failure, pinning the blame solely on former FTX boss Sam Banknman-Fried.
How SkyBridge Fairs After FTX
Scaramucci began by clarifying that his relationship with FTX has not harmed his company to such a great deal as many make it out to be.
"I think we're holding up quite nicely, and I think we've got the benefit of the whole last quarter… it's probably the best quarter we've had at our firm in ten years."
SkyBridge sold a 30% stake in its company to FTX Ventures just 8 weeks before the exchange went bust. Scaramucci said SkyBridge has been in contact with bankruptcy lawyers related to that stake, but will ultimately be ok whether or not they can buy the stake back later.
Regarding SBF, the executive said that he "likes Sam," even though he recognizes what he did as a betrayal. Thankfully, many of the influential figures he introduced Bankman-Fried to – including Tony Blair and the Clinton family – had not finished their due diligence processes nor made large investments in FTX before it collapsed.
Scaramucci said he got word of FTX's troubles on November 7th. Bankman-Fried's father told him that the company faced an "asset-liability mismatch" of roughly $1 billion and that they merely needed time to liquidate some of their illiquid assets to continue meeting redemptions.
Later in the evening, however, that number blew up to $4.5 billion. This prompted Scaramucci to book a flight to the Bahamas to personally meet with Bankan-Fried and questions him about what was happening.
"The war room looked despondent," he said. "It was clear to a few people that there was a very small group of people that had done something that they didn't let the other group of people into."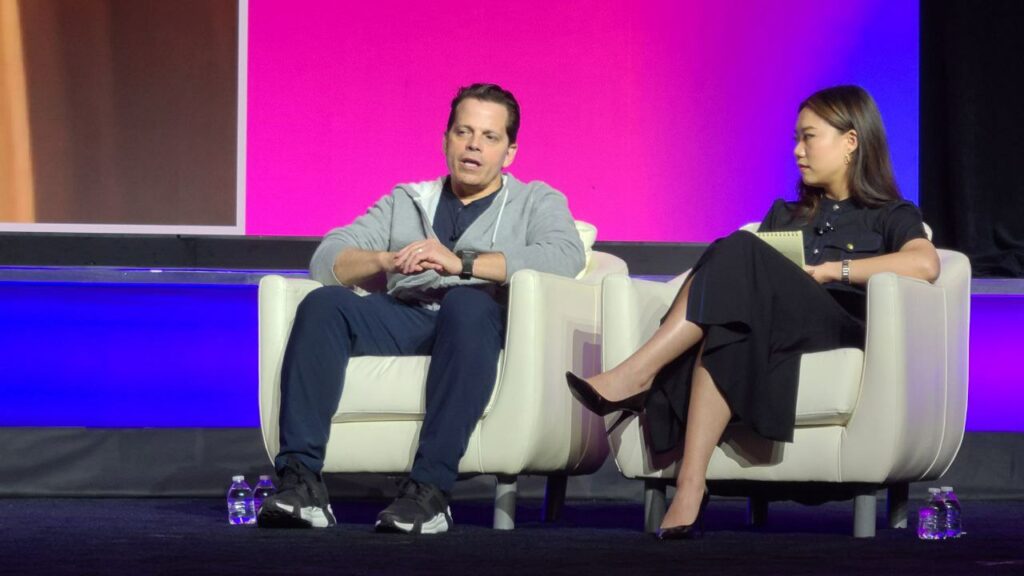 Anthony Scaramucci 1 (Consensus 2023)
SBF Killed His Own Exchange
The founder hasn't spoken with Bankman-Fried directly since that day but has had talks with CZ about the situation. "Some people are of the belief that CZ put Sam out of business – that is not the case," he said.
Kevin O'Leary – a former paid spokesperson for FTX – has testified before Congress blaming Binance for causing the market instability and panic that led to FTX's collapse. He's also said that he'd be willing to reinvest in Bankman-Fried if the conditions were right.
Scaramucci was less confident – and expressed doubt about FTX's potential to make a 2024 revival. "I think that that's an impossibility… maybe some type of rebranding, but I don't see how you get FTX to restart."
The post CZ Did Not Put FTX Out of Business: Anthony Scaramucci (Consensus 2023 LIVE) appeared first on CryptoPotato.