Former NSA contractor Edward Snowden spoke at Consensus 2023 regarding the latest developments in artificial intelligence, and how it could be leveraged for both human flourishing and greater surveillance.
Snowden called out OpenAI's "cruel joke" in branding itself with the name that it chose, given that it won't provide open access to its training data.
He said that Stable Diffusion is guilty of similar activity, deliberately crippling its training set from version 1.5 to 2.0 because of moral panics and various accusations.
"The liability is distinct between the people who create the model and the people who use the model, which we know in America already works, because you see it with guns," argued Snowden.
Legislatively, Snowden believes AI is very difficult to handle. Corporations and governments are increasingly observing the public, making people more "legible" and "malleable." These entities have distinct advantages in the AI field thanks to the vast data centers they have access to about citizen behavior.
"People are gonna be [waving] the red flag about a kind of software communism, where we need to declare the models must be open," he said.
On a brighter note, Snowden believes many of AI's errors can be fixed. In his view, the primary mistake AI developers are making is trying to teach their machines to learn like us. Rather, he believes AI should be "better than us."

"We're not born human, we become human… and they can become better than human, but we have to teach them," he concluded.

Snowden was involved in the creation of the privacy-focused cryptocurrency Zcash, and is generally bullish on Bitcoin.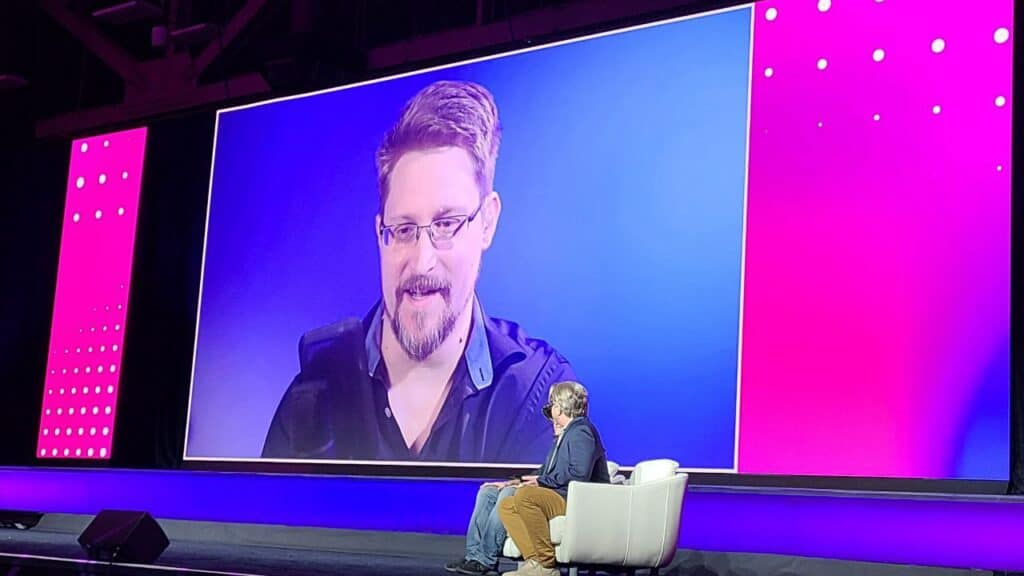 Edward Snowden 2 (Consensus 2023)
The post AI Can Become Better Than Humans: Edward Snowden (Consensus 2023 LIVE) appeared first on CryptoPotato.