AltThe PEPE memecoin seems to be an extension of cyclical market behavior in the cryptocurrency industry where every now and then, there's a brand new memecoin, and the hype surrounding it takes over completely.
In less than a couple of months, since it saw the light of day, the PEPE memecoin managed to enter the top 100 projects, getting a market capitalization upwards of a whopping $400 million.
In this guide, we will take a closer look at what the PEPE memecoin is, who created it, and why. We will also look into stories of people who became overnight millionaires and whether or not they can enjoy their riches. Let's dive in.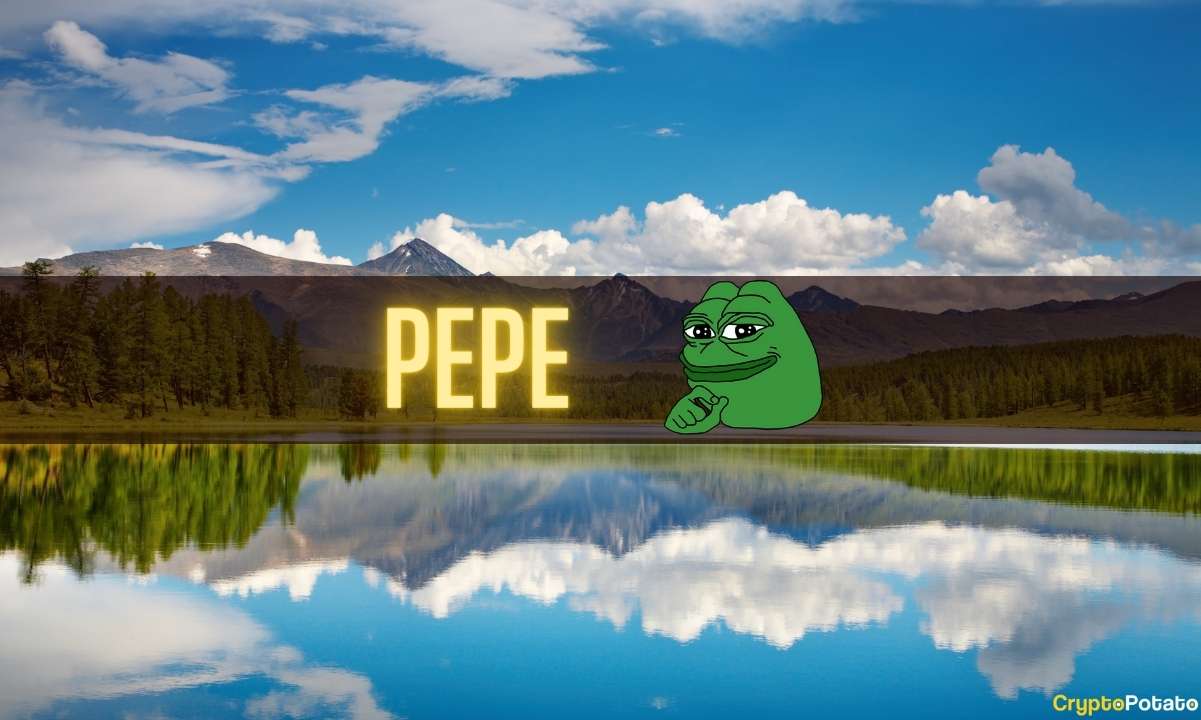 What is a Memecoin?
Memes have become hardwired on the Internet. They've existed since the very early days of Web1 and will likely continue existing well into the future.
It shouldn't come as a surprise that they've also clashed with the cryptocurrency industry. While most coins tend to focus on some sort of utility, memecoins focus on getting viral through the explosive nature of memes and how quickly they spread.
Examples include Dogecoin (DOGE) – the first memecoin that attracted mass attention and has cemented its place amongst the top cryptocurrencies for many years. Others include Shiba Inu (SHIB), Floki Inu (FLOKI), and so forth.
Last but not least, we have the PEPE memecoin – a cryptocurrency that has also exploded in popularity in a way that, perhaps, no other memecoin has done before.
Brief History of the PEPE Memecoin
The PEPE memecoin was launched towards the middle of April 2023, with the first entry point on Etherscan being April 18th.
Less than three weeks later, the cryptocurrency had a market cap of over $420 million, venturing into the list of the top 100 coins by means of total market capitalization.
At the time of this writing, PEPE is traded on major exchanges such as Huobi, MEXC, OKX, and others. Apart from that, it's also available on multiple decentralized exchanges such as Uniswap.
What is PEPE Memecoin?
Definition and Background
According to the official website, the PEPE memecoin is designed to be "the most memeable memecoin in existence." The page has multiple references to other popular tokens such as Shiba Inu (SHIB), Floki Inu (FLOKI), Dogecoin (DOGE), and so forth.
By design, PEPE has no intrinsic value and this is clearly stated in the website:
"PEPE is a meme coin with no intrinsic value or expectation of financial return. There is no formal team or roadmap. The coin is completely useless and for entertainment purposes only."
It's worth noting that this is nothing new in the field of crypto. Multiple memecoins have come into existence in the past, making no claims and outright alarming users that they have no value whatsoever.
Connection to Pepe the Frog Meme
While relying on the popular meme for its ability to go viral, the team behind PEPE makes no claims about an association with Pepe the Frog.
"PEPE coin has no association with Matt Furie or his creation Pepe th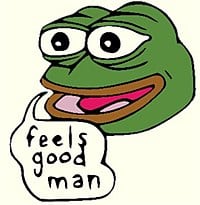 Source: Wikipedia
e Frog."
On the contrary – the goal of the token is to "simply pay homage to a meme we all love and recognize."
As a bit of background on Pepe the Frog – it's a cartoon character created by the cartoonist Matt Furie. Pepe made a debut in 2005 in Furie's comic Boy's Club.
Purpose and Vision of the PEPE Memecoin
While joking about having no plans whatsoever, the team has laid down some expectations in the form of three different roadmap phases that can be seen below:

Source: Official Website
Tokenomics
The total token supply of PEPE is 420,690,000,000,000. In itself, the number is paying homage to the popular meme numbers 4:20 and 69.
93.1% of the supply has been sent to the liquidity pool, the LP tokens were burnt, and the contract itself was renounced.
The remaining 6.9% of the total supply is being held in a multi-sig wallet and is to be used for future listings on centralized exchanges, liquidity pools, and bridges. That's at least according to the official website. You can also track this wallet with the ENS name "pepecexwallet.eth."
PEPE Memecoin Ecosystem
The PEPE memecoin ecosystem is growing by the day. At the time of this writing on May 1st, around two weeks after its initial launch, the token already has a whopping 65K holders, according to Etherescan.
Source: Etherscan
Its official Telegram group boasts over 25,000 members and tens, if not hundreds of thousands of messages per day.
Its official Twitter, albeit created in April, already has more than 133,000 followers.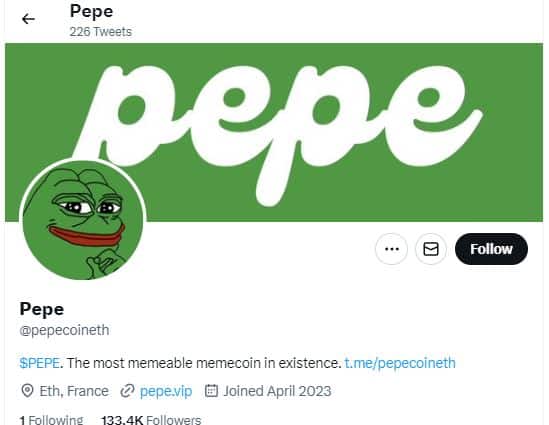 Source: Twitter
Risks and Challenges
As it is with most of the memecoins that tend to go viral, this one also comes with some risks and challenges.
Market Volatility
PEPE has been one of the most volatile cryptocurrencies since its creation, and the price swings are tremendous.
For example, on May 1st, it more than doubled its price, surging over 100% for the day. While this might sound particularly attractive, it's also important to note that it presents a set of risks.
There's a popular saying in crypto that goes like this:
"The price takes the stairs up and the elevator down."
This suggests that while it may seem like PEPE is going "up only," it could just as quickly lose all of its current value. Remember, the creators themselves said that it has absolutely no intrinsic value, so it's essentially worth only as much as someone is willing to pay for it. And while this is true for a lot of things, and the concept of value itself is a social construct, the risks are particularly amplified with freshly-minted memecoins that came out of nowhere.
In addition, there are further problems on a lot of the centralized exchanges associated with the lack of necessary liquidity to cash out one's gains. This means that even if someone is able to pull off the trade of a lifetime, they may not have enough liquidity to cover their position.
Such is the story of a person who turned a $27 investment in PEPE into a whopping $1 million but wasn't able to cash out completely due to various liquidity-related concerns.
Of course, if PEPE stands the test of time and gets listed on more centralized exchanges where the liquidity tends to be deeper, this concern could fade.
Security Risks
The more a memecoin gets popular, the more bad actors try to capitalize on it and scam people out of their hard-earned money.
For example, this is a message from the official PEPE Telegram group:
A few community members have reached out to us regarding dusting/token scams that are taking place in our deployer wallet as well as the CEX wallet. Anyone is able to spoof a transaction and send these tokens to our wallets. I would say that every single coin doing this is a SCAM. Lots of scam developers are dusting our wallets to make it look like we are airdropping or doing transactions with their tokens to trick people into interacting with them. Don't buy any of these tokens or interact with the contracts, as they have the risk of draining your wallet.
In general, whenever you are interacting with the DeFi ecosystem, it's absolutely essential to make sure you're following some basic crypto security tips so that you don't get scammed.
You can find more information on the above in our fully-fledged guide here.
Conclusion
In conclusion, the PEPE memecoin has undoubtedly managed to cause a stir within the cryptocurrency market, acquiring a total addressable capitalization of upwards of $400 million in two short weeks after it was launched.
Many are drawing comparisons between PEPE and other memecoins such as SHIB, DOGE, FLOKI, and so forth, but only time will tell if this meme-inspired token will be here to stay.
The post What is PEPE? Is This the Next Huge Memecoin? appeared first on CryptoPotato.