Pepe Coin (PEPE), a memecoin launched in mid-April, has quickly emerged as one of the sensations in the cryptocurrency industry. Its price has skyrocketed by a staggering 638% for the past week, whereas the gains for the past 24 hours alone reached 90%. The asset's market capitalization has also skyrocketed to almost $700 million.
Some possible reasons behind the substantial rise could be the overall positive condition of the market following the Fed's latest interest rate hike or the fact that whales have exchanged assets for PEPE. Last but not least, the popular rapper Soulja Boy also interacted with the memecoin on Twitter.
The Market Turned Green
For starters, the impressive price increase of PEPE could be partially driven by the current positive condition of the cryptocurrency market. Bitcoin and most of the altcoins headed north shortly after the Federal Reserve announced another increase in interest rates by 25 basis points.
While the policy has caused price swings in the opposite way on previous occasions, it was somewhat different this time, as many economists expect this to be the final rate hike due to fears of an upcoming recession. Gregory Daco – Chief Economist at EY-Parthenon – said:
"I don't think the inflation battle is over, but we are in a situation where we're seeing gradual disinflation, and we're also in an environment where interest rates are high and elevated and therefore should be a constraining business activity, which should lead to further disinflation in coming months."
Still, PEPE's gains for the past 24 hours are much more significant than those marked by BTC, ETH, BNB, and other larger-cap digital currencies, meaning more factors could be behind the price surge.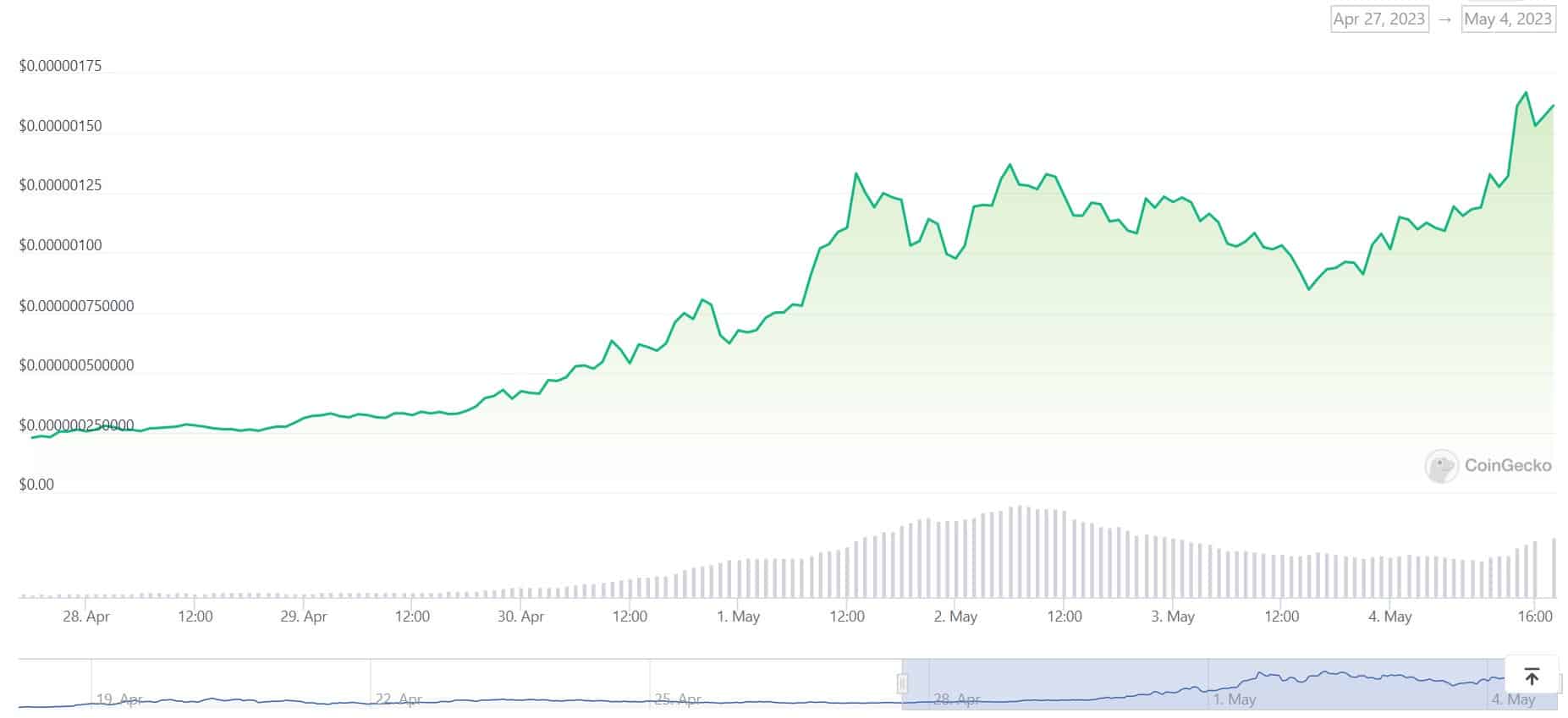 PEPEUSD. Source: CoinGecko
The Whales' Activity
The rapid price increase of the now-trending token seems to have caught the eye of some crypto whales. According to the blockchain analytics platform Lookonchain, one such holder swapped almost all his assets for PEPE.
Specifically, he exchanged $590,000 worth of WBTC, $90,000 worth of CULT, $235,000 worth of UNI, and $37,000 worth of ETH to get 1.72T PEPE. The platform claimed the investor had made a paper profit of well over $1 million.
We noticed a whale exchanged almost all assets for $PEPE.
The whale exchanged 20.62 $WBTC($590K), 17B $CULT($90K), 44,194 $UNI($235K) and 19.96 $ETH($37K) for 1.72T $PEPE ($2.19M currently).
The buying price of $PEPE is ~$0.0000005533 and made a profit of ~$1.23M. pic.twitter.com/O6BOQMd1EW
— Lookonchain (@lookonchain) May 4, 2023
Other whales have used the surge to lock in substantial profits at the beginning of the week. Spot On Chain disclosed that a certain holder swapped 3.4B PEPE for 925 ETH (equaling $1.8 million at the moment of the transaction), with Return on Investment (ROI) being 1,650x in two weeks.
Interaction From Celebrities
PEPE's popularity reached such highs that even celebrities joined its ecosystem. One example is the well-known American rapper DeAndre Cortez Way (better known as Soulja Boy).
The author of the single "Crank That" revealed in his most recent tweet that he "done got rich off PEPE." However, he did not specify his precise actions or how much he had profited indeed.
The musician is not a newbie in the world of crypto. He released a song dedicated to Bitcoin in 2018, while in 2021, he said he owns BNB, TRX, DGB, and other tokens. Soulja Boy even contemplated creating his own token.
The Overall Mania and FOMO
The hype generated around PEPE could be another factor that attracts new investors and boosts its price. It is a well-known fact that people tend to follow growing trends and feel inclined to enter a project that has gained mass attention.
That term has a name: Fear of Missing Out (FOMO), and it occurs often in the crypto sector. It has been connected with other memecoins in the past years, such as Dogecoin (DOGE) and Shiba Inu (SHIB), which, similar to PEPE, charted colossal price spikes at some point.
Even though the memecoin might sound like an asset that could make people rich overnight, it is worth noting that there are certain challenges for inexperienced investors, such as security risks and enhanced market volatility. For more information regarding the specifics of PEPE, you can visit CryptoPotato's detailed guide here.
The post The Reasons PEPE Soared 90% in the Past 24 Hours appeared first on CryptoPotato.