Bitcoin's troubles continued in the past 24 hours, and the asset charted a new two-month low before recovering over a grand.
The altcoins are in the green today, with LDO taking the main stage with a massive double-digit price surge.
BTC's Pump and Dump Keeps Rolling
The major news from the past week came when the US CPI numbers for April informed that the inflation rates had slowed down and were actually lower than the expectations. Bitcoin reacted positively to the news at first and spiked from $27,500 to almost $28,500 in minutes.
However, the landscape changed quickly, and the cryptocurrency plummeted by over a grand. More volatility in the opposite direction followed before the asset finally calmed at its starting point of $27,500.
That was short-lived, though, as Thursday and Friday brought more pain for the bulls. This culminated in a price drop to $25,800 late last night, which became BTC's lowest position in approximately two months.
The bulls finally stepped up on the gas at this point and pushed bitcoin north. As a result, BTC pumped and touched $27,000. It has been unable to reclaim that level yet, though, and now sits inches below it.
Nevertheless, its market cap has neared $520 billion, but its dominance over the altcoins is slightly lower at 46.3%.
BTCUSD. Source: TradingView
LDO Steals the Show
The alternative coins also suffered badly in the past few days, but most have turned green now. ETH, for example, went from $2,000 to $1,700. A minor daily increase has pushed it now to $1,800. Binance Coin, Cardano, Dogecoin, Tron, Litecoin, Shiba Inu, and Avalanche have charted similar daily gains.
Solana has jumped the most from the larger-cap alts. SOL is up by roughly 5% and sits above $20. ARB, ApeCoin, and Near Protocol have added similar percentages in the past 24 hours.
Nevertheless, the day belongs to Lido DAO. LDO has soared by over 13% on a daily scale and trades at around $1.9.
The total crypto market cap has added over $30 billion since yesterday's low and is at $1.2 trillion now.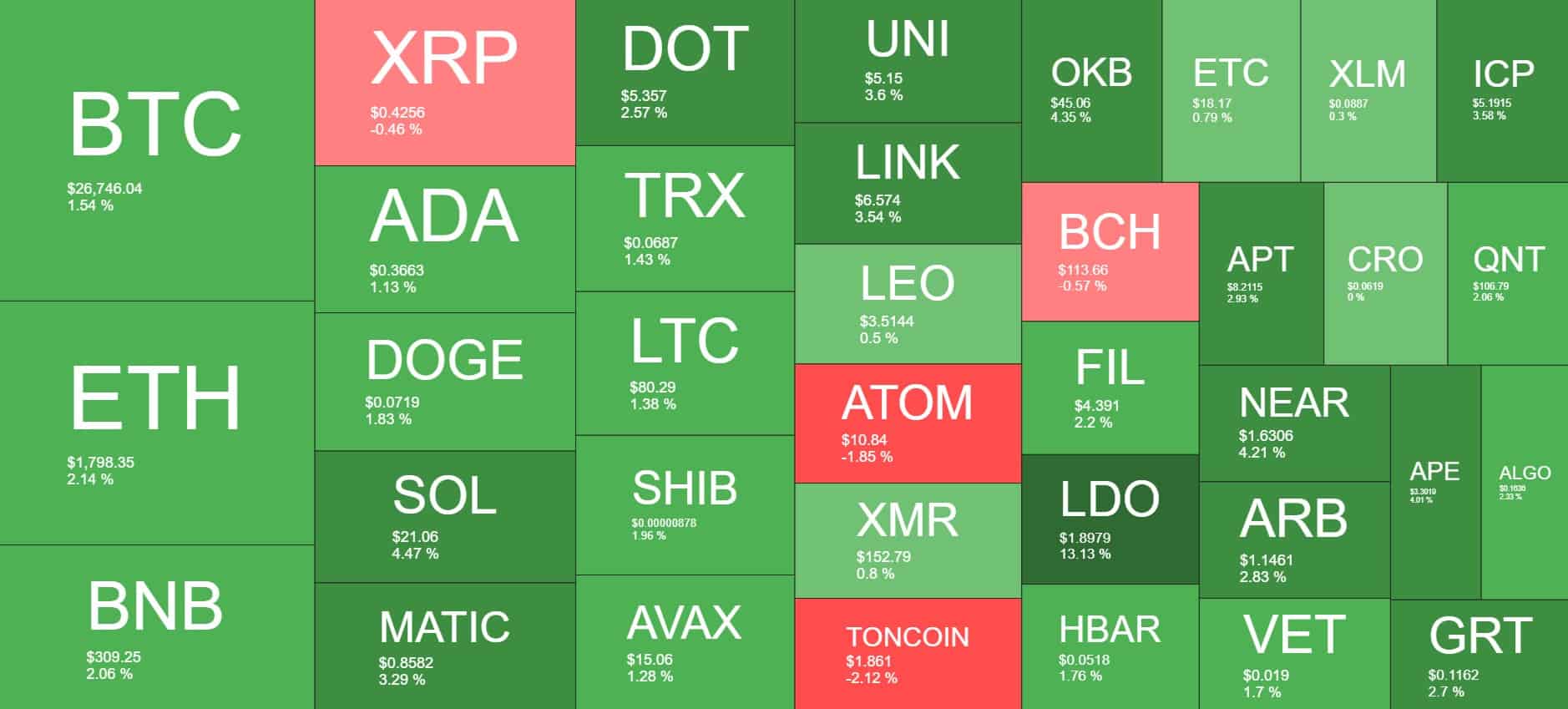 Cryptocurrency Market Overview. Source: Quantify Crypto
The post LDO Explodes 13%, BTC Eyes $27K After New 2-Month Low (Weekend Watch) appeared first on CryptoPotato.