After several days of trading sideways around $27,000, bitcoin took a turn for the worse and dropped to its lowest price position in almost two weeks.
The altcoins are in no better shape, with ETH slipping below $1,800 and ADA dumping by 3% in a day. LDO is among the few exceptions with daily gains.
BTC Down to 2-Week Low
After the price slumped to $26,500 last week, bitcoin recovered most losses and stood at and above $27,000 during the weekend. The start of this week was even more positive as the cryptocurrency jumped to $27,500 on Tuesday to chart a multi-day high.
However, the bears intercepted the move and didn't allow any further increases. Just the opposite, they pushed the asset back down to around $27,000.
The past 24 hours brought even more pain for the bulls as BTC dumped by over a grand at one point and dipped below $26,000 for the first time since May 13. Despite bouncing off and recovering a few hundred dollars since that low, bitcoin is still around 2% down on the day.
As such, its market capitalization has declined to $505 billion. Its dominance over the alts has also taken a slight hit and stands now at 46.1% on CMC.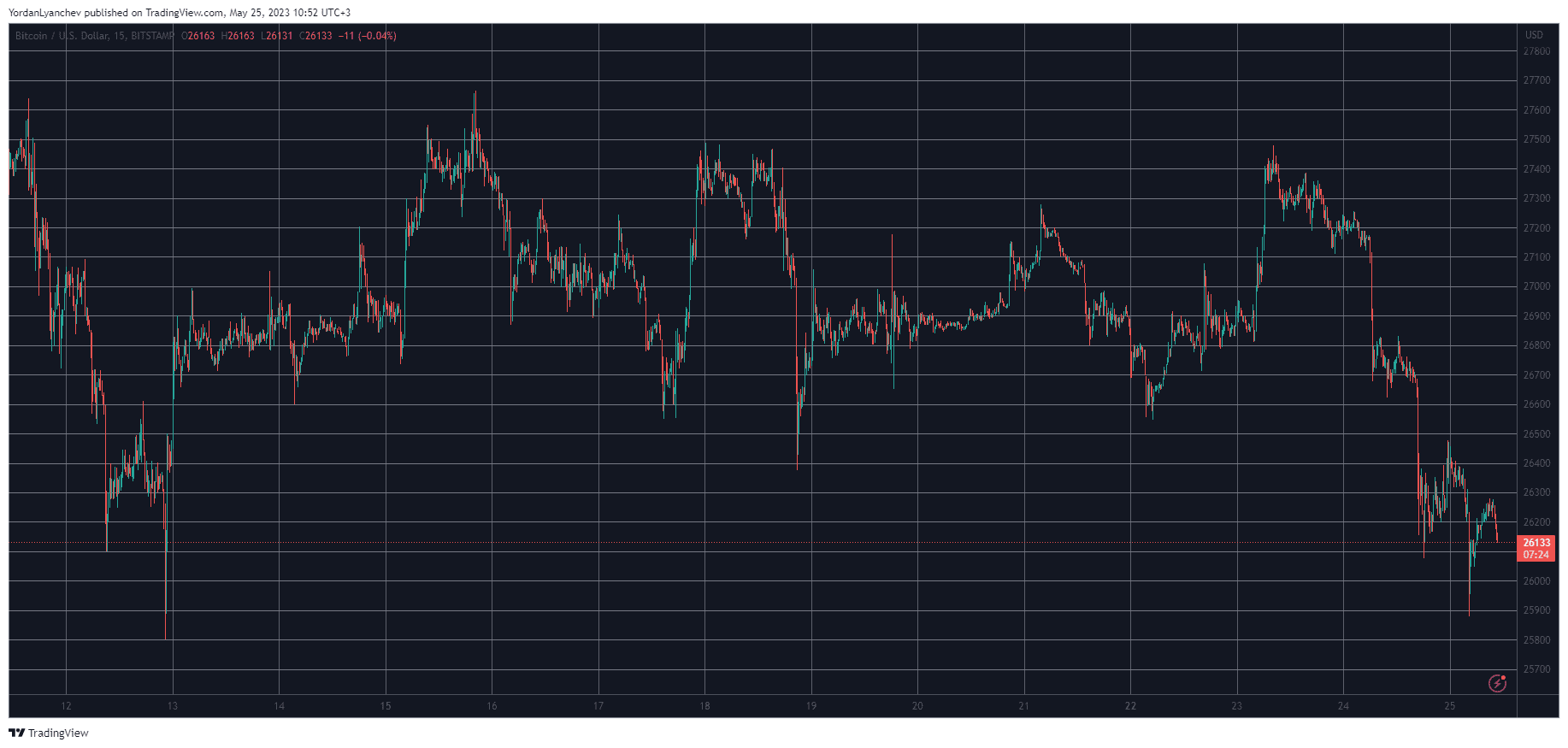 BTCUSD. Source: TradingView
APE Drops Hard
As it typically happens when BTC heads south, so do most altcoins. Ethereum is a prime example. The second-largest digital asset is down by over 2% and trades below $1,800.
Binance Coin has retraced to $305 after a 1% daily decrease. More losses among the top 15 coins come from the likes of Ripple, Cardano, Dogecoin, Solana, Polkadot, Litecoin, Shiba Inu, and Avalanche.
However, ApeCoin and Algorand have dumped the most from the top 50. APE has slumped by over 8% to $3.2, while ALGO is down by 5% to $0.15.
The crypto market cap has shed another $20 billion in a day (and over $40 in two days) and is down to precisely $1.1 trillion on CMC.
Cryptocurrency Market Overview. Source: Quantify Crypto
The post Bitcoin Dumped to 2-Week Low, ApeCoin Nosedives 8% (Market Watch) appeared first on CryptoPotato.