This week, we take a closer look at Ethereum, Ripple, Cardano, Tron, and Litecoin.
Ethereum (ETH)
Ethereum's volatility increased this past week but failed to break above the key resistance at $1,820. For this reason, the price is at a similar point to last week.
This consolidation under the key resistance is unlikely to last, and bulls appear eager to break away. On Tuesday, buyers briefly took the price over the key level, but sellers were quick to reverse the price action back under $1,820.
Looking ahead, bulls could take ETH into a renewed rally next week and turn the current resistance into support. If successful, this cryptocurrency will turn bullish and rally to $1,900 and $2,000 next.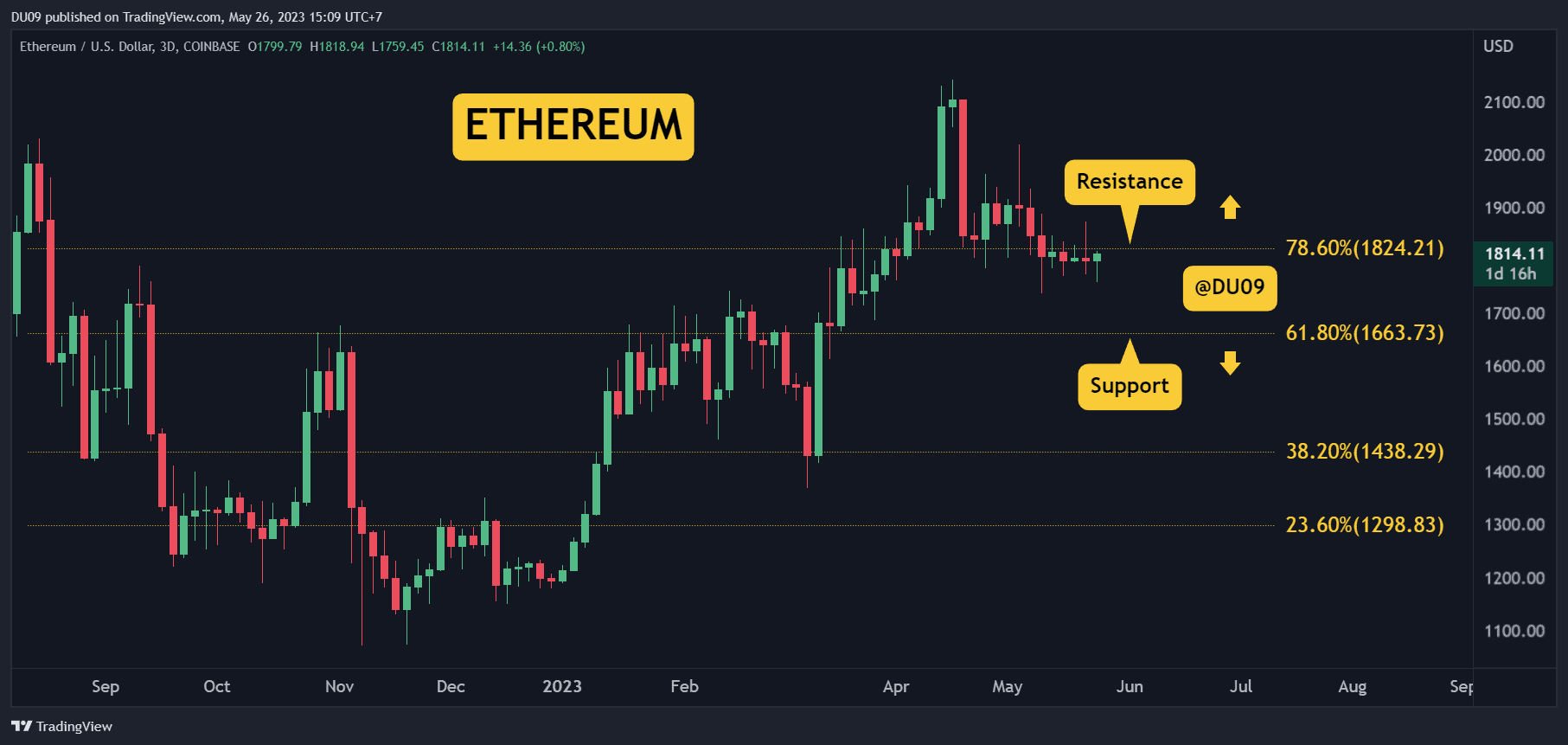 Chart by TradingView
Ripple (XRP)
XRP found strong resistance at 47 cents and was unable to continue higher. This pushed the price lower but at a similar level to last week. Despite the pullback, buyers continue to be interested in this cryptocurrency.
With good support at 44 cents, bulls could attempt another breakout in the coming days, particularly if market leaders like ETH are also successful in moving higher.
Looking ahead, XRP seems more likely to move higher soon, with the next major resistance found at 50 cents. Despite a short break in the rally, the momentum indicators also remain bullish.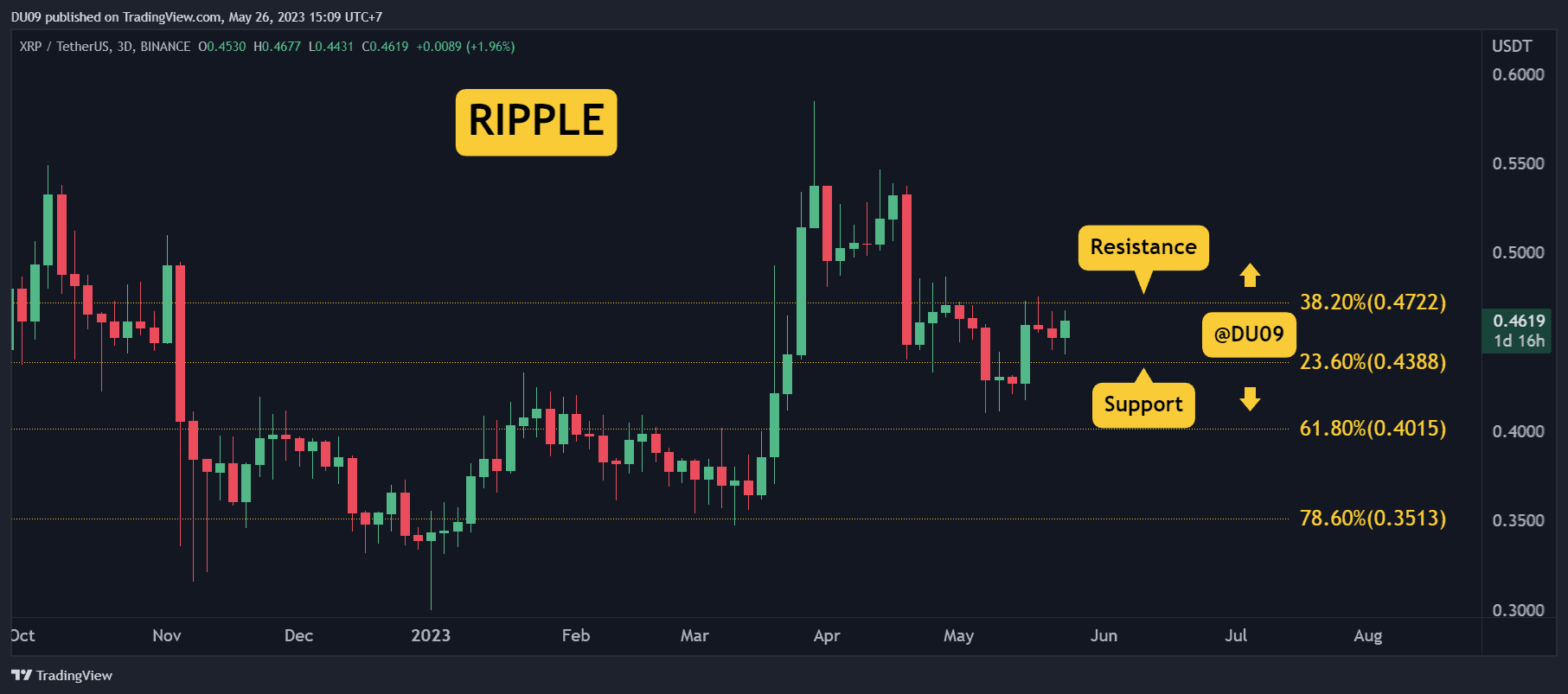 Chart by TradingView
Cardano (ADA)
Cardano is the exact opposite when compared to XRP. The price is found in a downtrend and fell by 3% this past week. The key support is at 34 cents, and the price could test this key level in the coming week.
The resistance at 38 cents did not allow ADA to move higher. Instead, the price fell, making lower highs. Today, the MACD did a bearish crossover which signals that this downtrend will continue.
Looking ahead, Cardano is found in a difficult position. The bearish momentum appears to intensify, and a relief rally seems unlikely until the price finds solid support.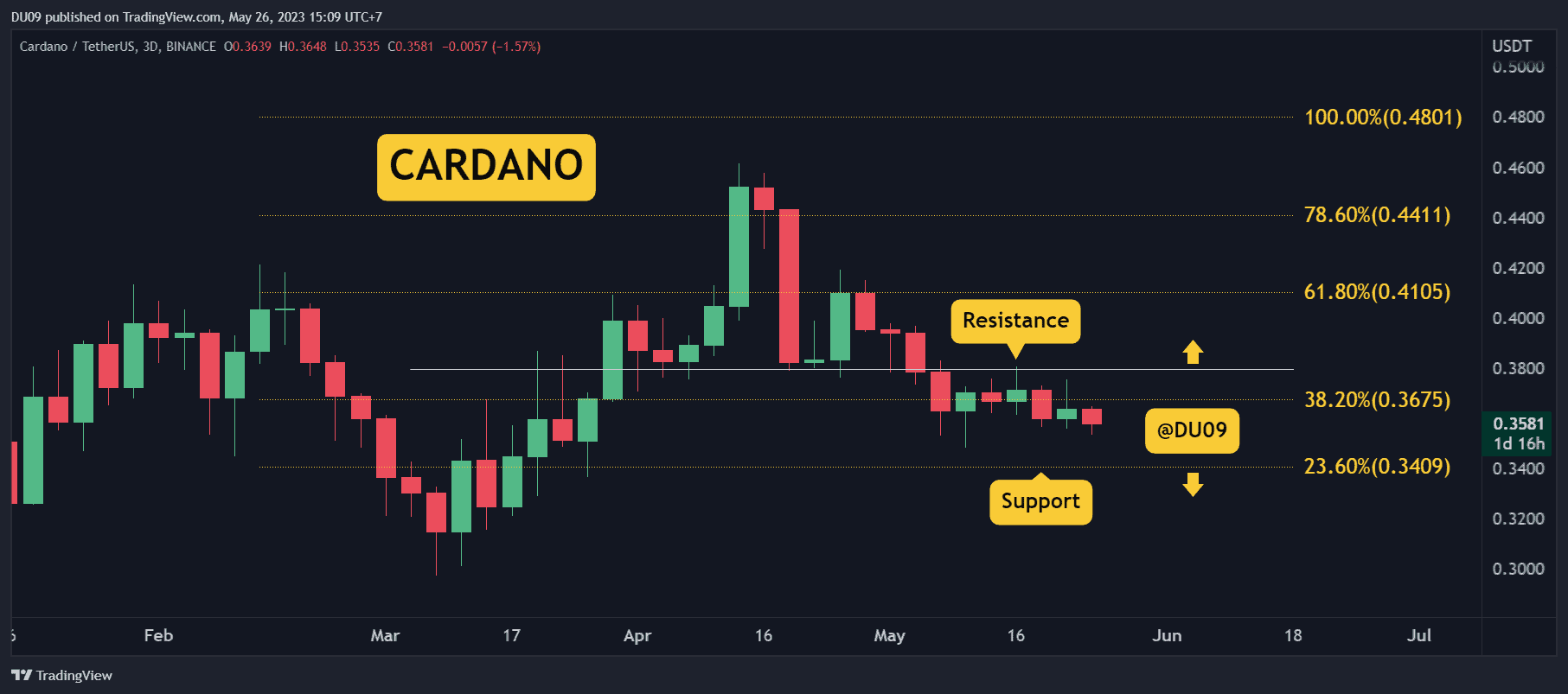 Chart by TradingView
Tron (TRX)
While most altcoins struggle, Tron is our best performer this week after booking an impressive 9.5% price increase. This rally also took it just under the resistance at 8 cents. The key support is at 7 cents.
The MACD and RSI indicators signal a bullish bias that favors a continuation of this price action. Tron also closed five days in green this past week, which shows buyers have the upper hand.
Looking ahead, TRX is well-positioned to continue its rally. Nevertheless, sellers could return to make a stand at the 8 cents resistance and not allow the price to move higher during its first attempt at a breakout.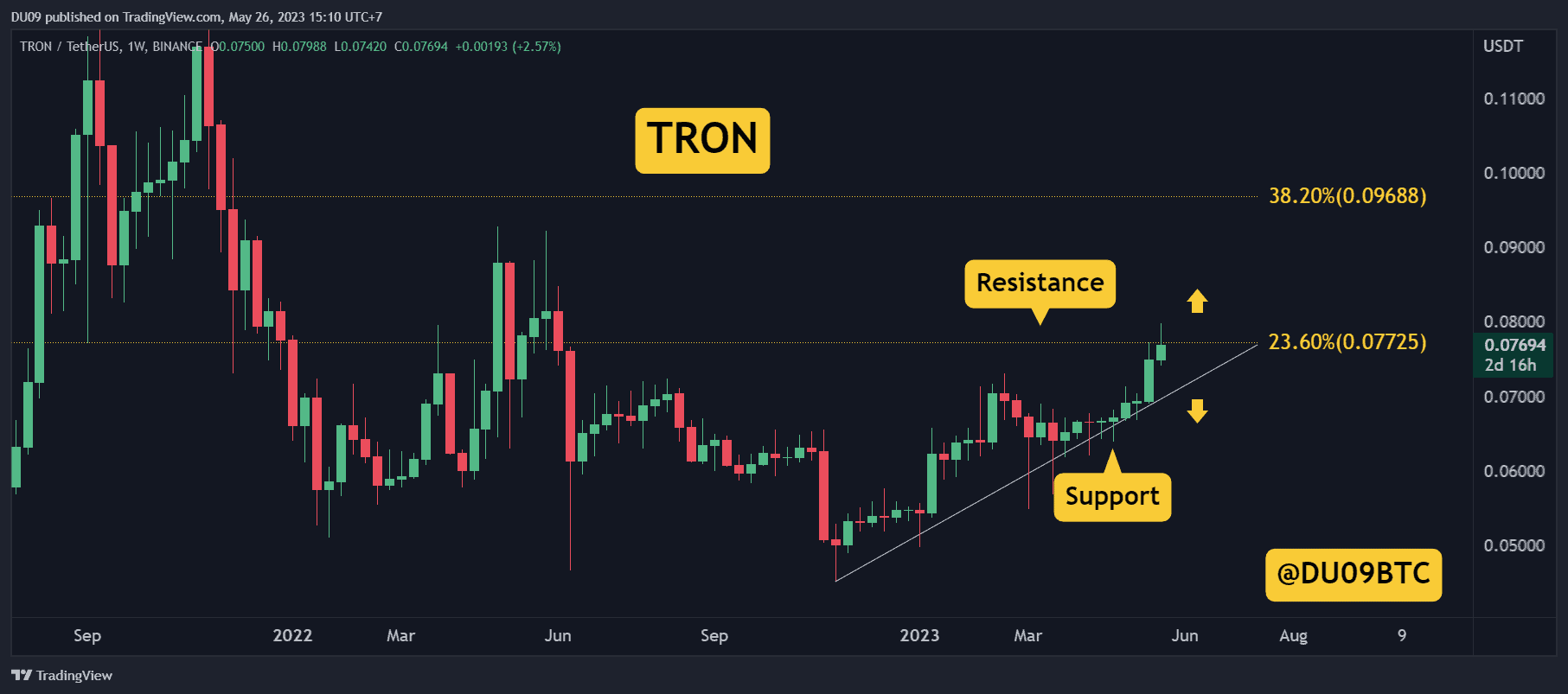 Chart by TradingView
Litecoin (LTC)
Litecoin is struggling to find its footing after failing to break higher for several months. Every time the price moved above $100, sellers were quick to stop it. More so, the current resistance is at $95, and bears rejected the price at this key level. This means LTC closes the week at a 5% loss.
The momentum is flat, and the price does not appear to be able to develop any clear trend. This long consolidation period started in early 2023 and may still continue for some time. Until the price turns the $100 level into support, it is unlikely for LTC to move higher.
Looking ahead, the current support is at $80, and sellers may not be satisfied until this cryptocurrency reaches this level to stop their pressure. At that point, the price could bounce to continue its consolidation.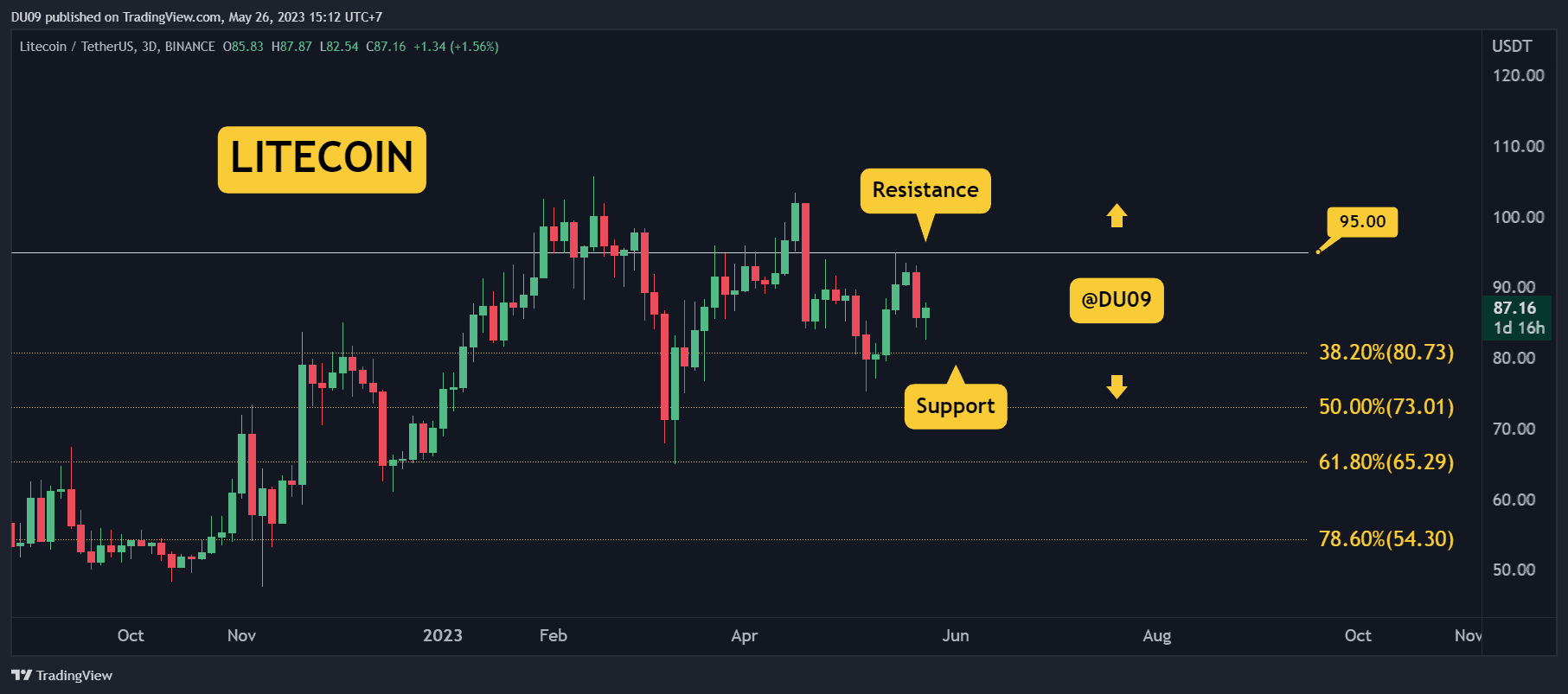 Chart by TradingView
The post Crypto Price Analysis May-26: ETH, XRP, ADA, TRX, and LTC appeared first on CryptoPotato.