A Bloomberg report revealed that the American investment bank, TD Cowen, has shut down its crypto asset unit. According to the report, Cowen Digital will pack up by June 1, which will be the last day for its team. There's no explanation for the action, which is coming just a year after the bank launched it.
We Won't Give Up Digital Assets Even With The Closure; Cowen Digital
Even though Cowen Digital has shut its doors, the team reiterated its commitment to crypto services and not giving up on digital assets. However, they could shift to a different organization.
In an email reported by Bloomberg, the team wrote:
"Our entire team believes strongly in need for trusted counterparties who understand the needs of institutional investors – through white-glove high and low touch execution, deep knowledge-driven content, corporate access, and group educational events. We will continue trying to fulfill that endeavor, but will have to do so in a different home."
In March 2022, the investment bank launched Cowen Digital as it spread its services across virtual assets.
The platform aimed to ensure institutional customers can seamlessly access the crypto market and engage with over 16 crypto tokens like Bitcoin, Ethereum, etc. The bank also mentioned its expansion plans during the period by including crypto futures, derivatives, and decentralized finance (DeFi).
Cowen Bank was acquired by TD Bank Group in August 2022 for $1.3 billion in a deal completed in March this year. In December, the firm recruited some executives to handle its European operations and gathered a 10-member team.
However, it's still uncertain if the acquisition deal is against operating a crypto business, leading to the prompt closure of Cowen Digital.
Crypto Market Struggles, Affecting Institutional Businesses
The recent bearish trend for most crypto assets has stressed the crypto industry. Notably, the ongoing legal battles have fuelled the fire that started burning in 2022 some major digital asset-related firms collapsed.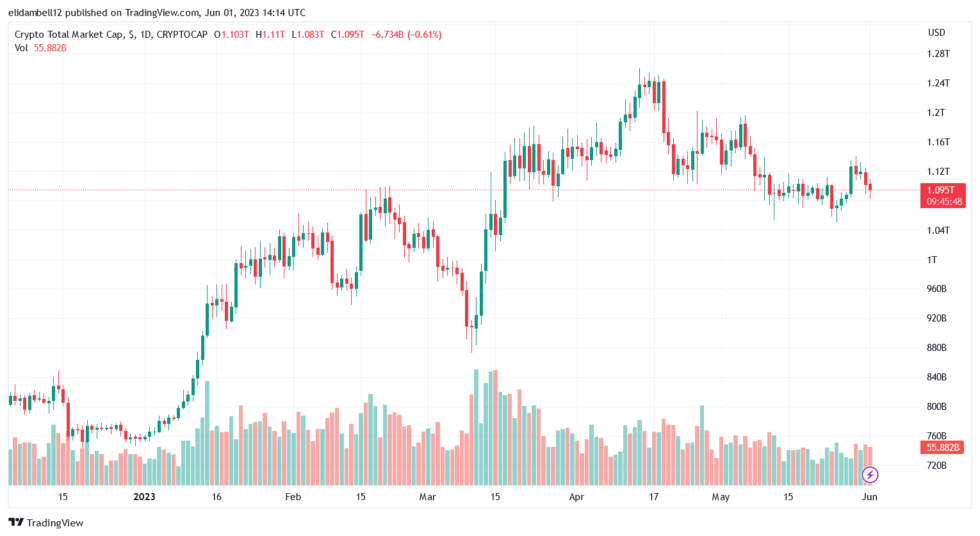 Also, the banking crisis and the current US economic situation regarding debt default have not helped matters. Subsequently, several firms are battling with issues of insolvency.
On May 25, Bloomberg reported that Digital Currency Group (DCG), a venture capital conglomerate, is closing its brokerage subsidiary TradeBlock, as of May 31.
The firm highlighted that the reasons for the closure include the US's strict regulatory stance and unfavorable digital asset market conditions.
Meanwhile, most of the major digital assets are trading in the red at the time of writing. The cumulative crypto market cap is hovering at $1.13 trillion after plummeting by 0.28% over the past 24 hours.
Featured image from Pixabay and chart from TradingView