Dogecoin (DOGE) experienced a surge in daily transactions during the month of May, according to data from IntoTheBlock. Despite this notable achievement, the journey for the meme coin has been an up-and-down experience, with the coin not quite reflecting its peak performance.
As the daily transactions of Dogecoin reached a peak in May but its overall performance remained uncertain, one can't help but wonder: Where does DOGE go from here? Will it continue to ride the waves of popularity or face challenges that could alter its trajectory?
Dogecoin Surprises With Impressive Transaction Surge
In a surprising turn of events, DOGE witnessed an astounding 8,220% increase in daily transactions throughout the month of May. According to data from IntoTheBlock, the number of daily transactions skyrocketed from 25,000 to a staggering 2.08 million on May 27.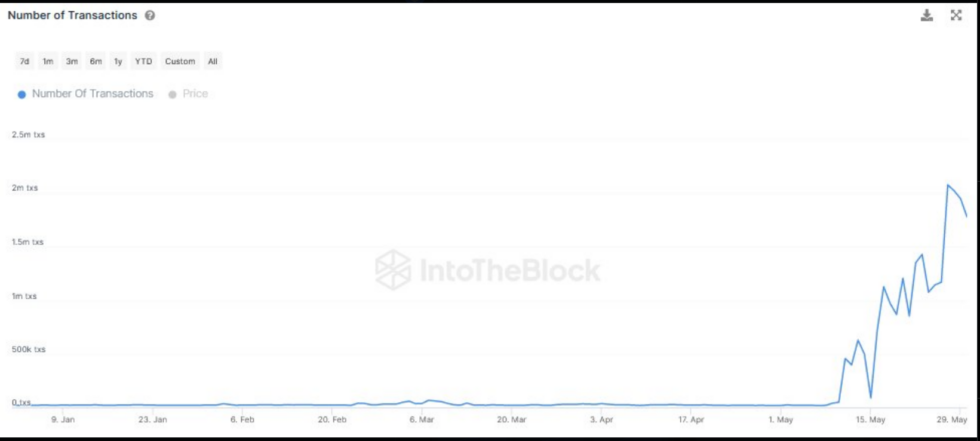 This unprecedented surge in activity within the Dogecoin network has left many intrigued about the future of this renowned meme coin.
Despite the remarkable surge in transactions, the price of DOGE has experienced some fluctuations. CoinGecko reported the price of DOGE at $0.07142, indicating a slight 0.3% slump within the past 24 hours.

However, over the course of seven days, Dogecoin managed to climb by 1.8%, showcasing a level of resilience in the face of market volatility.
Analyzing Factors Restricting Dogecoin's Upward Movement
So, what's preventing Dogecoin from moving up? The selling pressure from addresses holding smaller amounts of DOGE, the negative sentiment among investors, and the need for sustained trading volume are some of the key factors that may be limiting the upward movement of Dogecoin.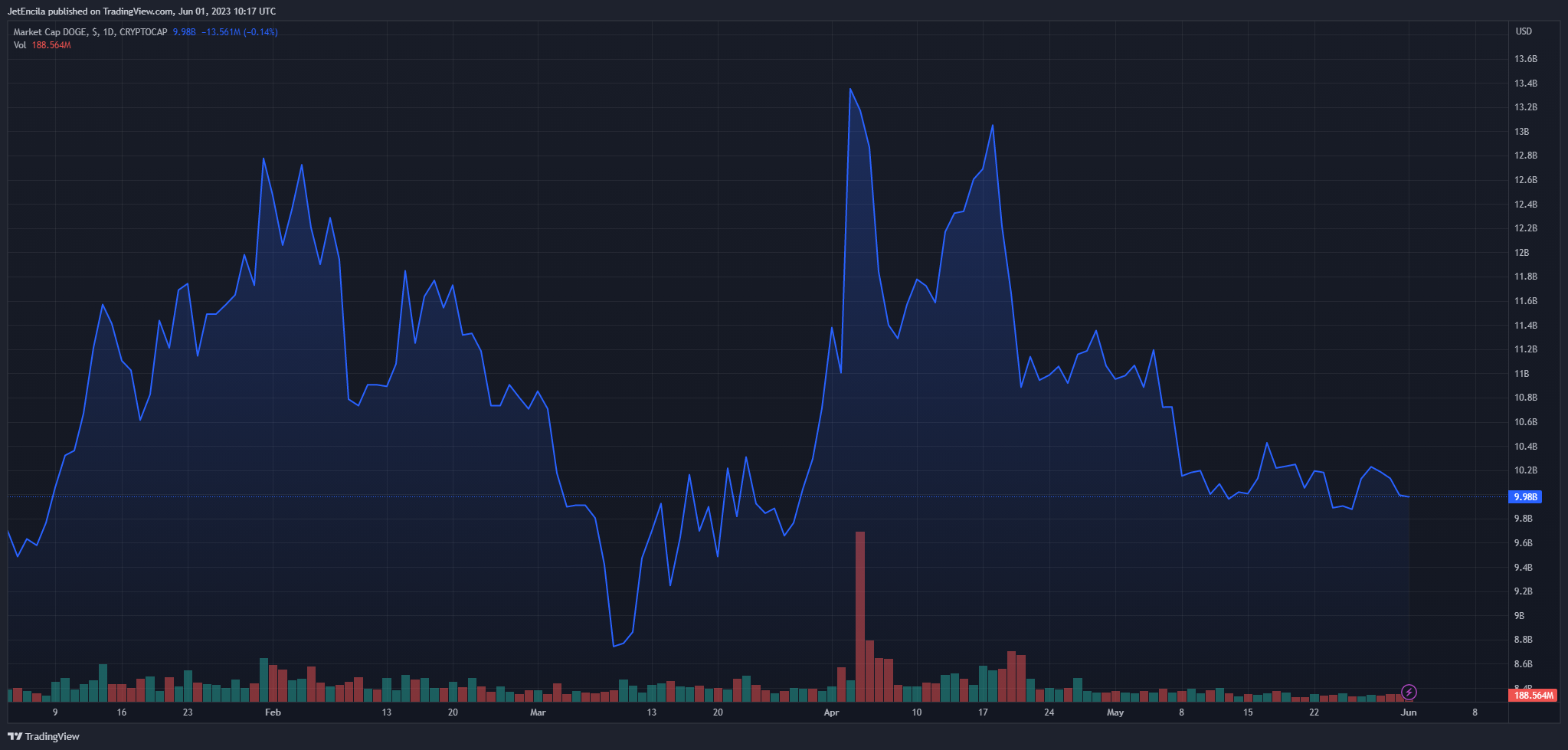 Despite the surge in daily transactions, addresses holding smaller amounts of DOGE, specifically in the range of 1,000 to 10,000 DOGE, have been selling their holdings as of May 31.
This indicates a trend of profit-taking among smaller holders, which may contribute to the stagnation or downward pressure on the coin's price.
Furthermore, as of May 31, DOGE's weighted sentiment experienced a decline, reaching a value of -0.299. This negative sentiment suggests that investors do not hold an optimistic outlook for the meme coin, despite its recent achievements and increased daily transactions.
The sentiment of investors plays a crucial role in determining the demand and market sentiment towards a particular cryptocurrency, which could impact its future growth prospects.
Bleak Outlook For Dogecoin
These factors suggest a cautious and uncertain market sentiment surrounding the meme coin, which may impact its ability to gain significant momentum in the near term.
As the crypto market continues to evolve and external factors such as regulatory developments and market trends come into play, it remains to be seen how Dogecoin will navigate these challenges and forge its path forward.
(This site's content should not be construed as investment advice. Investing involves risk. When you invest, your capital is subject to risk)
-Featured image from Shutterstock