As of June 1, there are $83.23 billion of USDT in circulation, CoinMarketCap (CMC) data shows.
In the past, there has been a direct correlation between the circulating supply of Tether and rapid Bitcoin and crypto price expansions.
USDT Circulating Supply At Record Highs
The current spot rates and increasing USDT circulation suggest that the markets may follow a similar pattern as in the past.
USDT is a stablecoin pegged to the value of the USD, the world's largest reserve currency.
The token, issued by Tether Holdings, is available in several blockchains, including Ethereum and Tron.
However, based on the activity levels, more Tether tokens are circulated in Ethereum and Tron networks. Tron is a smart contracts platform and a competitor of Ethereum.
Fluctuating fees and scalability troubles in Ethereum have forced users to transact USDT in alternative platforms, mostly Tron.
As of June 1, more than 50% of all USDT was in circulation in Tron.
On-chain data shows that over $46.1 billion of USDT existed as TRC-20 tokens in Tron. The total amount in Tron was distributed to 26,001,516 addresses who had cumulatively posted 2,272,188 transfers in the past 24 hours alone.
Meanwhile, there was $36.28 billion worth of USDT complying with the ERC-20 standard in Ethereum. The amount was distributed to 4,427,642 unique addresses that had, in total, posted 188,122,012 transfers.
With a market capitalization above $83.2 billion–and rising, USDT is the most dominant stablecoin.
The State Of Competing Stablecoins
Trackers show that the second most liquid stablecoin, USDC, a token issued by Circle, has a circulating supply of $28,853,137,492.
USDC, like USDT, is fiat-backed. However, unlike Tether, which a top-4 audit firm like Deloitte has not officially audited, USDC is fully audited and releases monthly attestation of its reserves.
Circle's exposure to the Silicon Valley Bank (SVB) briefly caused the USDC to depeg, falling to as low as $0.87 against the USD.
Although USDC eventually resumed its pegged, users opted to convert to other stablecoins, mainly USDT, and even Bitcoin. The de-pegging of the USDC also coincided with the rally of Bitcoin and Ethereum from mid-March 2023.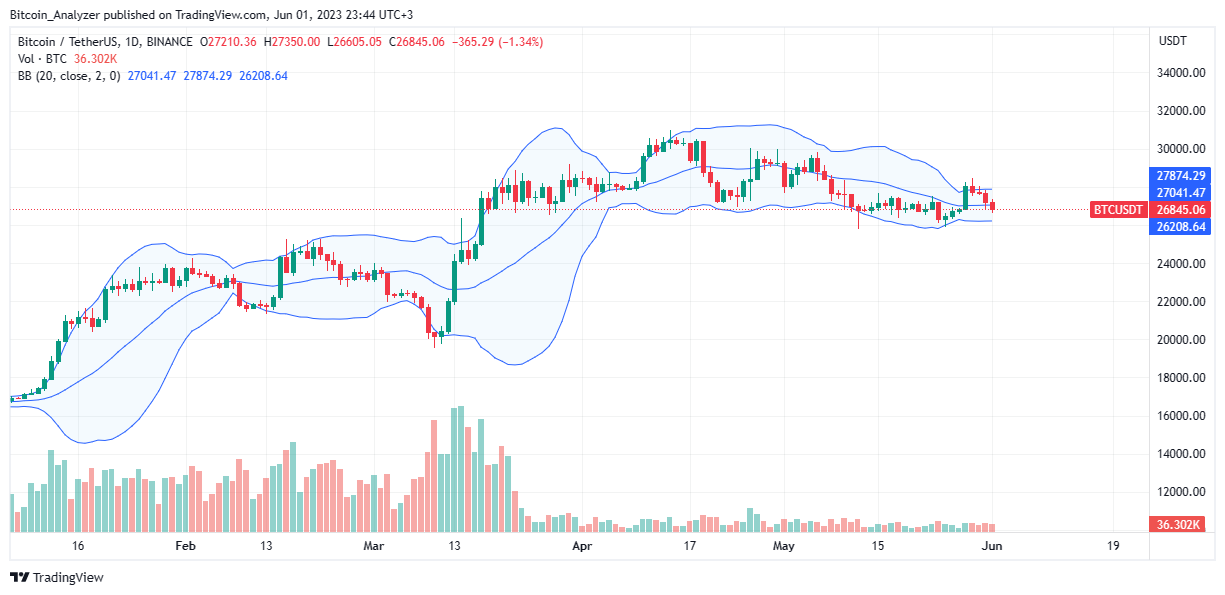 On the other hand, BUSD, a stablecoin previously minted by Paxos, has a market cap of $5,167,197,461 as of June 1.
Changpeng Zhao, the CEO of Binance, the world's largest exchange that had allowed Paxos to release BUSD under their brand, said regulatory headwinds had favored USDT.
He supported BUSD by explaining that its market cap had been limited to $25 billion after the New York Department of Financial Services (NYDFS) prohibited the creation of new BUSD in February 2023.
It is uncertain if the recent increase in Tether usage shows readiness for a cryptocurrency market upturn.
Currently, candlestick formation suggests that Bitcoin, Ethereum, and other top-10 crypto assets are under pressure, posting double-digit losses from April 2023 highs.