On-chain data shows the exchange inflows across the crypto market have remained low recently. Here's what this trend might mean.
Exchange Inflows Of Major Crypto Assets Have Been Subdued Recently
According to the on-chain analytics firm Glassnode, exchange inflows across the major assets are currently near cyclical lows. The "exchange inflow" is an indicator that measures the total amount of a given crypto that's being transferred to the wallets of all centralized exchanges.
When the value of this metric is high, it means that the investors are depositing some tokens of the asset to these platforms right now. As one of the main reasons why holders would send their coins to exchanges is for selling-related purposes, this kind of trend can have bearish implications for the crypto's price.
On the other hand, low values of the indicator imply that the exchanges aren't receiving that many coins at the moment. Depending on other factors, such a trend can be either neutral or bullish for the value of the asset.
Now, here is a chart that shows the trend in the combined exchange inflow for the largest assets in the market (like Bitcoin and Ethereum) over the last few years: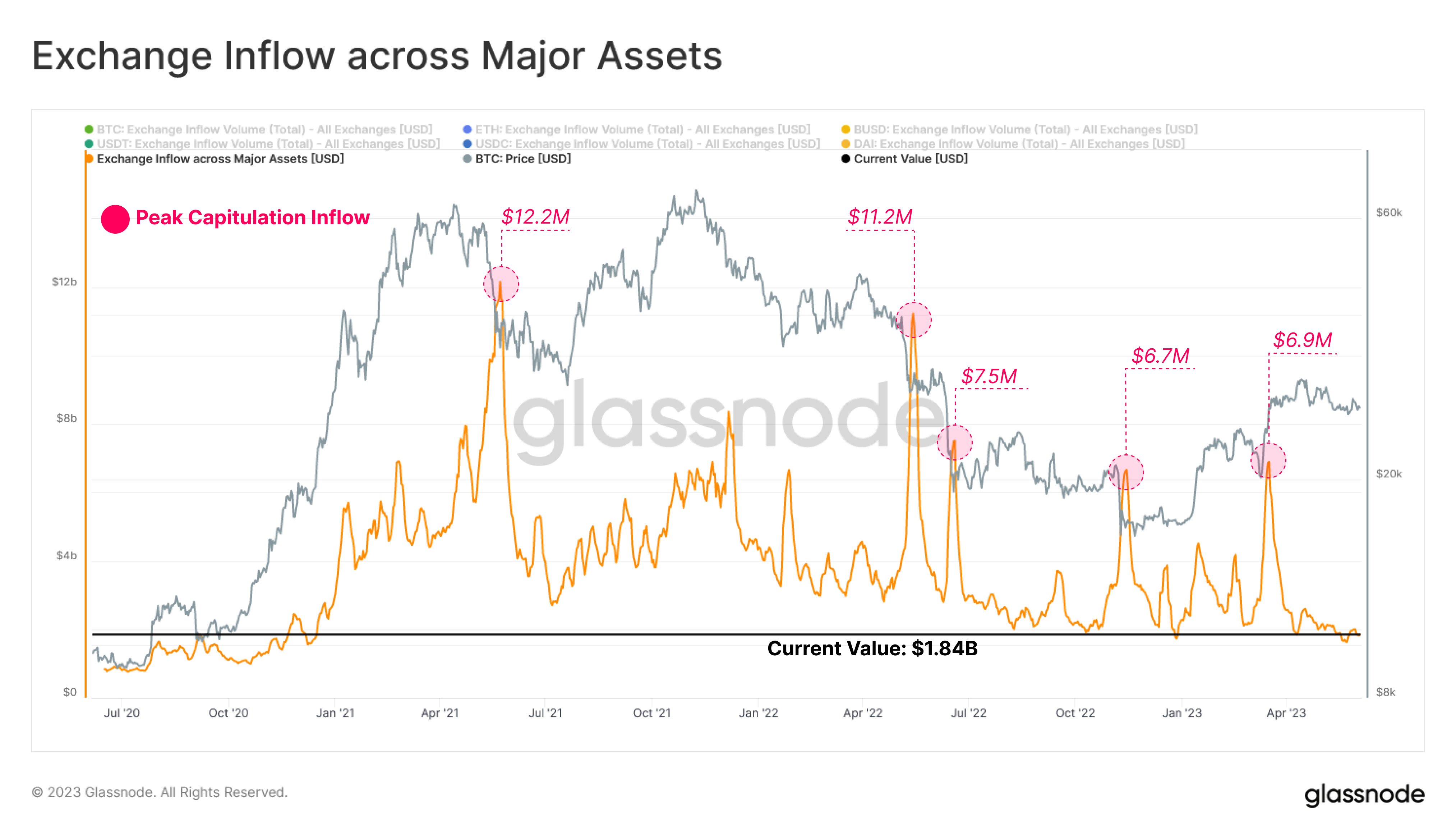 From the graph, it's visible that the exchange inflow for the major crypto assets has gone down recently and has hit some pretty low values. This would imply that not many investors are currently depositing their tokens to these platforms.
Naturally, this indicator has had high values during periods of heavy selling pressure in the market. As highlighted by Glassnode in the chart, May 2021 saw the metric register its largest value of $12.2 billion for this period.
Back then, the first half 2021 bull run was winding off and these large inflows occurred as the selloff took place. Very large spikes in the indicator were also seen in other major selloffs, like the LUNA crash in May 2022, the 3AC bankruptcy in June 2022, and the FTX collapse in November 2022.
Huge inflows across the market were also seen around the time of the selloff back in March of this year when the price of Bitcoin had crashed below the $20,000 level.
Currently, the major crypto assets are only observing total exchange inflows of $1.84 billion, which is very low when compared to any of the aforementioned spikes.
The low inflows right now can suggest that there isn't much appetite for selling across the crypto market, which is naturally something that could allow the tokens to build up some upwards momentum.
However, the fact that the current levels are so low that they are near cyclical lows would suggest there is an overall lack of participation in the sector from investors. Low participation is usually associated with sideways-moving markets, which is what Bitcoin and others are experiencing at the moment.
At the time of writing, Bitcoin is trading around $26,700, down 4% in the last week.