Bitcoin and the crypto market have been on a "dry season," with prices moving sideways, unable to break below support or above resistance levels. According to a recent report, a decline in volatility has preceded the low action, but something could change in the short term.
As of this writing, Bitcoin (BTC) trades at $26,700, with a 2% loss in the last 24 hours. In the previous week, the cryptocurrency records a 4% loss, with other assets in the top 10 by market capitalization experiencing similar price action.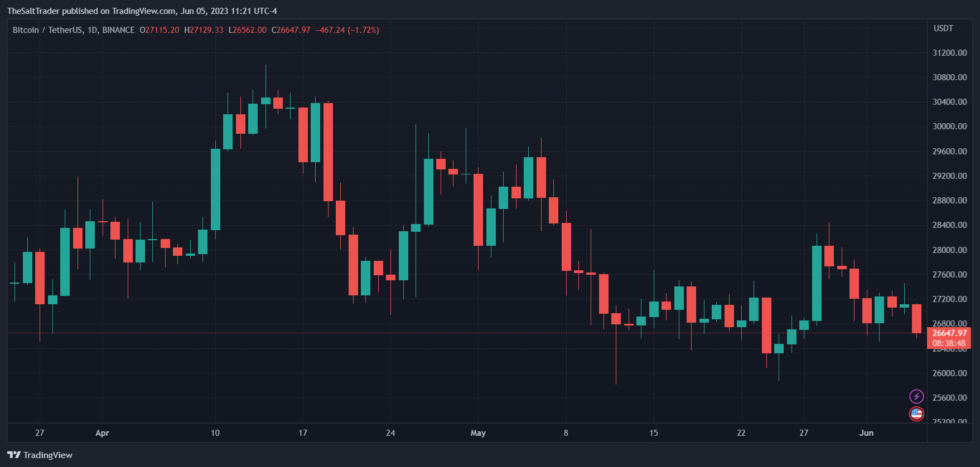 BTC BTCUSDT Chart 1" width="980" height="467">
All About Macro, Bitcoin Price Ready To Breakout?
Crypto research and analysis firm Blofin believes that the price of Bitcoin and larger cryptocurrencies has suffered due to macroeconomic factors. Two narratives are influencing this area: the Debt ceiling in the United States and inflation.
The former was resolved as key actors in that country reached a compromise, but the latter continues to operate as the core issue for the macroeconomic field. In that sense, Blofin claims that central banks worldwide are likely to continue hiking interest rates.
The seemingly imminent spike in interest rates is impacting Bitcoin, Ethereum, and the crypto market. As a result, the nascent sector could keep experiencing a decline in volatility while BTC's price re-tests critical support levels.
The crypto research firm stated the following regarding the upcoming events that could provide insight into central banks' next actions:
(…) the Fed will raise rates once before July. This week's Bank of Canada interest rate decision may give us some signals, but judging from the current movements of cryptos, the signals may not be good.
A different analysis from a pseudonym crypto investors claims that BTC's Open Interest (OI) is reaching levels last seen when prices cleared out overleverage positions. Thus, BTC could exit its crab mode to take out liquidity across the board.
$BTC Open Interest getting to a level where we have seen big squeezes occur in the past.
When enough positions enter there's often an incentive to push price to take them out.
Open interest in itself says nothing about direction.
Trade the big move on: https://t.co/rIxsG0GIWl pic.twitter.com/Dy3jcxb6hd
— Daan Crypto Trades (@DaanCrypto) June 5, 2023
If
BTC
Crashes, How Low Can It Go?
In case of a sudden spike in volatility to the downside, Bitcoin could retrace to the 200 weekly moving average, per Material Indicators' Keith Alan. The analyst claims that if BTC closes below this level, which is $26,000, the cryptocurrency will likely see further downside.
The analyst stated while sharing the chart below:
#BTC is going to get another retest of support at the 200-Week MA (purple). IMO, a Weekly candle close below the 200-Week MA would be an indication that the bottom isn't in yet. Things could get spicy this week. The last line of defense is at the 50-Month MA around $25.5k.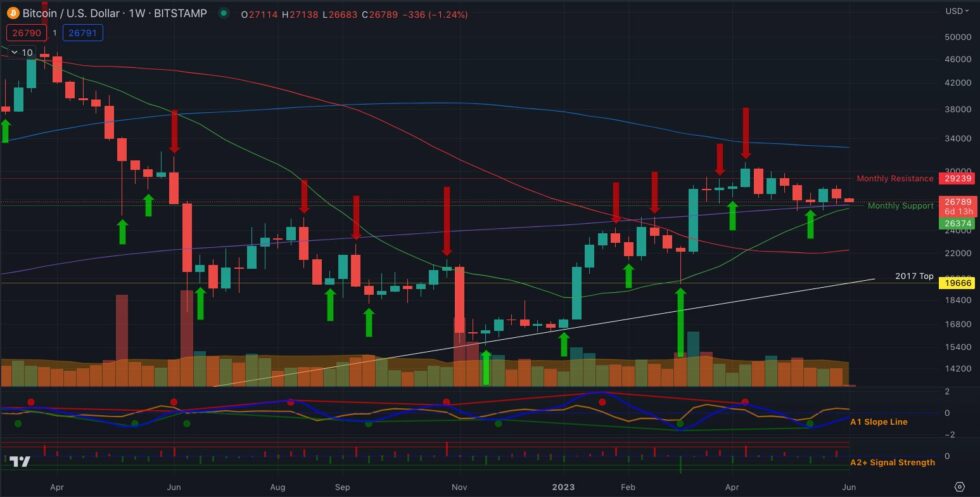 BTC BTCUSDT Chart 2" width="980" height="497">
Cover image from Unsplash, chart from Tradingview