Data shows the crypto futures market has registered liquidations of almost $300 million in the past day as Bitcoin has plunged below $26,000.
Crypto Futures Market Liquidations Spike As Bitcoin & Others Crash
A futures contract is said to be "liquidated" when the derivative exchange that the contract has been opened with forcefully closes the position. A platform generally does it whenever the contract accumulates enough losses to wash away a defined percentage of the margin (the initial collateral).
There are a couple of factors that can greatly increase the risk of a contract being liquidated. The first is naturally the volatility of the asset that the position is for. In the crypto market, most coins show a high amount of fluctuations, so it's harder to predict how the market may proceed.
The other relevant factor here is leverage, which is a loan amount that any investor may opt to take up against the margin. The leverage is usually many times the initial position itself, and the main benefit of it is that any profits earned become magnitudes more.
Obviously, there is also the catch that any losses suffered would also be more by the same factor. Many crypto derivative exchanges offer easy access to leverage amounts as high as 100x the position, so the market can see a high amount of leverage pile up at certain points.
Such a high-leverage environment combined with the general volatility of the coins often results in mass liquidation events often occurring in the digital asset futures market.
Another event of this kind has also taken place during the past day. Here is a table that shows the relevant data regarding this leverage flush: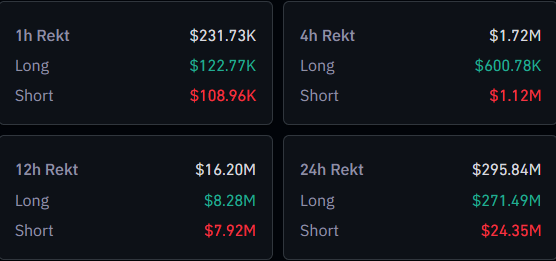 As you can see above, there have been a total of about $296 million in crypto liquidations during the last day. Only around $16 million of these liquidations occurred in the past 12 hours, however, implying that the preceding 12-hour period saw the bulk of the flush.
The high volatility in the prices of assets like Bitcoin came during that half-day period, so it would make sense that the futures liquidations were also mostly contained inside it.
The volatility in the past day has almost entirely been towards the downside, induced by the news of the US SEC suing Binance and its CEO. BTC has observed a crash below the $26,000 level during this volatile event, so it's not surprising that an extreme majority of the contracts flushed ($271 million) have been long positions.
Below is another table that breaks down these liquidations in terms of the symbols. From it, it's visible that the Bitcoin futures contracts alone saw about $111 million in liquidations during the last 24 hours, which is significantly more than any other coin.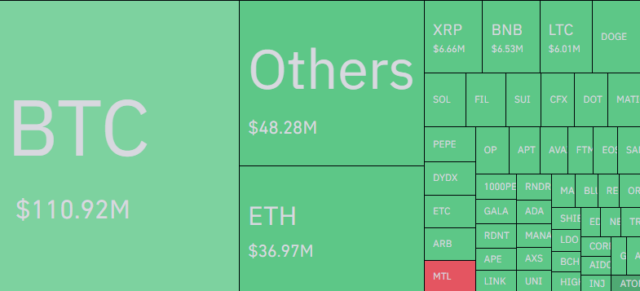 At the time of writing, Bitcoin is trading around $25,700, down 8% in the last week.