In a recent development that caused a temporary disruption in the crypto world, major cryptocurrency exchange Kraken faced issues with its crypto funding gateways, leading to delays in deposits and withdrawals.
However, the exchange swiftly responded to the situation, investigating and resolving the problem to restore full functionality to its withdrawal services.
Gateway Hiccups And Operational Delays
Kraken users encountered a setback as the exchange grappled with issues related to various crypto funding gateways, including prominent cryptocurrencies like Bitcoin (BTC), Ethereum (ETH), and ERC-20 tokens.
On June 6, Kraken's status page notified users about the delay in deposits and withdrawals, and subsequent updates indicated that the team was diligently working to address the problem.
However, the exact cause of the issue was not immediately disclosed, leaving users eager for more information. Amid the uncertainty, Kraken's status page eventually returned to normalcy at 8:35 am UTC, ensuring all systems were operational again.
While the specific details of the underlying problem were not provided, the prompt resolution offered relief to users who had experienced a temporary disruption in withdrawal services.
Turmoil In Crypto
It is worth noting that the Kraken incident occurred amid the legal challenges faced by other prominent exchanges, such as Coinbase and Binance, with the U.S. Securities and Exchange Commission (SEC) taking legal action against both platforms.
Coinbase, the largest U.S. cryptocurrency exchange, was sued by the SEC for allegedly operating without proper registration, raising concerns about regulatory compliance. The SEC's lawsuit against Binance further intensified the pressure on the world's largest crypto exchange, as it was accused of operating a "web of deception."
These events added to the volatility in the crypto market, resulting in Bitcoin's price plummeting to its lowest point in nearly three months. In addition, the global crypto market has also experienced a downward turn down by nearly 1% in the past 24 hours, with a value below its previously plateaued $1.2 trillion.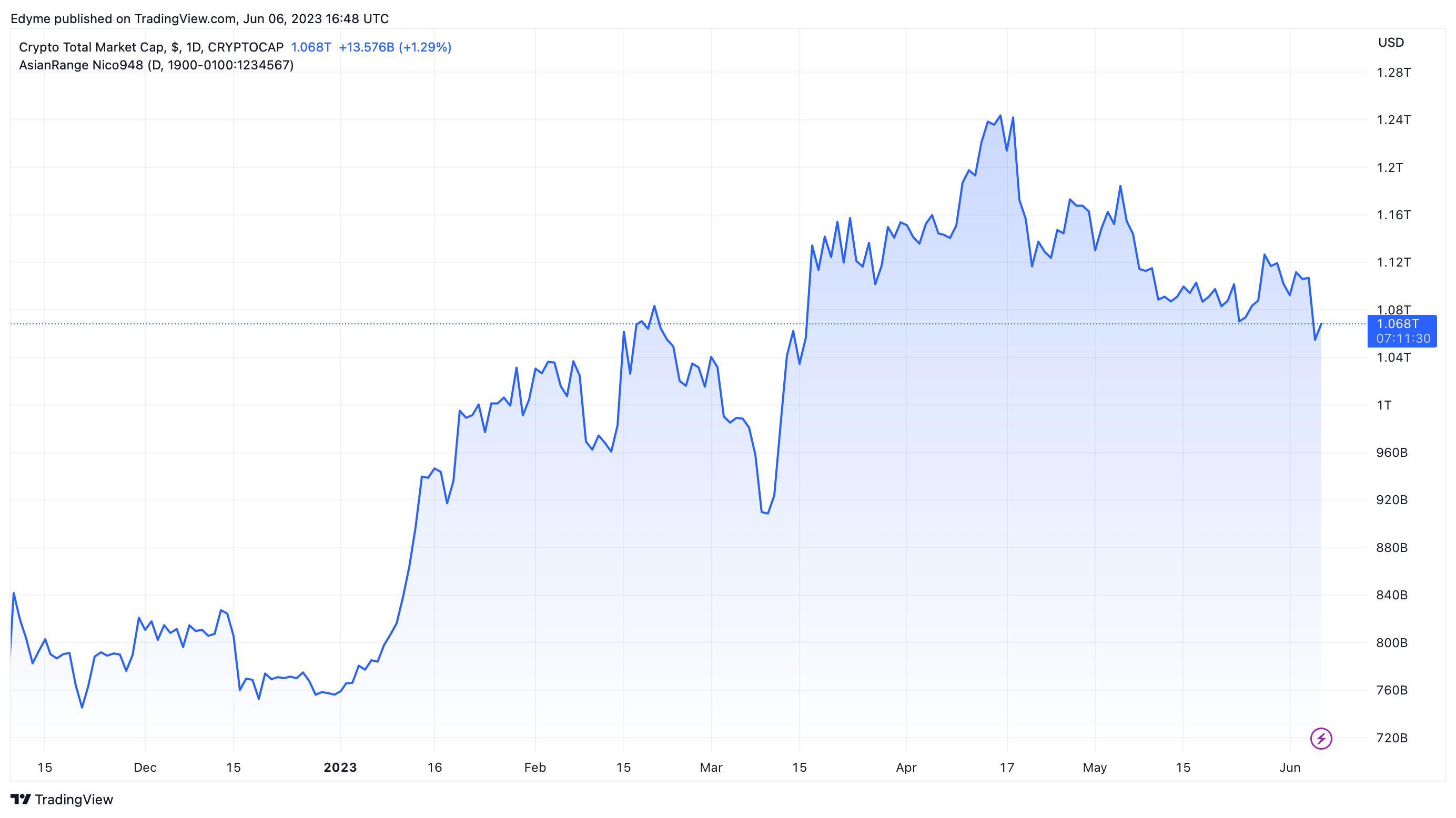 Meanwhile, Kaken is embroiled in a battle with the Internal Revenue Service (IRS) in the United States over the agency's demands for customer information. The exchange has vehemently criticized these requests, referring to them as an "unjustified treasure hunt."
In response, Kraken has taken legal action, seeking intervention from the courts in San Francisco, arguing that the IRS has exceeded its authority with unwarranted claims.
According to Kraken, the IRS's demands for customer information "go beyond what is reasonable and necessary for tax compliance purposes." The Exchange believes that the IRS's actions amount to an intrusive and unwarranted intrusion into the privacy of its users. Kraken's decision to challenge the IRS in court signals its firm stance against what it perceives as an overreach by the agency.
Featured image from Shutterstock, Chart from TradingView