In a recent interview, Gary Gensler, the U.S. Securities and Exchange Commission (SEC) Chair, declared that the United States does not require any other digital currency.
As the SEC takes legal action against major cryptocurrency exchanges Binance and Coinbase for allegedly operating unregistered securities exchanges, Gensler emphasized that the U.S. dollar already serves as a digital currency.
While his remarks sparked debates within the crypto community, Gensler defended his stance, highlighting the importance of trust and compliance in the evolving landscape of digital assets.
The Case For The US Dollar As Digital Currency
Chair Gensler expressed his skepticism towards the necessity of additional digital currencies, stating: "We already have digital currency. It's called the U.S. dollar." He emphasized that throughout history, economies and societies have functioned effectively with a single medium of value exchange.
Gensler further pointed out that existing fiat currencies like the dollar, euro, and yen already possess digital representations and can facilitate digital investments. His perspective challenges the notion that multiple cryptocurrencies are essential for economic transactions.
Gensler noted:
Look, we don't need more digital currency. We already have digital currency. It's called the US dollar. It's called the euro. It's called the yen. They're all digital right now. We already have digital investments.
Despite his reservations about the need for numerous digital currencies, Gensler acknowledged the potential value of crypto tokens and suggested that "compliance and trust" would play a crucial role in shaping the industry's future.
He recognized that if these tokens offer genuine value, compliance with regulatory frameworks can help build trust among investors and potentially drive changes in the business models of crypto exchanges.
SEC's Stance On Binance And Coinbase Lawsuits
Gensler's comments come from the SEC's recent lawsuits against Binance and Coinbase. The regulatory agency accuses both exchanges of engaging in alleged activities such as operating as a brokerage and clearing house without proper registration, thus violating securities regulations in the United States.
Particularly, the SEC accused Binance of operating a "web of deception." While accusing Coinbase of operating illegally because it failed to register with the regulator.
Gensler defended the SEC's actions, characterizing them as "pro-innovation" and emphasizing that trust and compliance are essential for the efficient functioning of capital markets.
In response to Binance's claim that the SEC hinders America's position as a global hub for financial innovation, Gensler reiterated the agency's commitment to fostering innovation while ensuring investor protection.
This recent news has contributed to increased volatility within the cryptocurrency market, leading to a significant decline in the price of Bitcoin, reaching its lowest point in approximately three months. However, in the past 24 hours, the largest crypto by market capitalization has rebounded by 4.3%.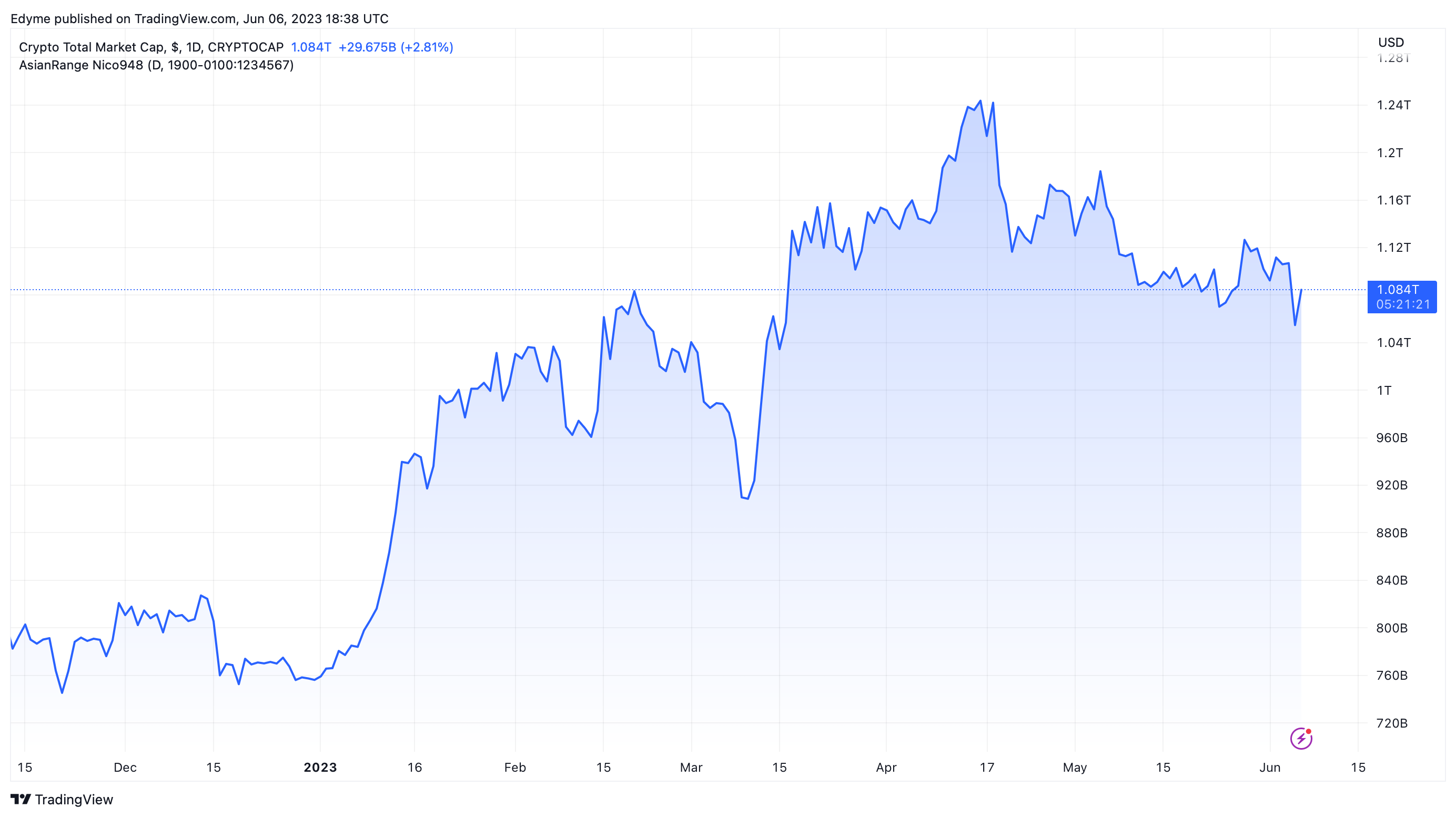 Furthermore, the overall global crypto market has also recovered, experiencing an uptrend of nearly 2.9% over the past 24 hours. Regardless, the market's total value has dropped below the previously established $1.2 trillion mark, which has remained relatively stable for some time.
Featured image from Coindesk, Chart from TradingView