Changpeng Zhao, the CEO of Binance, has refuted rumors suggesting his demise. In a recent statement, Zhao shared a screenshot denying the report. He reassured the exchange's clients and the wider cryptocurrency community that he has not encountered incidents involving being shot 27 times or engaging with representatives from an American inspection agency.
Changpeng Zhao Is Not Dead
According to the fake viral news doing rounds in Asia, it is alleged that the Binance CEO was shot multiple times after he argued: "with an American inspection agency and took out an AK 47". After this, the police shot first, "wasting the CEO."
Notably, this is not the first time there has been fake news claiming that the CEO of Binance has been killed. In early March 2023, there were instances of misinformation circulating that falsely claimed the death of Zhao, which was cited as the reason for his absence at the Binance World conference held in Paris.
However, Zhao promptly dismissed these rumors and clarified that he was "very much alive" and wasn't sure "where these rumors are coming from."
For now, what triggered the fake news is not immediately clear. The source of the news could have been mistaken or a malicious agent seeking to cause fear in the Binance community, discredit the CEO, or manipulate token prices of the Binance ecosystem.
Even so, it comes when the exchange finds itself in a regulatory hard spot.
Binance Sued By The SEC
The United States Securities and Exchange Commission (SEC) on June 5 alleged that not only was Binance involved in the illegal offering of crypto assets they classified as securities, but that the exchange had been supposedly lying to American regulators all while they continued inflating trading volumes.
Gurbir Grewal, director of the SEC's enforcement division, said:
We allege that Zhao and the Binance entities not only knew the rules of the road but also consciously chose to evade them and put their customers and investors at risk. By engaging in multiple unregistered offerings and failing to register while simultaneously combining the functions of exchanges, brokers, dealers, and clearing agencies, the Binance platforms under Zhao's control imposed outsized risks and conflicts of interest on investors.
The regulator also alleges that BNB, the native currency of the BNB Chain, and BUSD, a stablecoin initially issued by Paxos that the New York Department of Financial Services (NYDFS) ordered them to stop minting, were unregistered securities.
In the aftermath of this lawsuit, BNB, Bitcoin, and Ethereum prices flash crashed, dragging the cryptocurrency market with it.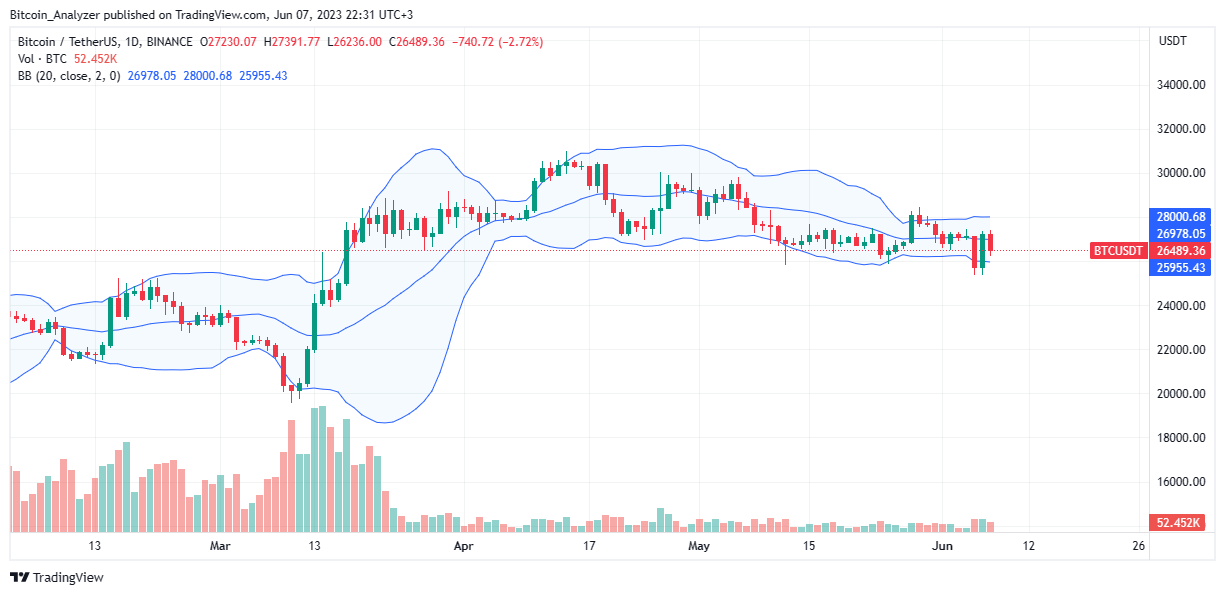 However, in the last 24 hours, Bitcoin prices have since recovered, edging higher and shaking off the weakness of June 5.