The global fintech firm, Circle Internet Financial, responsible for the issuance of USD Coin (USDC), unveiled a significant addition to their executive team, as they welcomed former CFTC Chairman Heath Tarbert as their new Chief Legal Officer.
As Circle continues its march toward dominating the digital currency landscape, its focus on global growth is evident. The appointment of Tarbert, effective July 1, 2023, comes at a time when the company is poised for significant strategic expansion. Tarbert, with his extensive experience in both public and private sectors, is expected to be a noteworthy addition to Circle's future endeavors.
Seasoned Leader Joins The Circle
Looking into Heath Tarbert's career history, Terbert has filled leadership roles spanning across the federal government and crucial regulatory agencies. Before his appointment at Circle, Tarbert was the Chief Legal Officer at Citadel Securities, and he's stepping into the shoes of Flavia Naves, Circle's former general counsel.
Naves spearheaded the company's growth, including financing rounds and worldwide expansion, and is now parting ways with Circle on amicable terms. As the 14th chairman and chief executive of the Commodity Futures Trading Commission (CFTC), Tarbert has not only contributed to financial policy-making domestically but also internationally.
He has served as vice chairman of the International Organization of Securities Commissions and was the US Treasury's Assistant Secretary for international markets, where he concurrently served as the G-7/G-20 Deputy Finance Minister, according to a press release.
Bridging Traditional Finance And Web3
Tarbert's appointment is seen as an "extraordinary step" in Circle's global growth strategy, according to Jeremy Allaire, co-founder and CEO. Allaire expressed his optimism on the appointment, stating that Tarbert's global regulatory experience and legal acumen will be instrumental in building a bridge between traditional finance and the decentralized financial systems of Web3.
Tarbert's private sector experience also includes serving as the head of the bank regulatory practice of the international law firm, Allen & Overy. According to the press release, his track record of navigating complex regulatory environments makes him equipped to help Circle continue to innovate while maintaining compliance in an increasingly regulated digital currency landscape.
Notably, the company has been a leading player in the digital currency landscape since its inception in 2013. The company is the principal operator behind USD Coin (USDC), one of the most trusted and fastest-growing stablecoins in the world, with a market cap that has already crossed $30 billion.
This strategic hiring is expected to strengthen Circle's resolve to bring the benefits of digital currency to businesses and individuals globally while upholding the highest levels of regulatory compliance.
Meanwhile, despite surpassing $30 billion before, Circle's USDC market cap has since plummeted to a market value of $28.51 billion at the time of writing. This plunge in its market cap follows the company's initial contagion in the recent Silicon Vally Bank collapse.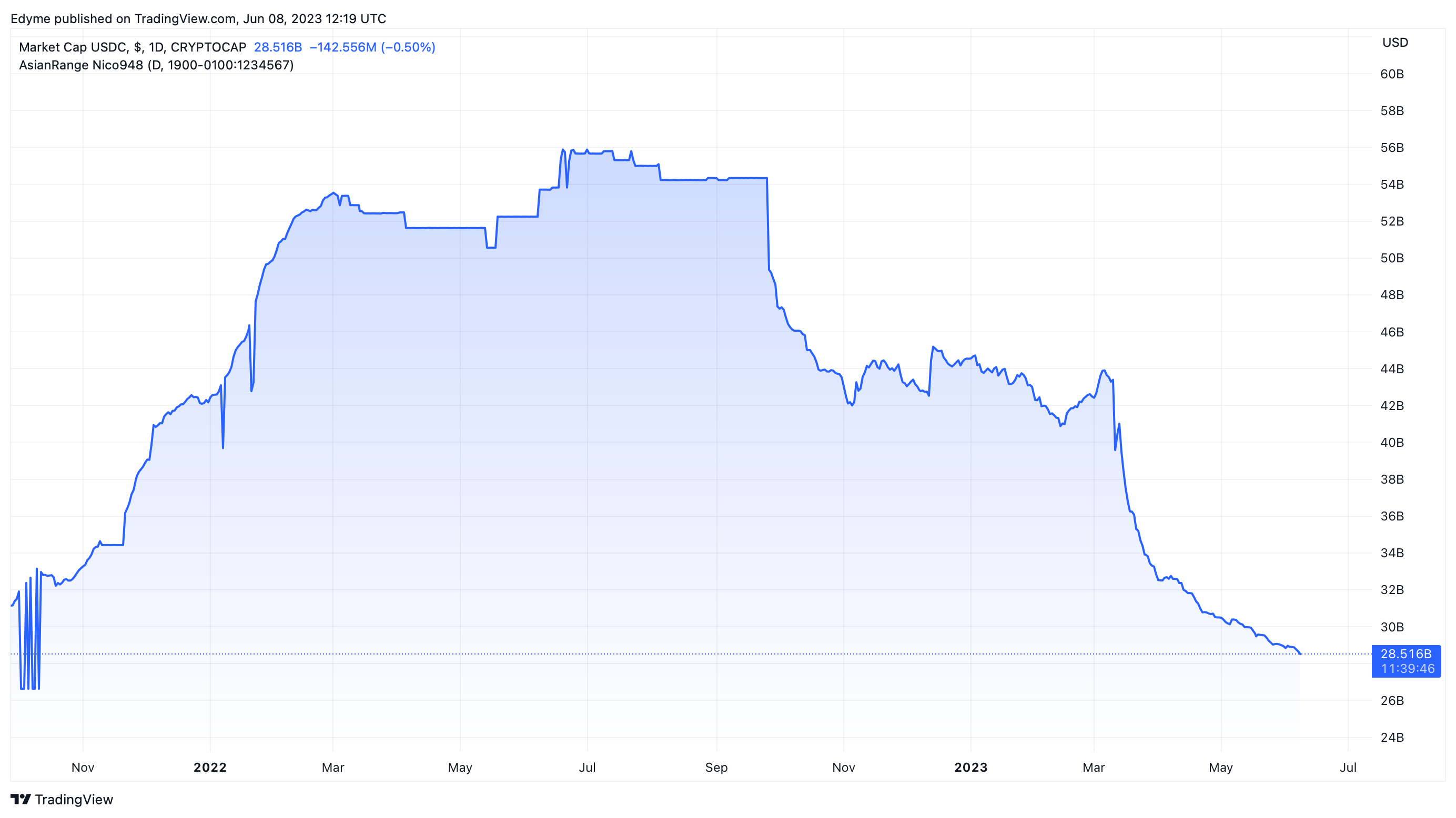 USDC market cap price chart on TradingView amid Circle new hire" width="2768" height="1556">
Featured image from Politico, Chart from TradingView