During the winter of 2020, the United States Securities and Exchange Commission fired the first bullet in what would eventually become a dragged-out legal battle against the entire cryptocurrency industry.
On December 22nd, 2020, the SEC charged Ripple with conducting a $1.3 billion unregistered security offering, essentially alleging that their native cryptocurrency – XRP – is a security.
Two and a half years later, the battle is still raging on, but the proportions are now tremendously larger. Let's dive in.
Ripple v. SEC: Clash of Titans
The SEC under the regimen of Gary Gensler has turned into an anti-crypto establishment, and no one is trying to even hide it. We just didn't know all that back in 2020 when one of the first shots was fired.
In December 2020, the SEC alleged that XRP is a security and that Ripple has conducted an unregistered $1.3 billion security offering. Back then, the Director of the SEC's Enforcement Division, Stephanie Avakian, said:
We allege that Ripple, Larsen, and Garlinghouse failed to register their ongoing offer and sale of billions of XRP to retail investors, which deprived potential purchasers of adequate disclosures about XRP and Ripple's business and other important long-standing protections that are fundamental to our robust public market system.
Ripple's entire defense is based on its claim that XRP is a currency and not a security. Nonetheless, back then, its price cratered as more and more exchanges started to delist XRP in fear of the SEC.
Coinbase stood behind Ripple publicly, filing an amicus brief, also known as "friend of the court" in support of the company's ongoing case.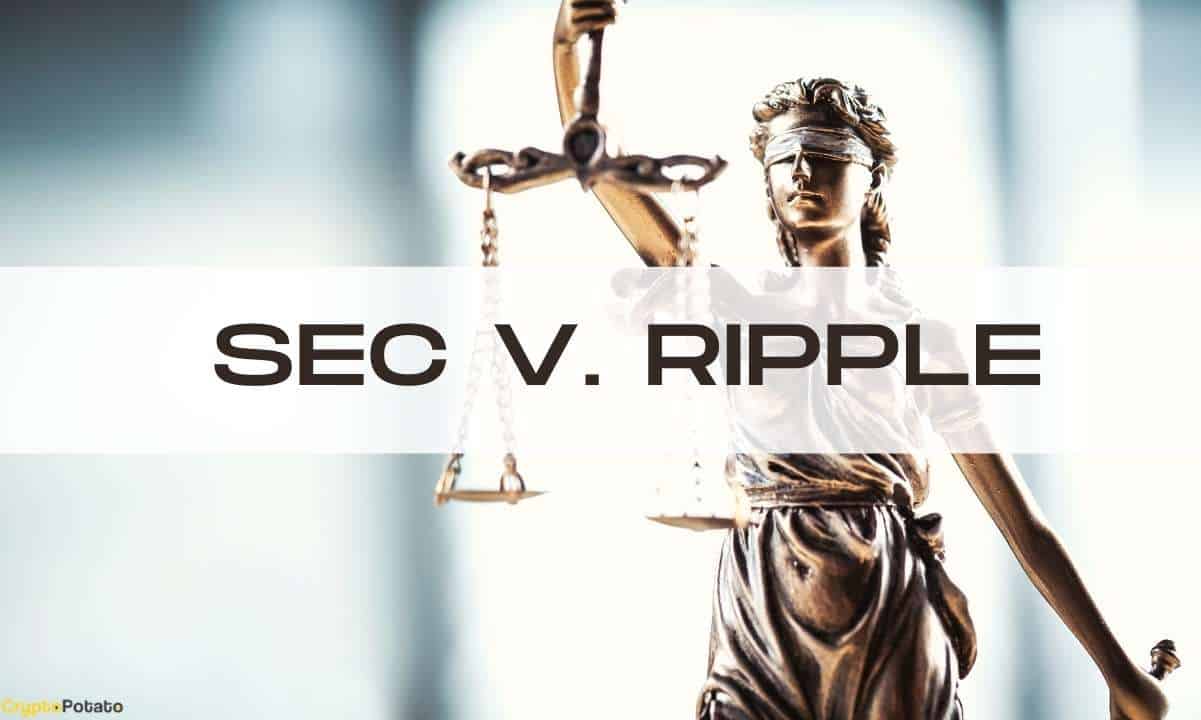 An Ongoing Battle
Many months have passed since, and it's doubtful that anyone had hopes of quick resolutions, as both sides show no signs of stepping back.
A cornerstone of Ripple's defense is the so-called Hinman Speech.
William Hinman is a former director of the SEC's Division of Corporation Finance. The speech in question refers to an occasion when he indicated that the agency didn't consider ETH security at the time.
Ripple lawyers have fought to find out more about how Hinman came to that conclusion in hopes it could impact XRP's classification as well. In October 2022, they managed to obtain the documents – it took them roughly 18 months to do so. Ripple fought off multiple objections on behalf of the SEC, the latest one of which demanded the court to seal Hinman's Speech but was denied by Judge Analisa Torres.
This has seemingly tipped the scales in Ripple's favor – something that already seems to be priced in XRP's performance, as investors are turning bullish on a favorable court decision.
The SEC seems to be under tension, and it shows. As we reported just a few days ago, the Commission seems to have deleted Hinman's biography from its website. It's worth noting that the SEC has until June 13th to hand over unredacted emails of Hinman's internal communications – a deadline that many are looking forward to.
What of XRP's Price?
Ripple isn't the only company under siege. The SEC just pressed charges against both Coinbase and Binance – the two leading cryptocurrency exchanges. They allege that the companies have been violating securities laws, among other things (for Binance).
It's important to note that XRP wasn't named a security by the SEC in a non-exhaustive list of 13 "Crypto Asset Securities" in the filing against Coinbase.
It feels as if the entire industry is under fire. And yet, XRP's price remains resilient. Over the past seven days, it's remained the only altcoin from the majors that's still in the green, albeit by a very slight margin.
However, there's a big deadline coming on June 13th – as mentioned above. The outcome of the session will likely have an impact on XRP's price, and it's very exciting to see exactly what.
In any case, investors seem to be pricing in a positive outcome as XRP has added more than 23% to its price in the past 30 days alone.
The post Ripple v. SEC: The Case So Far and What's Next for the XRP Price? appeared first on CryptoPotato.