On-chain data shows the trading volumes of large assets like Bitcoin and Ethereum have observed a surge toward one-month-highs.
Bitcoin, Ethereum, & Other Assets Have Registered An Increase In Volumes
According to data from the on-chain analytics firm Santiment, the trading volume has been up across the market since the price plunge. The "trading volume" here refers to an indicator that measures the daily total amount of a given cryptocurrency that's being transacted on the blockchain right now.
When the value of this metric is high, it means a large number of tokens of the asset in question are being moved around on the network currently. Such a trend generally suggests that a high amount of traders are active in the market right now.
On the other hand, low values of the indicator can be a sign that the asset isn't observing much activity at the moment. This kind of trend can imply that there isn't much interest in the coin among investors currently.
Now, here is a chart that shows the trend in the trading volume for the major assets in the cryptocurrency sector over the past month or so: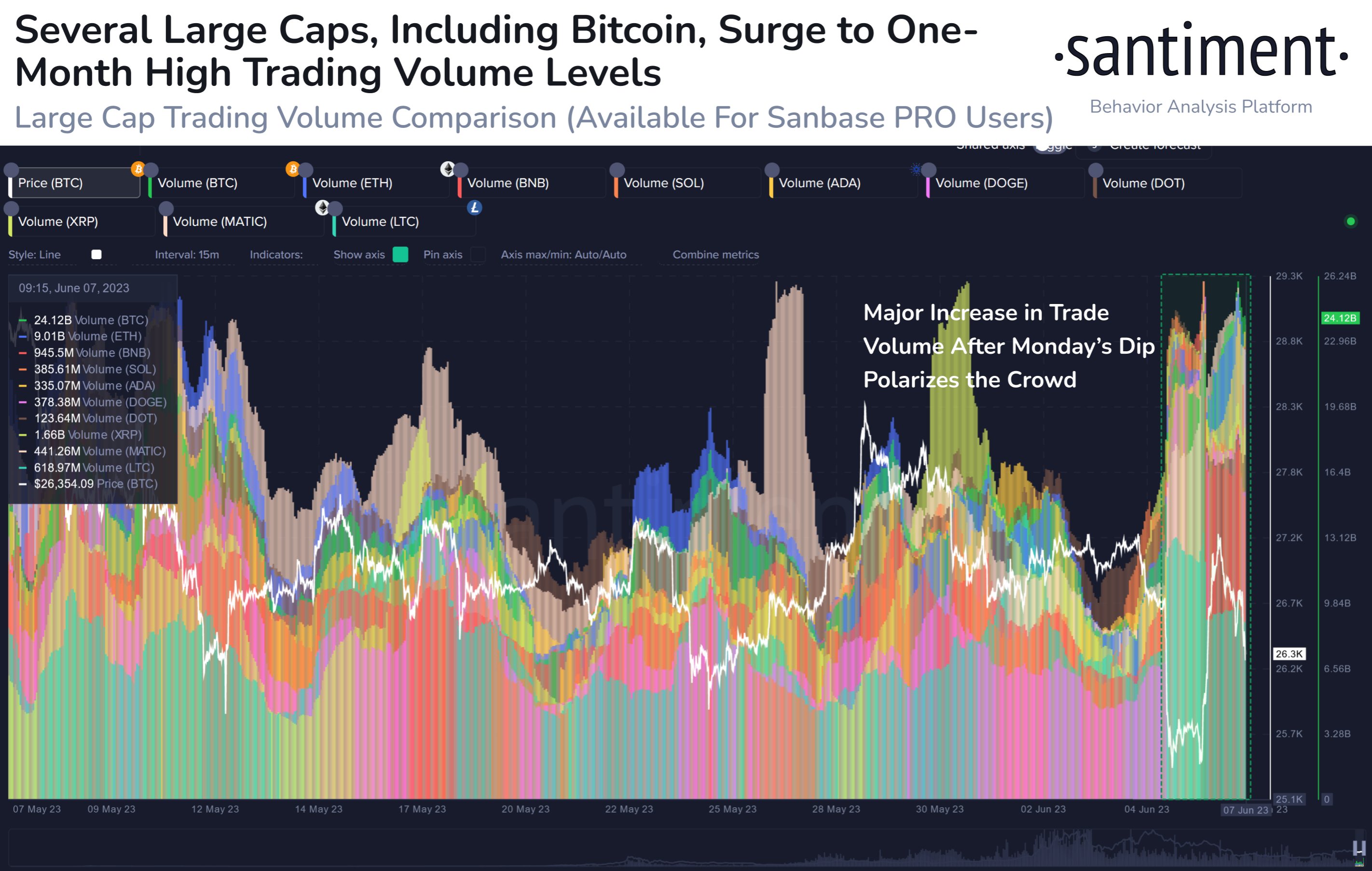 As displayed in the above graph, the trading volume of the largest assets by market cap, including Bitcoin and Ethereum, has observed a large uplift in the past few days.
This surge first started when news came out that the US Securities and Exchange Commission (SEC) has sued Binance and its CEO over alleged fraud, leading to the price of BTC and other assets crashing down.
Generally, the trading volume spikes during highly volatile events like this latest plummet in the market as such moves gather a large amount of attention from investors.
Due to this reason, it's not surprising that the volumes across the market have gone up recently. Santiment notes that the latest renewed interest in the cryptocurrency market has come through both dip buys and panic sells.
In the days since the surge in the trading volume first started, the indicator's value has only increased further for assets like Bitcoin as the market has observed more volatility.
While it's true that volatility attracts the investors' eyes and leads to an increase in the volume, it's also a fact that high-volume environments only result in a more volatile price, since a large number of traders being simultaneously present provides the perfect fuel for sharp moves to take place.
As the trading volume continues to be at a one-month high for Bitcoin and Ethereum right now (suggesting that the investor interest has remained lit) it's possible that the market is only going to see more volatility in the near future.
At the time of writing, Bitcoin is trading around $26,400, down 2% in the last week.