ARK Invest CEO Cathie Wood has been one of the most vocal proponents of Bitcoin over the last few years. The CEO has given numerous predictions for the digital asset which she expects to reach as high as $1 million. And even though the cryptocurrency is currently trading just above $26,000 now, Wood is still convinced that BTC is headed to $1 million.
Cathie Wood Is Unfazed By Uncertainty And Volatility
Volatility and uncertainty have always characterized the financial markets as prices tend to fluctuate and regulation around the space remains cloudy at best. However, the ARK Invest CEO still believes that the digital asset will soar to incredible new highs as the years roll by.
Speaking during an interview with Bloomberg, Wood explains why she still has an unwavering belief in the bullish future of Bitcoin. Instead of being put off by the uncertainty and volatility of the market, she says this trend has only worked to make her more solid in her stance that Bitcoin will reach $1 million. This echoes Wood's statements from 2022 when she placed an eight-year timeframe for the digital asset to climb to the $1 million level.
Previously, Wood pointed to the fact that more institutional investors would be moving into the digital asset, which would propel it forward to $500,000 in five years. Additionally, the fact that BTC offers investors privacy from the government was also a major reason the CEO gave for this prediction.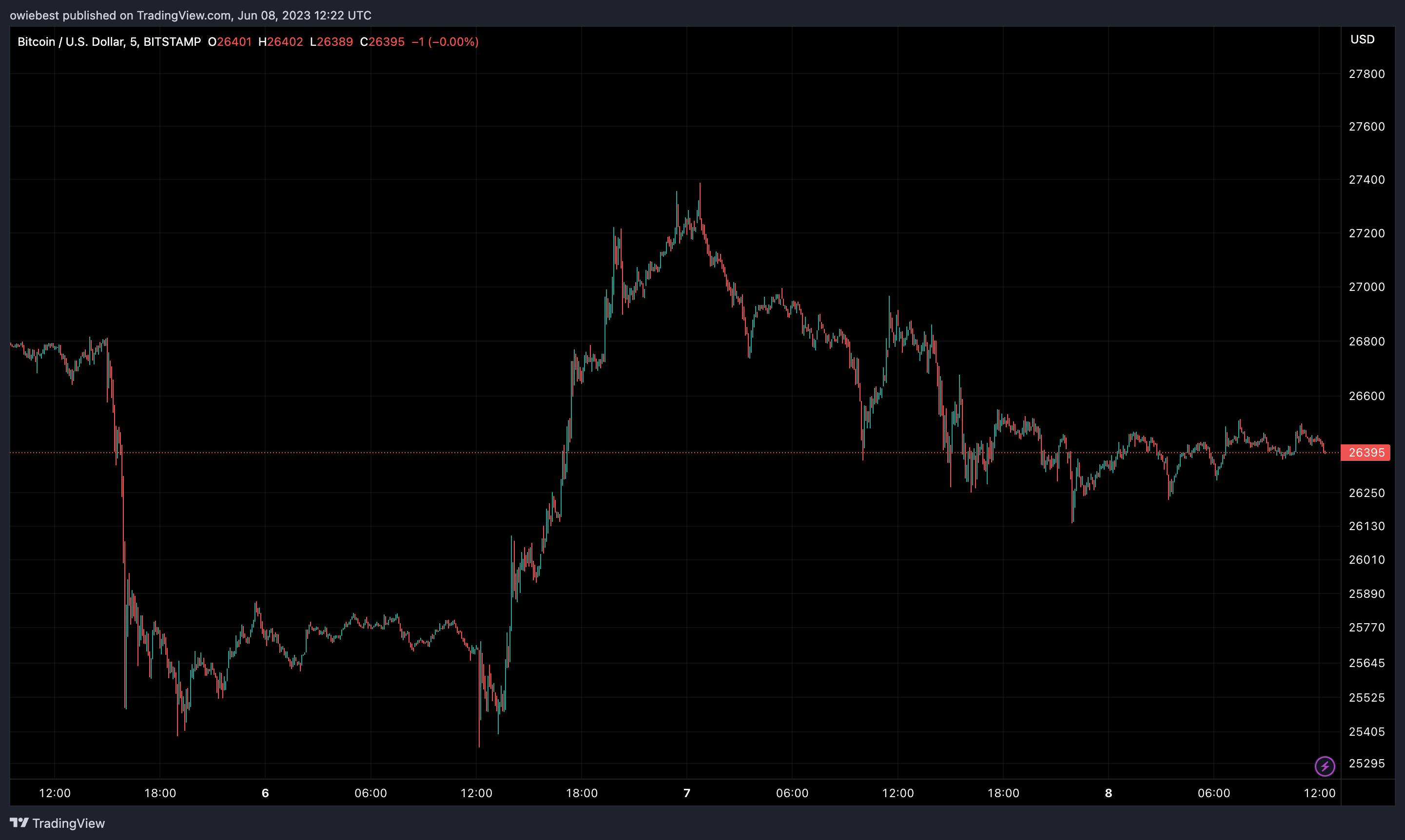 Bitcoin Moves With The Tide
Bitcoin has always outperformed its previous all-time high prices in every bull market and with a bull market expected to happen in 2024, and another one in 2028, Wood's prediction might very well come true by 2030. This is because as the adoption of the digital asset grows, so will its value.
Unlike most cryptocurrencies in the space, Bitcoin also has a limited supply, which ensures that the asset is scarce. And as demand rises, it will become harder to secure a bitcoin and investors will have to pay more for each BTC.
It is important to keep in mind though that if the digital asset were to reach $1 million per coin, then its total market cap would cross $20 trillion, which would make BTC more valuable than the entire gold market.
For now, BTC is trading at $26,438 after recovering from its Monday crash following the news of the United States Securities and Exchange Commission suing crypto exchange Binance.