The bad news around Binance US does not stop. After the US Securities and Exchange Commission (SEC) brought forth its lawsuit against Binance's US arm earlier this week, the US exchange has now announced that they are suspending USD deposits with immediate effect.
In addition, Binance US has sent a message to its customers informing them that their banking partners are preparing to suspend fiat (USD) withdrawal services as early as June 13. Users of the US exchange (it does not affect the international trading platform) will not be able to make withdrawals of US dollars starting from that day.
Therefore, the exchange encourages its customers to take appropriate action with their USD. Notably, Binance US employees have received a similar warning.
SEC Keeps Playing Dirty Against Binance
The message states that the SEC is using "extremely aggressive and intimidating tactics" in its "ideological campaign" against the U.S. digital asset industry. Binance.US and the exchange's business partners have not been spared from these tactics, which has "presented challenges to the banking partners," according to the message.
In other words, the SEC appears to have coerced Binance's remaining banking partners into ceasing cooperation to avoid being targeted by regulators themselves. Binance.US is thus deprived of an important feature, the fiat on/off ramp. Thus, Binance US will become a crypto-only exchange.
All other features of the exchange will be remaining in place. In addition, the announcement states that all user funds are safe:
Our priority is, and has always been, our customers. […] To be clear, we maintain 1:1 reserves for all customer assets. Any downtime in processing withdrawals may be the result of elevated volumes and weekend bank closures. Furthermore, trading, staking, deposits and withdrawals in crypto remain fully operational.
Last but not least, the team at the U.S. exchange assures that it will work to ensure a thriving market for digital assets in America and will "vigorously defend against the SEC's unfounded attacks."
For now, however, the SEC appears to have the upper hand. As FOX Business reporter Eleanor Terrett learned from a source close to Binance US, the action stems from SEC intimidation tactics used in the banking sector:
I can't stress this enough: the SEC actively intimidated the banking partners and that's why this is happening.
Adam Cochran, partner at venture capital firm Cinneamhain Ventures (CEHV), also questions the U.S. regulator's motive, writing via Twitter:
I'm not sure I understand the spin here? How would this protect users? What does it have to do with the SEC case, which still applies to the assets and nothing to do with if there is cash or not on the exchange…?
At press time, the BNB price seemed pretty unfaced by the news so far, trading at $260.4.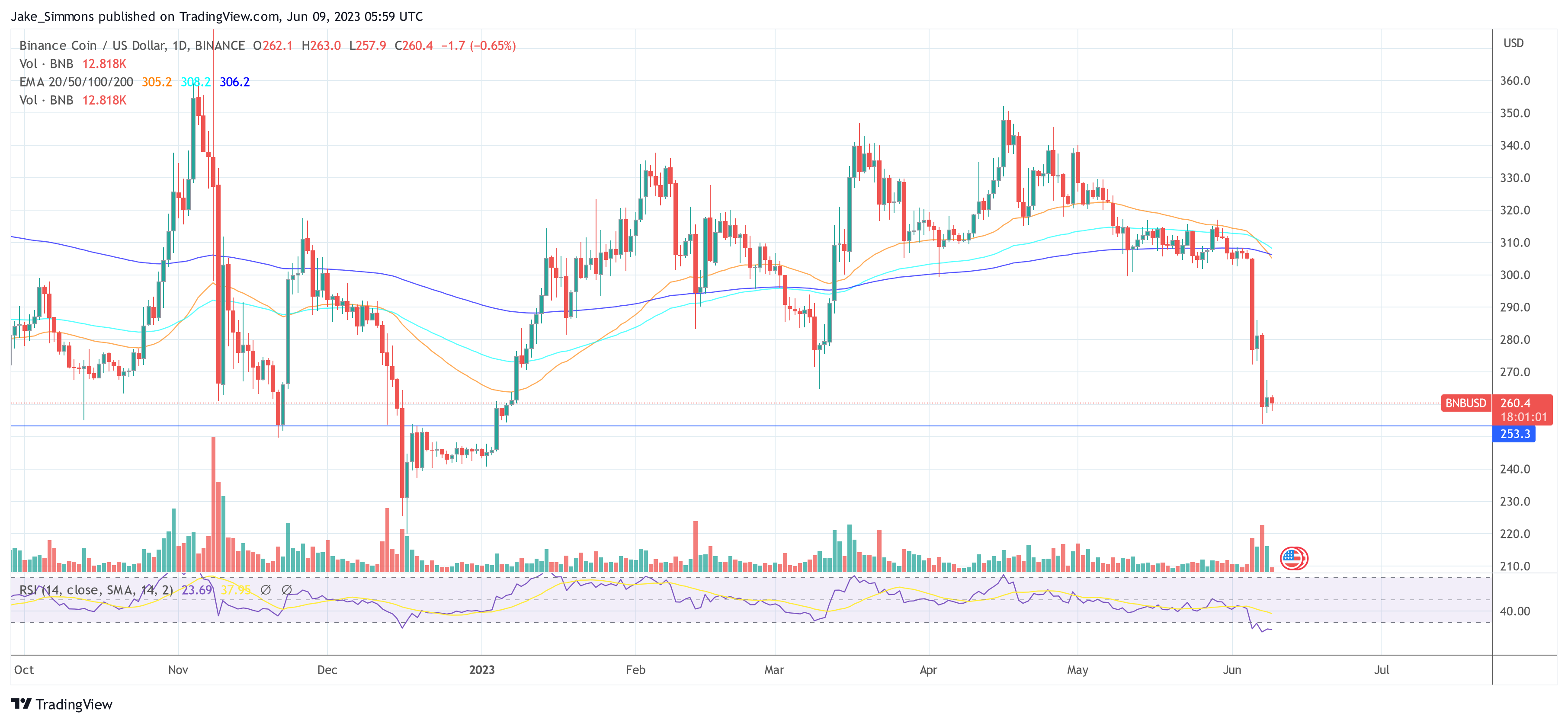 BNB price" width="3625" height="1672">