As the digital asset industry continues to evolve, so too do the regulations designed to govern it. In a recent development, the US House Financial Services Committee has unveiled a revised draft of a stablecoin bill, a product of bipartisan collaboration, and a potential harbinger of comprehensive US crypto regulation.
The bill is the result of merging positions from both Democratic and Republican lawmakers, highlighting the increasing attention being given to the crypto space from all sides of the political spectrum. However, it's crucial to note that this proposed legislation still requires further discussions and approvals from both the House and Senate before becoming law.
Harmonizing Legislation For Stablecoin Oversight
The new draft bill advocates for the Federal Reserve to outline requirements for issuing stablecoins while retaining oversight jurisdiction for state regulators. This proposal demonstrates a potential consensus among committee members, seeking to strike a balance between national regulatory standards and state-level control.
Notably, the third draft this year, released by Republican Chair of the House Financial Services Committee, Patrick McHenry, is viewed as a possible turning point toward bipartisan negotiation on crypto regulation. The draft bill paves the way for discussions scheduled in a committee hearing on June 13, presenting an exciting potential development in US digital asset regulation.
It is worth noting that this new legislative proposal provides expanded authority to the Federal Reserve, including the capacity to intervene against state-regulated issuers during emergency situations. Simultaneously, it acknowledges the role of state regulators in supervising stablecoin-issuing companies, with a provision that allows states to delegate their supervisory duties to federal regulators, should they wish.
As a key player in advocating for stablecoin legislation, Chairman McHenry has maintained focus on this issue since before his committee chairmanship. Despite some Democratic concerns over Republican-led revisions, the bill's limited scope and existing bipartisan support could signal a promising future.
The Future Of Stablecoin Regulation
If passed by both chambers of Congress, this bill would establish the inaugural US regulations for stablecoins. As digital tokens are tied to stable assets like the dollar, stablecoins play a crucial role in crypto markets, facilitating trade and providing a buffer against volatility.
Interestingly, the updated draft removes previous clauses calling for research into a digital dollar, a concept met with Republican criticism. It's notable that the Federal Reserve has yet to confirm whether a central bank digital currency (CBDC) is appropriate for the US
Notably, as the upcoming committee hearing approaches on June 13, it's clear that this bill is just the start. A comprehensive examination by the House and Senate is still needed before this becomes law. Nonetheless, the creation of this bipartisan bill represents a leap forward in the journey toward effective and balanced stablecoin regulation in the United States.
Meanwhile, the global crypto market has remained unfazed by the regulatory scrutiny in the industry. Over the past 24 hours, the global crypto market is up nearly 1% with a market value above $1.1 trillion.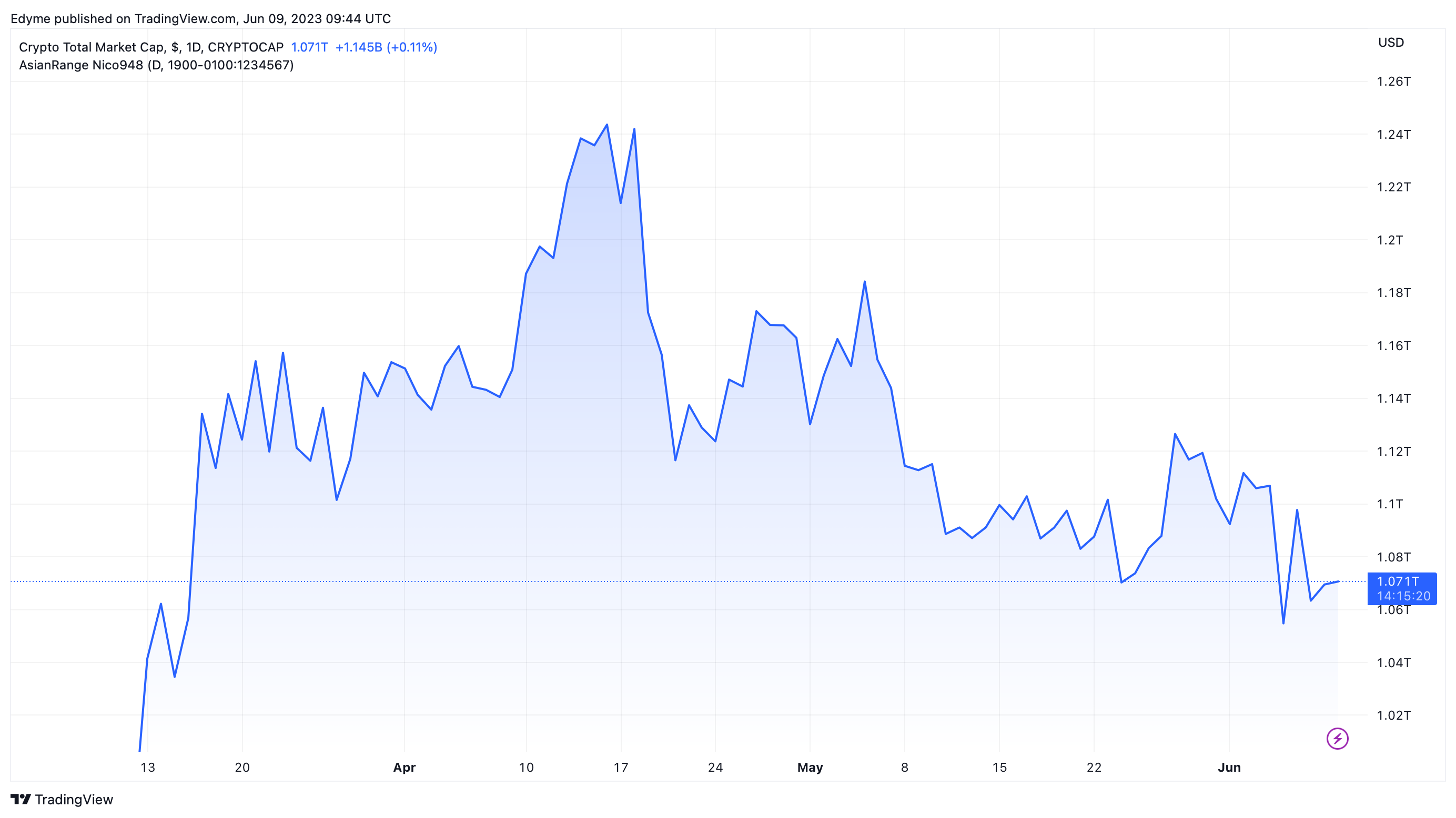 Featured image from Unsplash, Chart from TradingView