Amid the continuous regulatory scrutiny in crypto, there have been a diversified sentiment among different participant groups about the Bitcoin market. According to latest data from data provider Glassnode, long-term holders have remained resilient and unwavering in their commitment, displaying a calm sentiment amid the elevated market distress.
Meanwhile, Bitcoin miners have been actively sending a substantial amount of their Bitcoin (BTC) holdings to exchanges, indicating a dynamic landscape.
Bitcoin Holders And Miners' Diverse Sentiment
Data from on-chain analytics firm Glassnode reveals long-term Bitcoin holders have displayed a steadfast approach during the recent regulatory turbulence.
Despite the charges faced by leading exchanges Binance and Coinbase from the United States Securities and Exchange Commission (SEC), the volume of BTC sent to exchanges by long-term holders has remained low, accounting for 0.04% of the overall supply.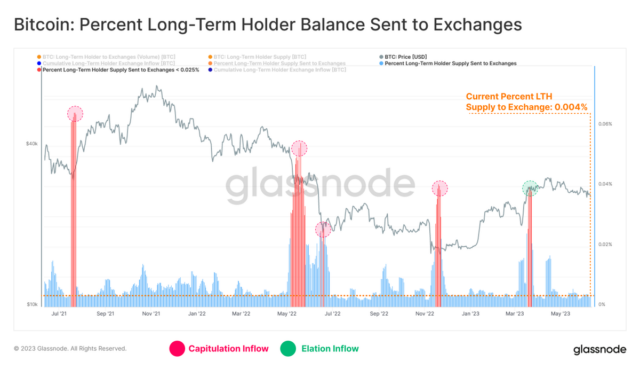 This data reflects the conviction and resilience of these holders, who have chosen to remain indifferent to the regulatory actions targeting the exchanges.
In contrast to the calm exhibited by long-term holders, Bitcoin miners have actively participated in recent market movements. Glassnode indicates that miners have sent a huge amount of BTC to exchanges, resulting in a significant inflow estimated at around $70.8 million.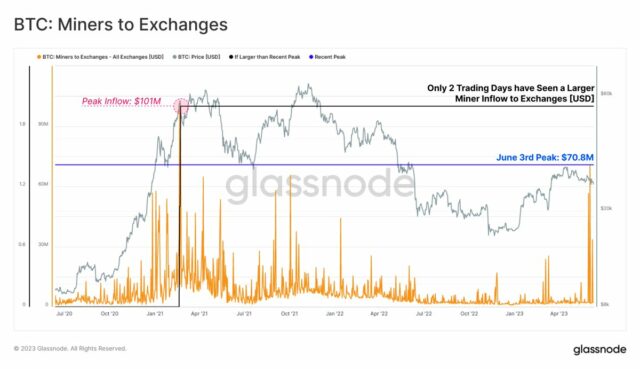 This surge marks the third-largest influx in recent times, following the peak of $101 million recorded during the primary bull market of 2021. The consistent activity among miners highlights their stance, despite the uncertain macroeconomic environment and mounting regulatory pressure in crypto.
Meanwhile, as Bitcoin miners continue their operations, the network's hash rate has reached an all-time high, as indicated by Glassnode's data.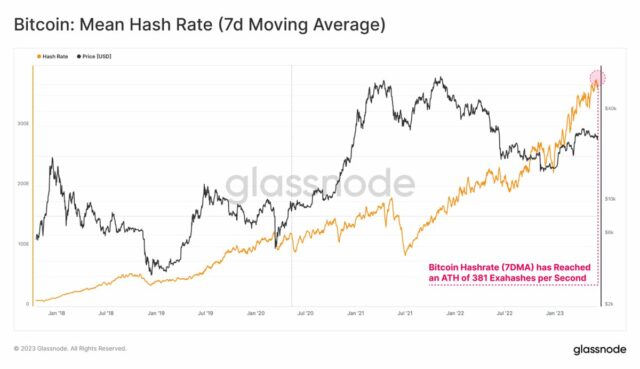 The 7-day moving average (7DMA) has soared to an unprecedented level of 381 EH/s, demonstrating the immense computational power dedicated to solving the Bitcoin puzzle. This figure equates to 381 quintillion guesses attempted every second, showcasing the robustness and strength of the network.
Miner's Move: Impact On Investors
It is worth noting that on the flip side, the surge in miner-supplied Bitcoin to exchanges can create liquidity opportunities for investors. The increased availability of BTC on trading platforms allows investors to engage in active trading, taking advantage of market movements and potentially capitalizing on short-term price discrepancies.
Additionally, while the increased supply initiated by miners on exchanges comes amid the intensified regulatory scrutiny in the market, it could potentially add to the short-term market challenges ongoing.
Meanwhile, Bitcoin price has witnessed a dramatic plunge in the past week that has brought its market value to below $26,000 down by 2.9%. The largest crypto asset by market capitalization has however recorded a slight uptrend in the past 24 hours up by 0.5%.
BTC is currently trading at $25,960, experiencing a significant drop in value compared to its price as of last Monday. This decline can be attributed to the prevailing negative sentiment in the crypto market, exacerbated by the Securities and Exchange Commission's (SEC) lawsuit against Binance and Coinbase, the world's largest cryptocurrency exchange.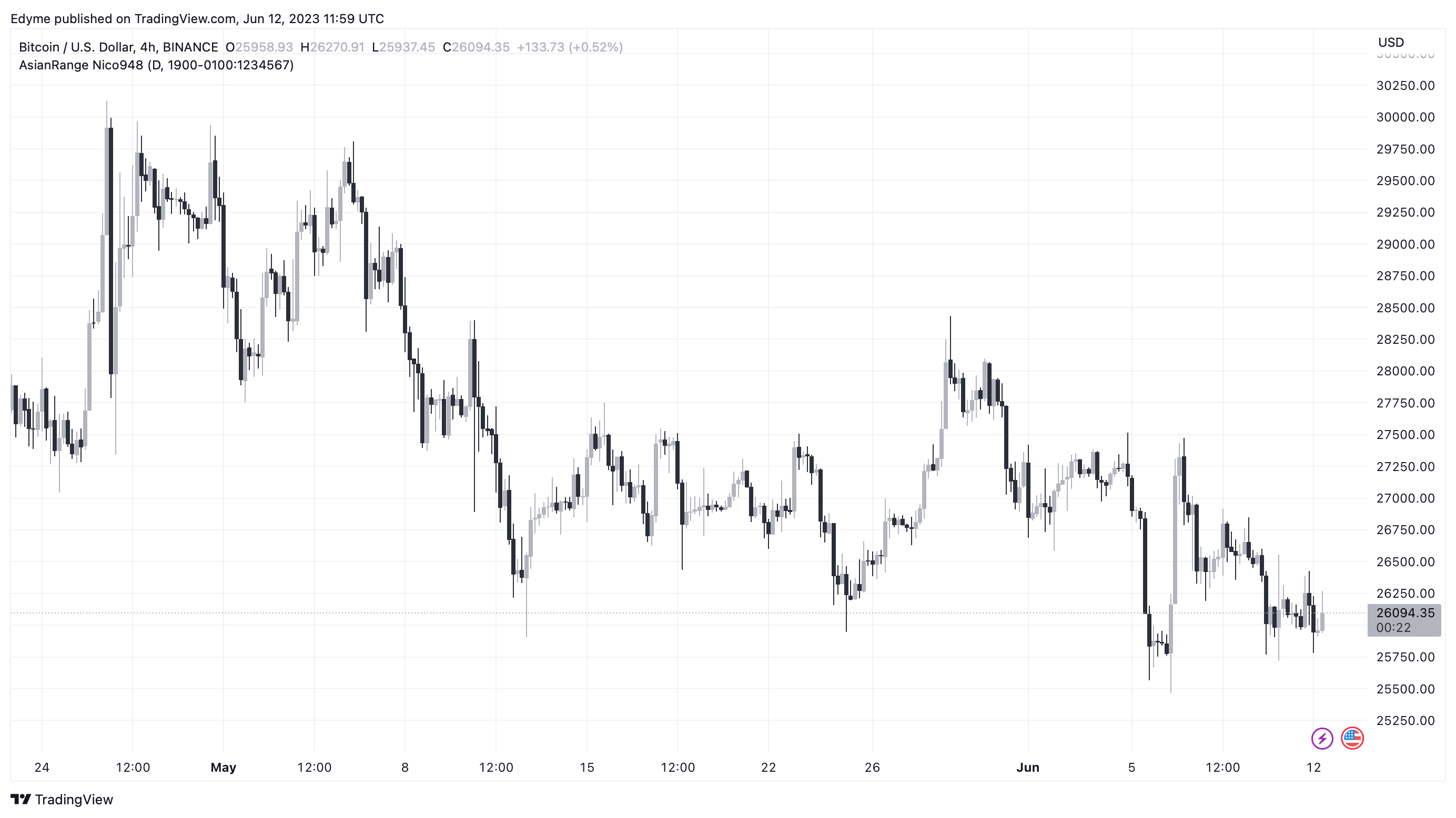 BTC)'s price chart on TradingView" width="2768" height="1556">
Featured image from Unsplash, Chart from TradingView