On-chain data shows the 7-day Bitcoin mining hashrate has continued to hit new all-time highs despite the FUD going around in the market.
7-Day Bitcoin Mining Hashrate Has Reached A New All-Time High
According to data from the on-chain analytics firm Glassnode, the 7-day hashrate has now hit a new ATH of 381 EH/s. The "mining hashrate" is an indicator that measures the total amount of computing power connected to the Bitcoin blockchain by the miners.
When the value of this metric rises, it means that the miners are bringing in more machines online on the network at the moment. Such a trend may be a sign that miners are currently finding it attractive to mine on the blockchain.
On the other hand, low values of the indicator imply some miners are possibly leaving the chain right now. This kind of trend may suggest that it has now become unprofitable for at least some of the miners to mine on the BTC network.
The hashrate itself can also tell us information about the security of the blockchain. Usually, the higher the metric's value is, the tighter the security of the network as there are now a greater number of machines that need to be taken over in order to complete a 51% hack. Obviously, this would be given that the new hashrate being added to the network is decentralized.
Now, here is a chart that shows the trend in the 7-day moving average (MA) Bitcoin mining hashrate over the past few years: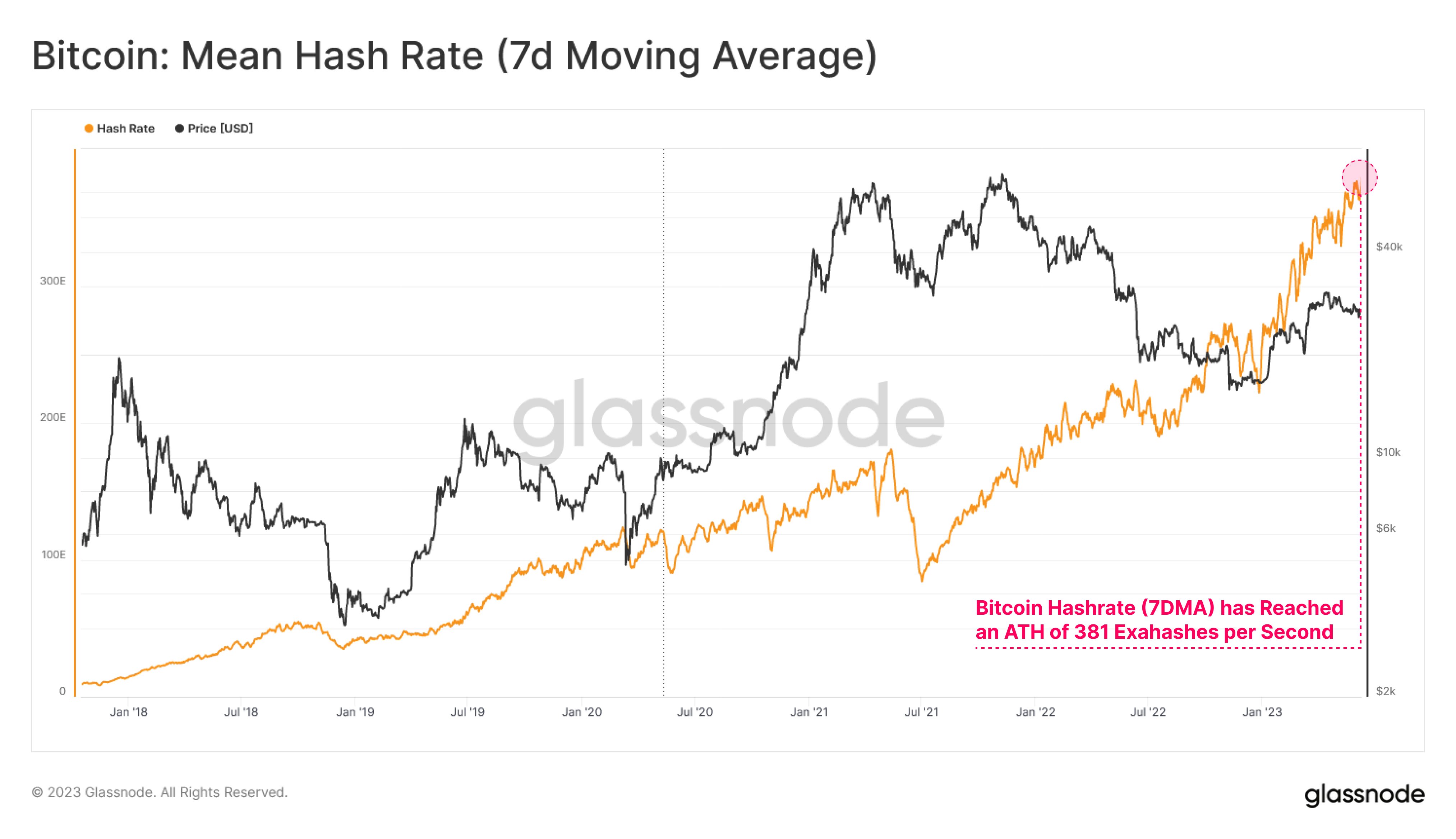 As shown in the above graph, the 7-day MA Bitcoin mining hashrate has been in an overall uptrend for quite a while now, but the rise has been especially sharp during the past few months.
This rapid growth in the indicator isn't surprising, as it has come with a rally in the cryptocurrency's price. Miners depend on the USD value of their rewards in order to pay off their bills, so the price going up always results in their revenue also shooting up.
The largest of miners usually expand their facilities in such periods in order to capitalize on these extra profits, thus leading to the mining hashrate increasing in value.
Interestingly, the rise in the metric has continued in the last few weeks, despite Bitcoin taking a notable hit. There has also been the emergence of some fresh FUD in the market during this period, in the form of the SEC suing Binance and Coinbase.
It would appear that the miners aren't particularly bothered by the current market uncertainty, as they are only continuing to further invest in their facilities, perhaps with the long-term view in mind. After the latest jump in the 7-day mining hashrate, the indicator has set a new all-time high of 381 EH/s.
At the time of writing, Bitcoin is trading around $25,800, down 3% in the last week.