In a new tweet, Ripple CEO Brad Garlinghouse claims that the highly anticipated "Hinman documents" were "well worth the wait," hinting at their potential significance in the ongoing legal battle between Ripple and the U.S. Securities and Exchange Commission (SEC).
With the documents expected to be unsealed this week, here is a recap of what we've been waiting on and why it's such an important moment in the crypto market.
The Ripple Effect Of The Hinman Docs
Named after William Hinman, the former Director of the Division of Corporation Finance at the SEC, the "Hinman documents" are speculated to provide insight into the SEC's stance on cryptocurrency regulation. In 2018, Hinman made a groundbreaking statement, asserting that Bitcoin and Ethereum were not securities under US law due to their decentralized nature. However, the legal status of other cryptocurrencies, including Ripple's XRP, has been less clear, leading to ongoing litigation.
Wish I could go in depth now, but we've waited this long (18+ months), I don't want to overstep… suffice it to say @s_alderoty and I believe they were well worth the wait.
— Brad Garlinghouse (@bgarlinghouse) June 12, 2023
Garlinghouse's tweet suggests that the information in the long-awaited Hinman documents could shed light on the regulatory status of digital assets like XRP. With Ripple in the midst of a legal skirmish with the SEC over whether XRP constitutes a security, the contents of these documents could prove pivotal.
And with the SEC recently labeling other crypto assets as securities, the outcome is especially critical to the future development of the industry itself. If the SEC wins, innovation in cryptocurrencies would be set back for years and move outside of the US.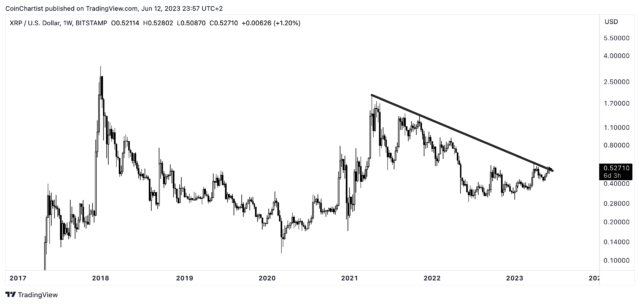 Is XRP Is Security? How The Decision Impacts Crypto
Although Garlinghouse's tweet doesn't discuss specifics about the Hinman documents, they could potentially offer evidence that could tip the legal balance in Ripple's favor.
As the crypto community awaits the release of the Hinman documents, Garlinghouse's tweet is heightening expectations. It appears clear that Ripple's CEO believes these documents will play a crucial role in shaping the regulatory discourse around digital assets. Garlinghouse also claims that Stuart Alderoty, Chief Legal Officer for Ripple, agrees with his beliefs. The exact impact of these documents, however, remains to be seen.