The lawsuit filed by the US SEC against Binance.US has harmed the exchange. Figures showed that its market share has recently plunged below 5%, while its market depth dropped by more than 75% since the beginning of June.
In addition to the lawsuit, the regulator launched a restraining order against Binance.US to freeze its assets. The company took immediate measures and removed more than 100 trading pairs from its platform.
Losing Dominance in America
According to data presented by Kaiko, Binance.US' market share has dropped from approximately 20% in April to less than 5% as of the moment. The decline was quite evident during May and at the beginning of June.
One possible reason for the decrease seen this month could be the legal pressure coming from the SEC. The watchdog filed a lawsuit against Binance and its American subsidiary on June 5 and asked a Federal court to issue a temporary restraining order to freeze the US assets of the marketplace.
Shortly after, the firm delisted 101 trading pairs on its platform, including AAVE/USDT, MANA/USDT, BCH/BTC, DOT/BTC, MANA/BTC, XTZ/BTC, and more.
Other cryptocurrency exchanges that saw their market share diminish recently are Kraken and Bitstamp. Interestingly, Coinbase stands on the opposite corner. Despite the SEC's lawsuit against it as well, the market share of the Brian Armstrong-spearheaded entity in the US jumped from 46% to 64% in the past seven days.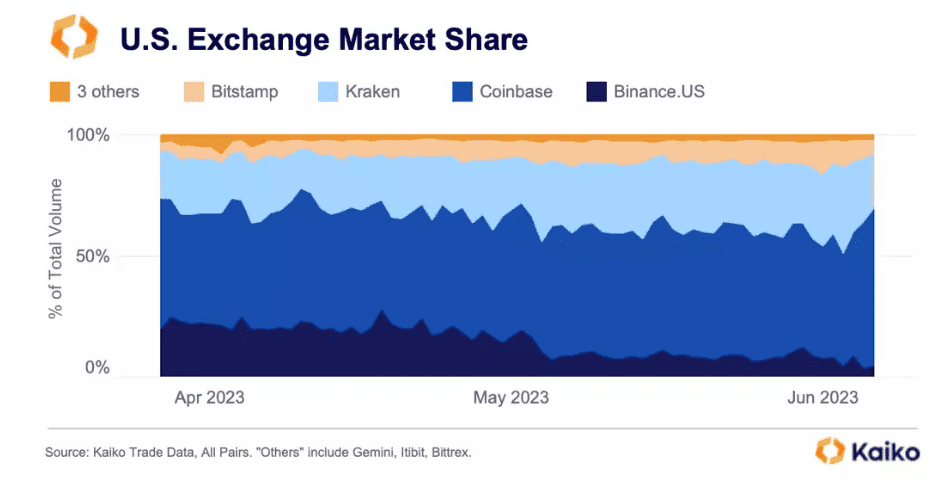 US exchange market share, Source: Kaiko
Market Depth Going Down
Another negative outcome of the SEC lawsuit seems to be the fading market depth of Binance.US. The volume indicator that refers to the level of liquidity and displays how much a large order will impact the price of an asset has fallen from $34 million on June 4 to a mere $7 million on June 12.
"The sharp drop in liquidity suggests market makers are nervous and want to avoid volatility-induced losses and the non-negligible possibility that their assets could get stuck on an exchange à la FTX collapse," Kaiko stated in its report.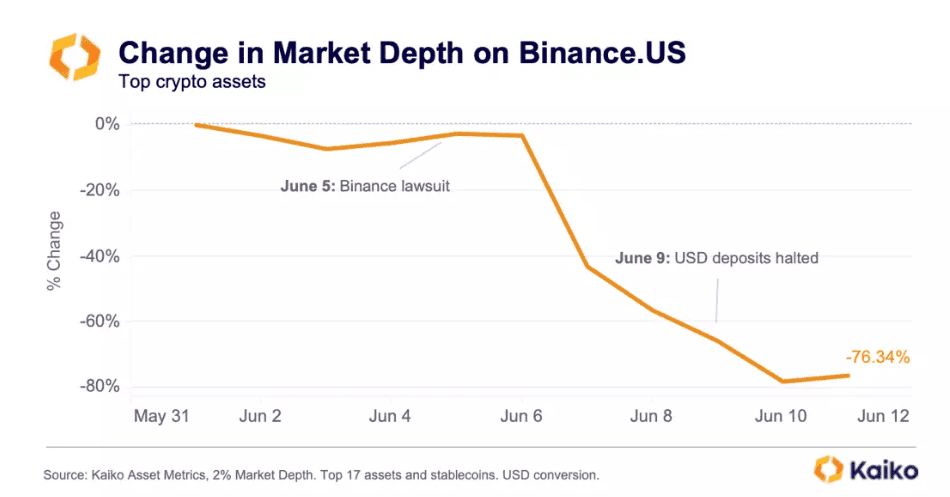 Binance US' Market Depth, Source: Kaiko
In comparison, Coinbase's market depth has tumbled 16%, while Binance's global exchange has dropped 7% since the start of the month.
The post SEC Lawsuit Aftermath: Binance.US Sees Substantial Decline in Market Activity appeared first on CryptoPotato.