The blockbuster week for crypto and Bitcoin gets rolling today. After the Hinman documents in the legal dispute between Ripple Labs and the US Securities and Exchange Commission (SEC) were released a few hours ago, the U.S. Bureau of Labor Statistics announced the inflation rates for the month of May in the United States of America at 8:30 am EST.
The data was expected with high expectations as it could signal a rapid drop in inflation on the one hand, while on the other hand it is likely to be an important basis for tomorrow's interest rate decision by the US Federal Reserve (Fed).
For the first time since March 2022, when the Fed began its rate hike cycle, the US central bank could announce a rate pause. Experts expect that risk assets like Bitcoin and crypto could benefit greatly.
CPI Comes Out A Little Better Than Expected
And the release of the CPI sets a good basis for that. The U.S. Bureau of Labor Statistics announced that the consumer price index (CPI) fell to 4.0% on an annual basis (YoY). The estimate was 4.1% year-over-year, which means the market is getting a positive surprise.
On a monthly basis (month-over-month, MoM), the headline CPI rose 0.1%, expected was +0.2%. So, this means another positive surprise for risk assets.
However, of particular importance this time was again the core inflation data. The estimate for the core YoY rate was 5.3%. This estimate was met exactly with 5.3%. The core inflation rate MoM was expected at +0.4% and also turned out to be at +0.4% in May.
CPI Release – Here we go


CPI (YoY) (May) comes in at 4.0% Vs. 4.1% Est.

CPI (MoM) (May) comes in at 0.1% Vs. 0.2% Est.

Core CPI (YoY) (May) comes in at 5.3% Vs. 5.3% Est.

Core CPI (MoM) (May) comes in at 0.4% Vs. 0.4% Est. $MACRO #CPI #inflation $SPY $QQQ https://t.co/ueb5fO8mBz
— BACH (@MortensenBach) June 13, 2023
So all in all, there is a clear trend towards disinflation for the headline inflation, however, the core rates remain sticky. While the headline CPI was still at 4.9% in April and has now fallen by another 4.0%. The core rate also shows a declining trend, even if the Fed as well as investors would probably like to see a faster drop. In April, the core rate YoY was 5.5%, down to 5.3% in May.
What Does The CPI Print Mean For Bitcoin And Crypto?
After briefly jumping above $26.400 after the release, the Bitcoin price fell back to the pre-CPI release level of around $26.166 at press time. The market is thus reacting cautiously to the news, partly because the surprise was minimal and core inflation is proving sticky.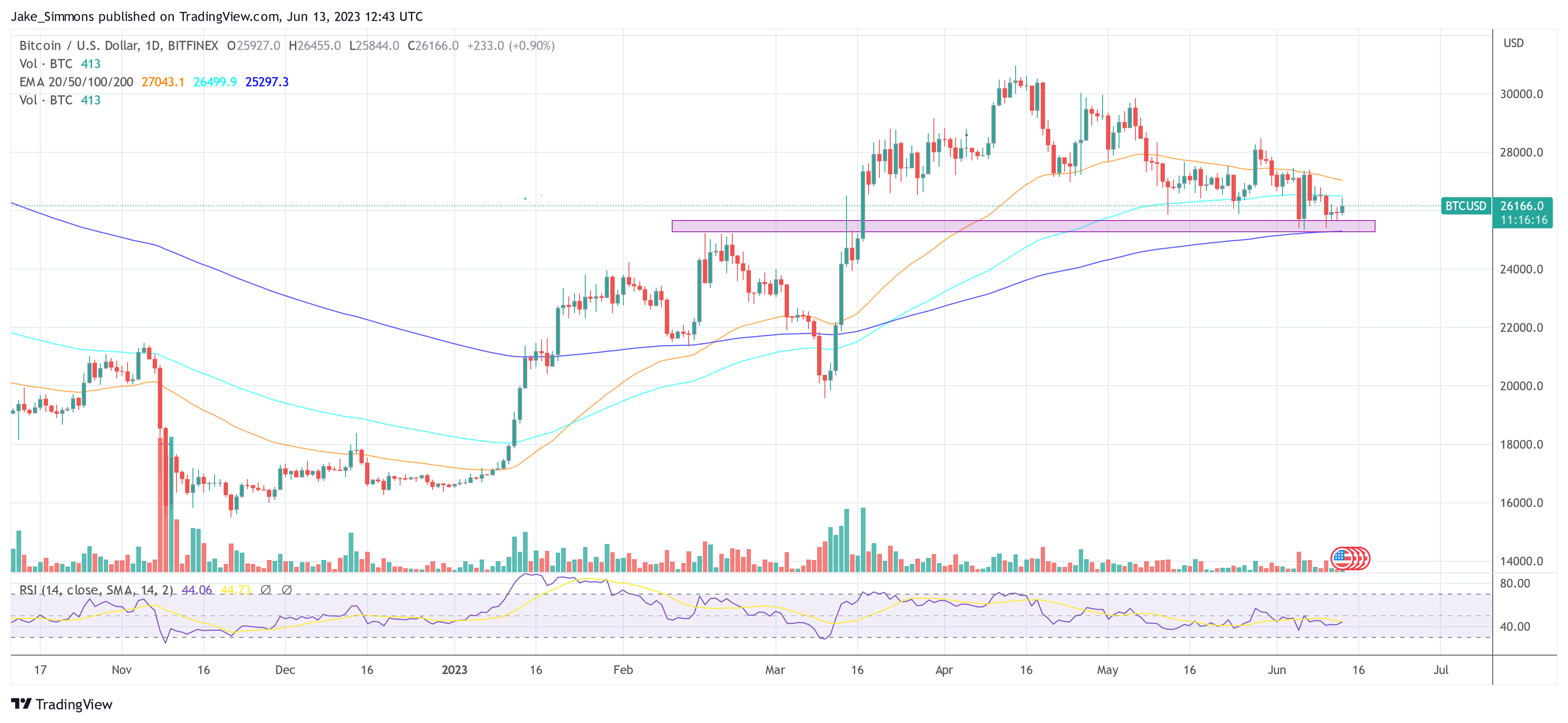 All eyes will thus be on the Fed and its chairman Jerome Powell tomorrow. In particular, the words of the Fed Chairman during the FOMC press conference will be crucial. The question is whether Powell will acknowledge disinflation or not rule out further interest rate hikes. Credit Suisse, however, expects a rapid drop in inflation over the next months:
Our work indicates that Y/Y inflation is likely to fall to 4.2% in May, 3.2% in June. This would represent one of the greatest drops experienced in a 2-month period over the past 70 years. (J. Golub)