Here's how the Binance and Coinbase reserves of Bitcoin, Ethereum, and stablecoins have changed since the US SEC sued the exchanges.
Bitcoin, Ethereum, And Stablecoins Have Exited Binance And Coinbase Recently
On 5 June, news came out that the US Securities and Exchange Commission (SEC) had sued the cryptocurrency exchange Binance over alleged fraud. The event lead to the market becoming quite volatile, as Bitcoin and other coins initially observed a crash.
Only the next day, 6 June, Coinbase also became the target of regulatory pressure from the US government, meaning that both the largest players in the space had come under fire back to back.
Whenever centralized entities like these come under such regulatory scrutiny, there is always some degree of panic among the users of the platforms. Thus, it's not uncommon to see large withdrawals taking place shortly after the FUD spreads, as users look to flee the exchange.
In its latest weekly report, the on-chain analytics firm Glassnode has looked at how the balances of the major cryptocurrency assets have changed on Binance and Coinbase, to see how the participants on these platforms have been coping with the current environment.
First, here is a chart that shows the trend in the Bitcoin, Ethereum, and stablecoin exchange reserves specifically for the cryptocurrency exchange Binance over the past couple of weeks: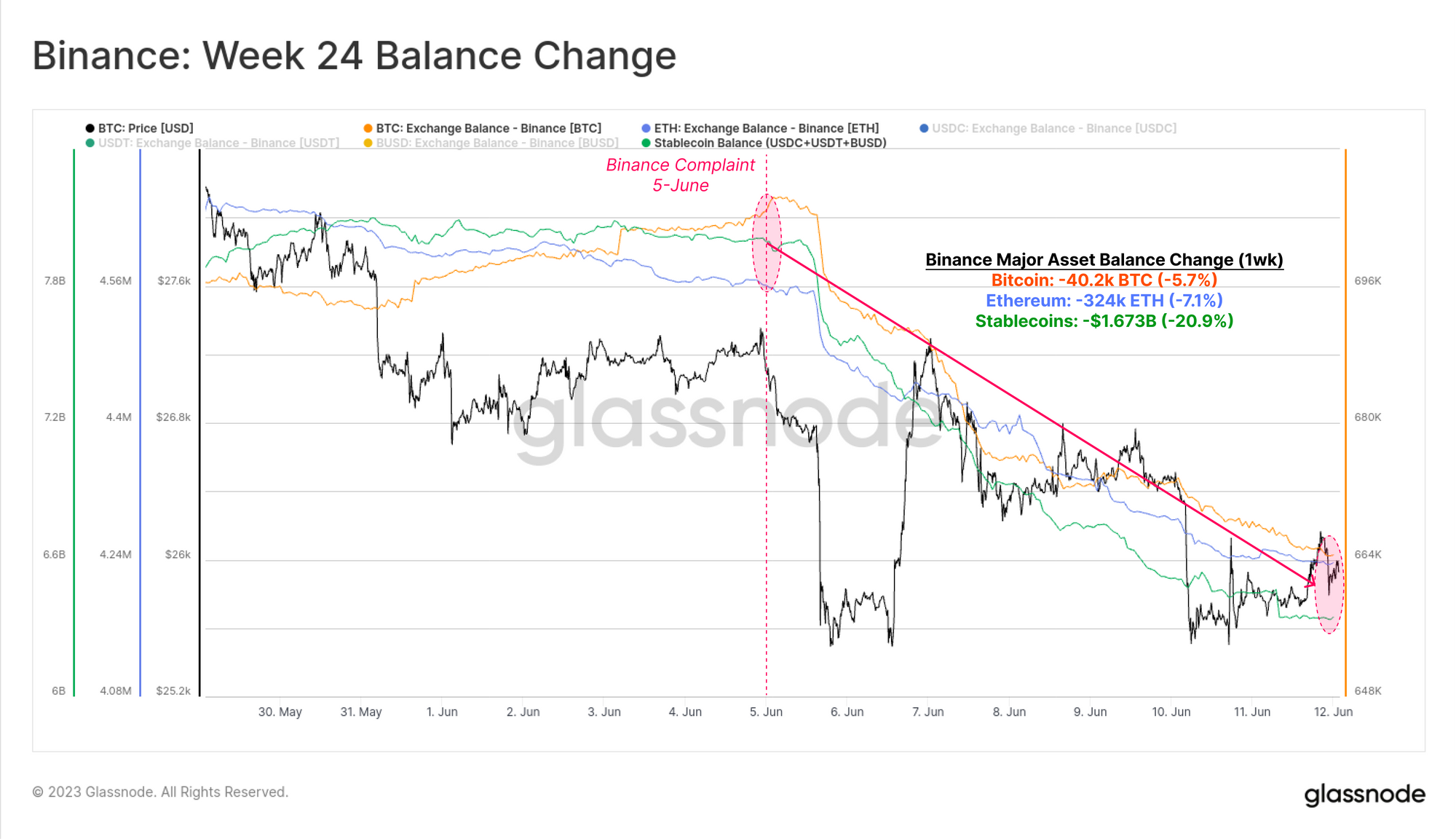 As shown in the above graph, all three of the reserves have observed a decrease on Binance since SEC pressed its charges. The stablecoins (USDC, USDT, and BUSD) have registered a sharp decline of almost $1.7 billion, amounting to 20.9% of the entire reserve on the exchange.
Bitcoin and Ethereum, though, have seen much smaller drops of 5.7% and 7.1, respectively. Nonetheless, while this may not be as much as what the stablecoins have noted, the plunge is still notable.
Interestingly, while Binance has seen such large net outflows following the regulatory pressure, Coinbase has only seen a minimal change in its reserves. The below chart shows the trend in the balances for this platform.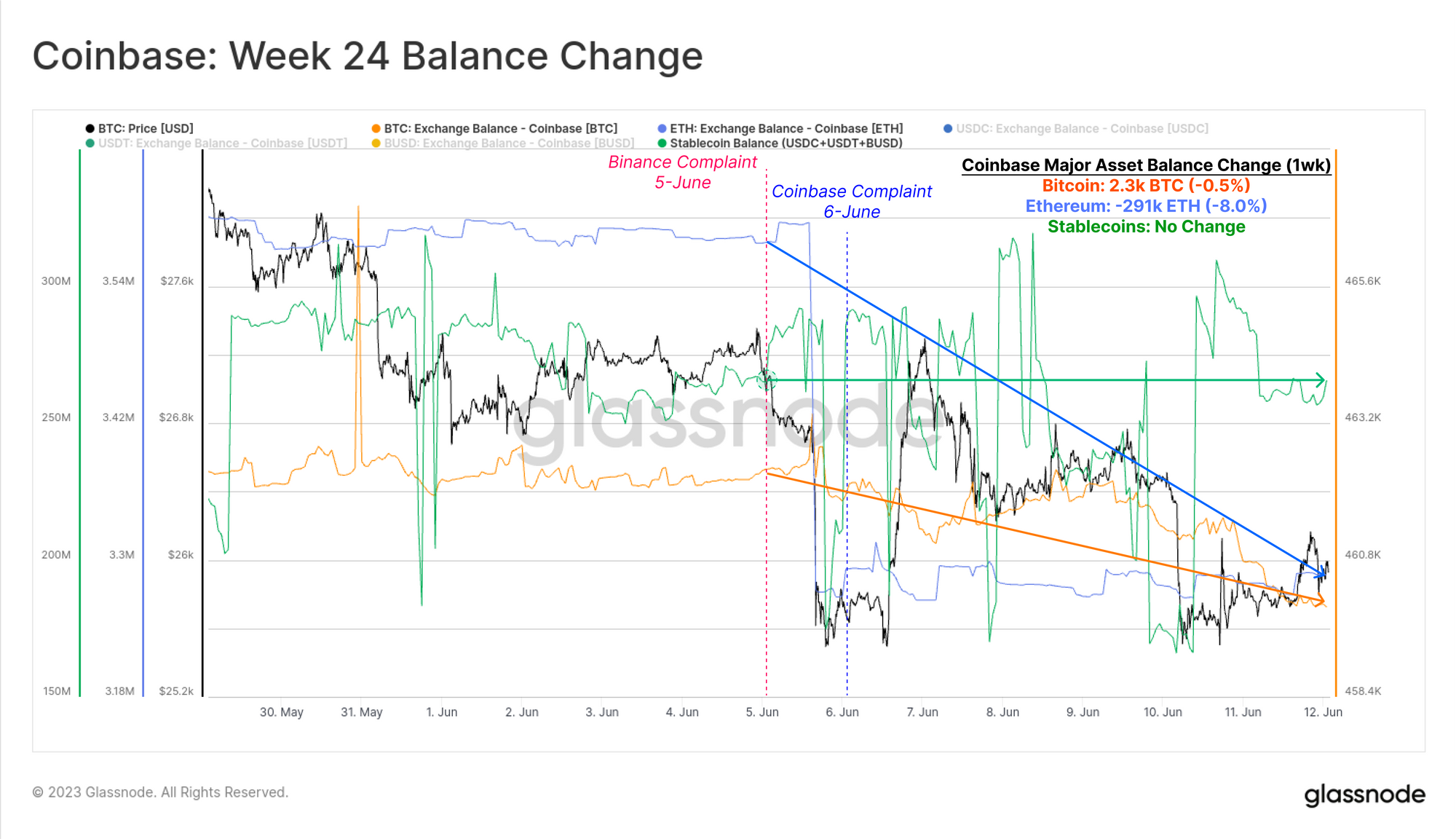 From the chart, it's visible that the Bitcoin reserve on Coinbase has only dropped by 2,300 BTC, equivalent to a measly 0.5% of the entire balance on the exchange.
The combined balance of the stablecoins USDC, USDT, and BUSD hasn't seen a decrease at all, as the metric has only moved sideways during the past week or so.
The Ethereum reserve, though, has seen a dramatic decline as the investors have withdrawn ETH worth 8% of the total balance. "This suggests a more pronounced investor response, perhaps related to the offered staking services coming under fire," explains Glassnode.
Overall, it seems that the user response on Binance has been much more serious, while Coinbase users other than Ethereum investors are still relatively calm.
At the time of writing, Bitcoin is trading around $26,000, up 1% in the last week.