A Shiba Inu whale has recently taken advantage of a recent dip in cryptocurrency prices to accumulate over 1.5 trillion tokens of the meme-inspired cryptocurrency.
According to a Twitter post from @lookonchain and verified by data from Etherscan, SHIB whale "0x73AF" recently purchased $10 million worth of SHIB from Binance and Coinbase via Jump Trading and address "0x66E0".
Whale Accumulates 1.5 Trillion SHIB
Shiba Inu whales seem to not be fazed by the recent market dip. In fact, some of them have been on a buying spree, scooping up billions more SHIB tokens.
According to whale monitors, whale "0x73AF" currently holds 5.2 trillion SHIB tokens, worth nearly $36 million. However, this whale isn't the only one buying the dip. hale_alerts on Twitter reported that another $25.8 million worth of SHIB tokens was recently purchased by another whale, "0x313".
Large SHIB whales have shown a pattern of buying when the price drops, allowing them to get more SHIB for their money. This could be linked to considerable changes that have taken place within the ecosystem of the Shiba Inu.
Of course, there's no guarantee SHIB will repeat its epic rise in 2021. But for long-term holders, the possibility of life-changing gains makes the risk worthwhile. When the market eventually turns around, SHIB could see one of the most significant rebounds of the whole market.
Massive Transfers Between Shiba Inu Whales
Over the past month, there have also been huge transfers of SHIB from whale address "0x73AF" to "0x40B3". In just over a week, whale address "0x40B3" received 20 trillion tokens from "0x73AF", with the majority of those coming in a day.
It seems as if these two addresses are controlled by the same entity, as the transfers seemed to be calculated.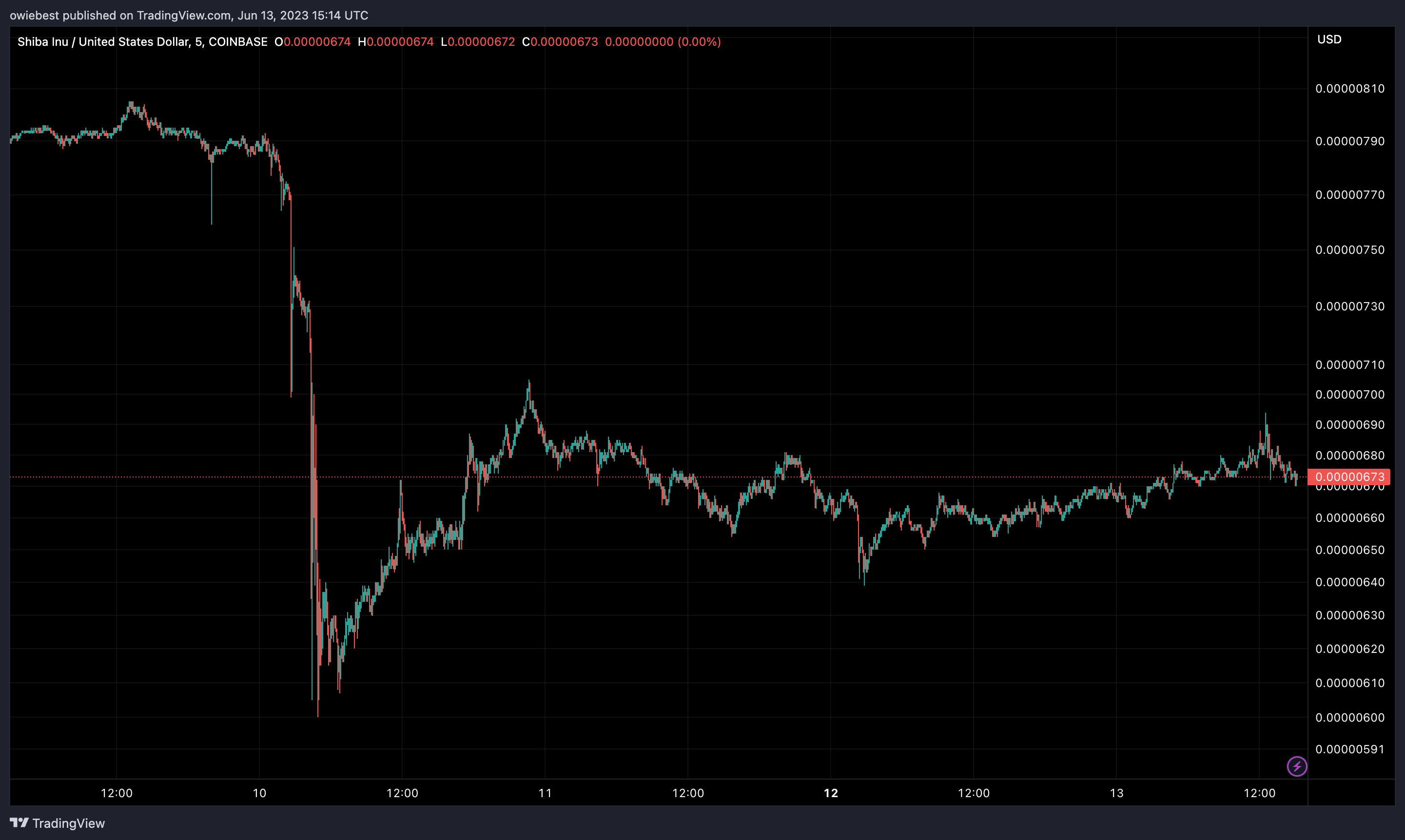 SHIB) price chart from TradingView.com" width="2882" height="1724">
With the current price of SHIB at $0.0000067, whale "0x40B3" now holds over $135 million in SHIB, making it the largest holder of SHIB outside of exchanges such as Binance and Coinbase.
What's Next For SHIBA Inu?
At the height of its popularity, Shiba Inu saw its price grow by more than 300% within the same month. Many even referred to the coin as the dogecoin killer, another meme token that saw a significant rise in market cap. And according to the coin ranking platform, CoinGecko, the most popular meme coin in the US this year is $SHIB, despite $PEPE's meteoric rise.
$SHIB's current market price is now at $0.0000067 per token, with a major resistance around $0.0000068. Failure to break this resistance can see the token go back down to its support of $0.0000065. This is a far cry from its high of $0.00008 in October 2021.